Wins bring postseason play closer to reality
February 1, 2023 - 3:48 pm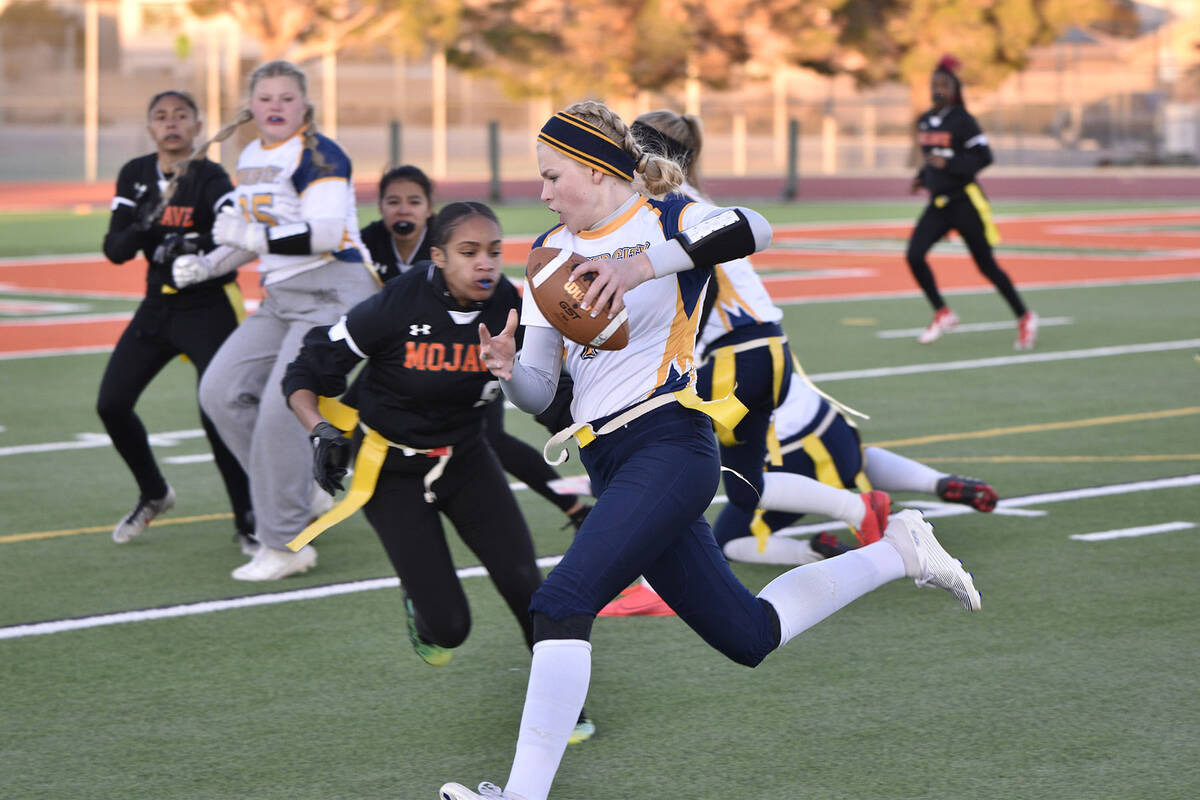 Boulder City High School's varsity flag football team advanced to 7-6 on the season, furthering its postseason aspirations.
Currently fourth in 3A play, the Lady Eagles defeated Mater Academy East on Saturday and Mojave on Tuesday, controlling their own destiny moving forward.
"We have some girls that are stepping up at the right time heading into playoffs," said head coach Kevin Ruth. "Winning these games has been huge because Thursday's game with Spring Valley should determine who gets the third seed for the playoffs."
Coming away with a 19-14 victory over Mojave on the road, senior quarterback Salah Coplin threw for 103 passing yards and three touchdowns, connecting with three different receivers for scores.
Finding their groove through the air, seniors Ava Del Rio and Rylee Landerman each caught touchdown passes, while sophomore Makayla Nelson caught four passes for 27 yards and a score.
Doing her best to make up for the absence of senior Ava Payne, who went down with an injury last week against Virgin Valley, Nelson also rushed for a game-high 103 yards on 13 carries.
"Tonight we tried some new things against a very athletic team in Mojave and got away with a win," Ruth said.
Competing on the defensive end, the Lady Eagles generated five sacks on the day, highlighted by two from junior Jordyn Wetherbee, who made five tackles.
Landerman (five tackles), senior Breann Burgess (five tackles) and senior Annalie Porter (two tackles) also generated a sack each.
An all-around playmaker, Nelson snagged two interceptions on defense.
Currently on a two-game winning streak, the Lady Eagles defeated Mater Academy East 26-6.
The Lady Eagles will host Spring Valley today, Feb. 2, followed by a road game at Eldorado on Tuesday, Feb. 7.
Contact Robert Vendettoli at BCRsports@gmail.com.
Upcoming games
▶ Thursday, Feb. 2, vs. Spring Valley, 3:30 p.m. junior varsity; 4:30 p.m. varsity; 6 p.m. freshmen
▶ Tuesday, Feb. 7, at Eldorado, 3:30 p.m. junior varsity, 4:30 p.m. varsity