Volleyball team stays hot, wins 18th straight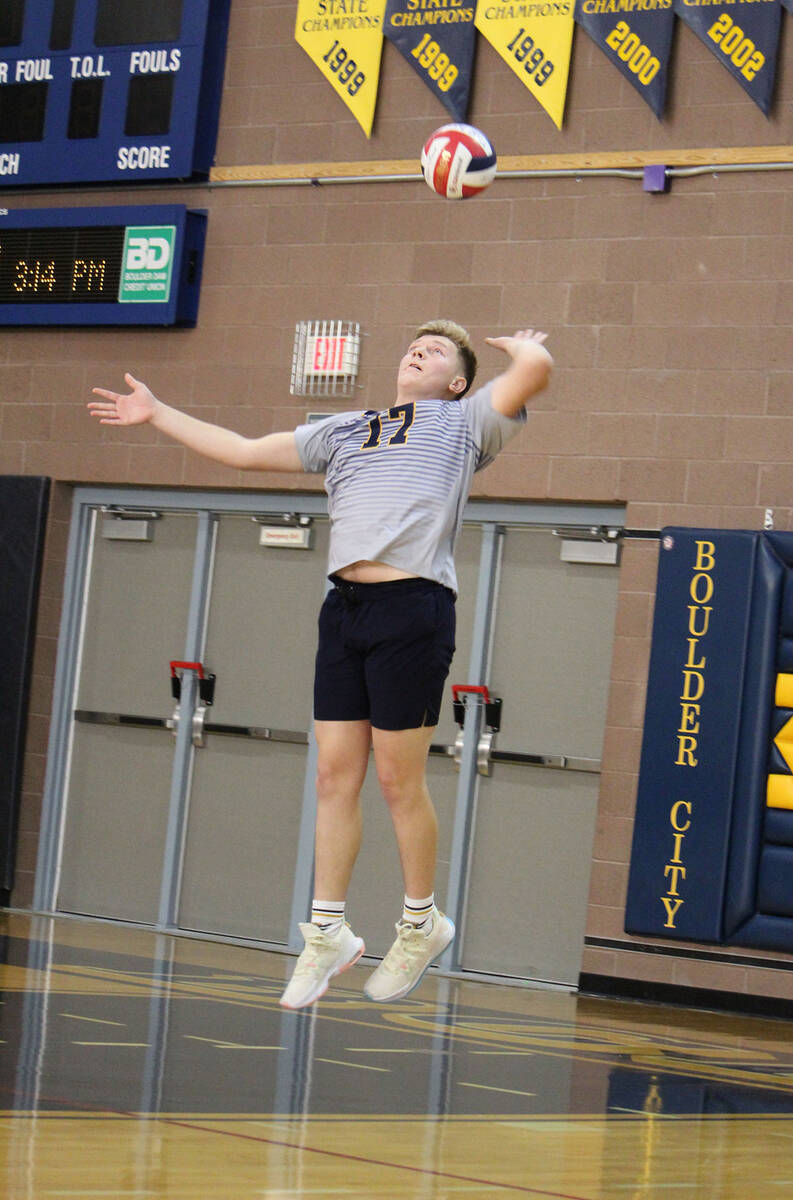 Extending their winning streak to 18 games, Boulder City High School boys volleyball picked up 3-0 victories over Clark on April 27 and Western on May 2.
Defeating Clark in a hard-fought 27-25, 29-27, 25-15 matchup, juniors Brady Sorenson and Travis Hess shined offensively, supplying 16 and 12 kills respectively.
Senior Tyler Lemmel added seven kills to give the Eagles a much-needed third presence offensively, while junior Roman Rose fueled the winning effort with 36 assists.
Defensively, Hess blocked four shots, while junior Ike Pappas made seven digs.
Rose also added seven digs defensively, while senior Jared Lamoreaux added five digs. Sophomore Easton Welbourne made four digs.
Defeating Western 25-19, 25-10, 25-16, Sorenson generated 12 kills, while Hess added 10.
Perfecting their serve against the Warriors, Rose generated six aces, while Pappas and Sorenson each had five aces.
Generating 27 aces on the night, Lemmel and senior Bret Pendleton each added four aces apiece, while Lamoreaux added three aces.
Concluding the regular season this week, the Eagles will travel to SLAM Academy today and Foothill on Friday.
Track
Competing at the Green Valley FAST Classic on April 28, freshman Sancha Jenas-Keogh and Sydney Litjens both finished first in their respective events for Boulder City High School girls track, while sophomore Jayden Thackeray finished first for the boys.
Competing among 5A programs Coronado, Green Valley, Liberty and Silverado and 4A programs Basic, Desert Oasis and Sierra Vista, Jenas-Keogh proved to be the fast in the 100-meter dash, while Litjens could jump the highest in the high jump event.
Adding speed to his distance running, Thackeray placed first in the 400-meter dash.
A star for the girls team, Jenas-Keogh also placed fifth in the 200-meter dash, while sophomore Makayla Nelson placed second in the 800-meter run and fourth in the 1,600-meter run.
Sophomore Emily Olsen finished fifth in the long jump to round out the girls' efforts.
Rounding out the boys' efforts, sophomore Dylan Ruschak finished fourth in the shot put and fifth in discus, while sophomore Landon Goodhue finished sixth in the triple jump.
On Friday, May 5 the Eagles will host a small-school meet beginning at 3 p.m.
Swim
Boulder City High School swimming routed Rancho on April 29 at Heritage Pool.
Winning 189-67, senior Trent Wakefield led the boys with firs- place finishes in both the 100-butterfly and 100-yard freestyle, while junior Troy Higley placed first in both the 50-yard freestyle and 100-yard backstroke.
Sophomore LeAndre Daniels finished first in both the 100-yard breaststroke and 200-yard individual medley, while freshman Canyon Lenon finished first in the 500-yard freestyle.
Winning 148-42, senior Josie McClaren led the girls with first-place finishes in the 50-yard freestyle and 100-yard backstroke, while sophomore Hannah Angell finished first in the 100-yard butterfly and 200-yard individual medley.
Junior Phoebe McClaren finished first in the 100-yard freestyle, while freshman Savannah Fecteau finished first in the 200-yard freestyle.
Preparing for regionals, the Eagles will head to UNLV next Tuesday.
Contact Robert Vendettoli at BCRsports@gmail.com.