Volleyball cruises to start playoffs
November 2, 2023 - 11:08 pm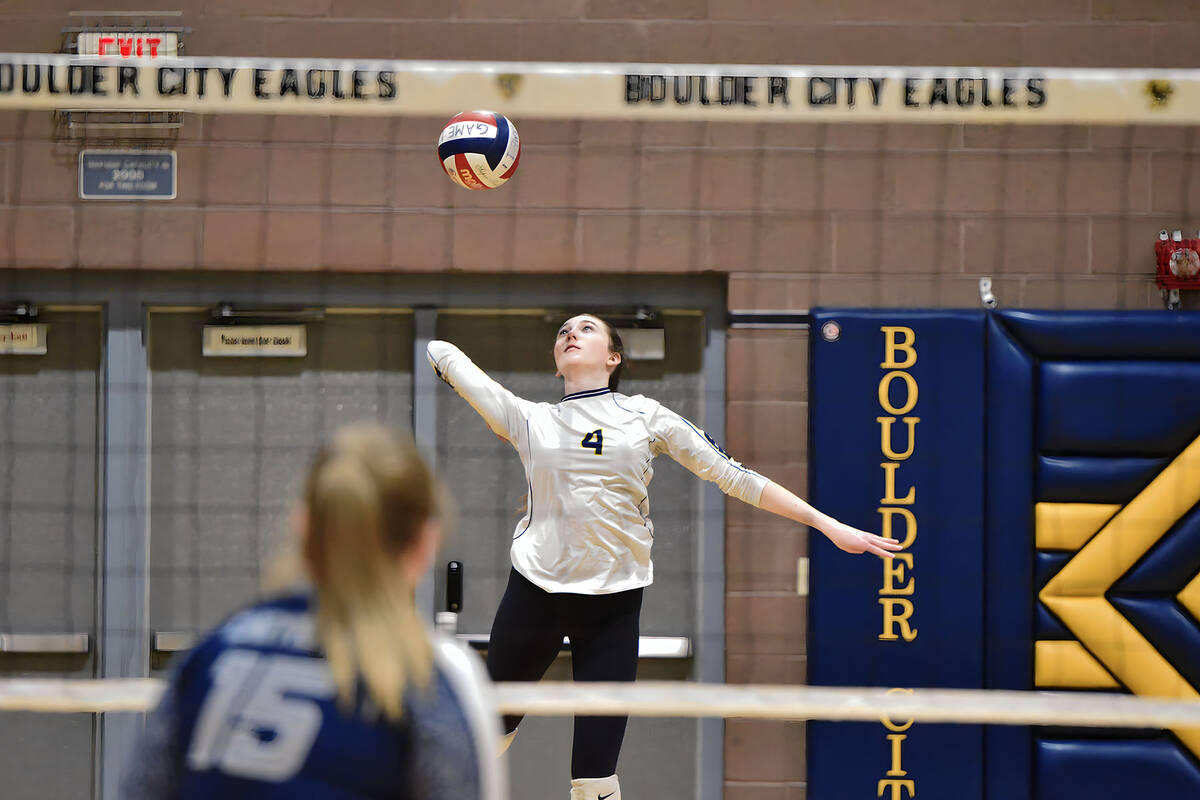 Boulder City High School girls volleyball started the postseason in style, cruising past Cheyenne 3-0 on Oct. 31.
Routing the Desert Shields 25-14, 25-6, 25-17, senior Haley May led the way with seven kills, while senior Jorydn Woodard added six kills.
Generating 16 serving aces on the night, senior Addison Doane and junior Lily Mackey each led the way with four, while senior Megan Uszynski and junior Sophia Kelso each added three aces.
Defensively, Kelso added three blocks, while Doane added two.
Uszynski led the way with 14 digs, while Mackey dished out 13 assists.
Extending their winning streak to 14 games, the Eagles closed out the regular season with a 3-0 victory over SLAM Academy.
Defeating the Bulls 25-14, 25-17, 25-18, Doane led the way with nine kills and 10 digs, while Uszynski added seven kills and six digs.
Woodard made 13 digs, while Mackey dished out 11 assists.
Looking to extend their winning streak and proceed in the postseason, the Eagles will travel to Moapa Valley tonight.
Cross country
Competing in the 3A regional meet on Oct. 27 at Veteran's Memorial Park, Boulder City High School junior girls cross country star Ellie Palmer finished seventh out of 34 runners.
Junior Layla Lourenco finished 10th at the event, while sophomore Kendall Shamo finished 18th.
Senior Tracy Trygstad finished 24th, while junior Meleah Camphouse finished 32nd.
For the boys, freshman Ezekiel Ford and junior Paul Moll finished 37th and 38th, respectively, while junior Brandon Trupp finished 41st out of 60 runners.
Qualifying for the 3A state meet, the girls will travel to Reno on Saturday to compete at Rancho San Rafael Regional Park.
"It's been a long time since we were able to field a girls team, I couldn't be happier for this group." head coach Mark Misuraca said. "We kind of pieced this team together late, getting new additions midway through the season. I'm happy with how everything turned out for them. It's a successful season just qualifying for state."
Girls soccer
Boulder City High School girls soccer ended their season on Oct. 31, falling to rival Moapa Valley in the first round of the 3A regional playoffs.
Losing on penalty kicks 3-1, the Eagles lost a 1-1 decision against the Pirates.
Senior Natasha Oeland scored the Eagles' lone goal in regulation on an assist from senior Indy Ruth.
In overtime, sophomore Peyton Arboreen scored the Eagles' lone goal.
Ending their season with an 11-6 record, the Eagles defeated SLAM Academy 2-1 on Oct. 25.
Oeland and junior Makayla Nelson each scored goals for the Eagles, while sophomores Bryelle Young and Sancha Jenas-Keogh each dished out assists.
Boys soccer
Boulder City High School boys soccer ended their season on Oct. 26, falling to rival Pahrump Valley 2-1.
Dropping to 0-15-1 on the season, sophomore Carson Smith scored the lone goal for the Eagles.
Contact Robert Vendettoli at BCRsports@gmail.com.