Three wrestlers earn state titles
February 15, 2023 - 4:01 pm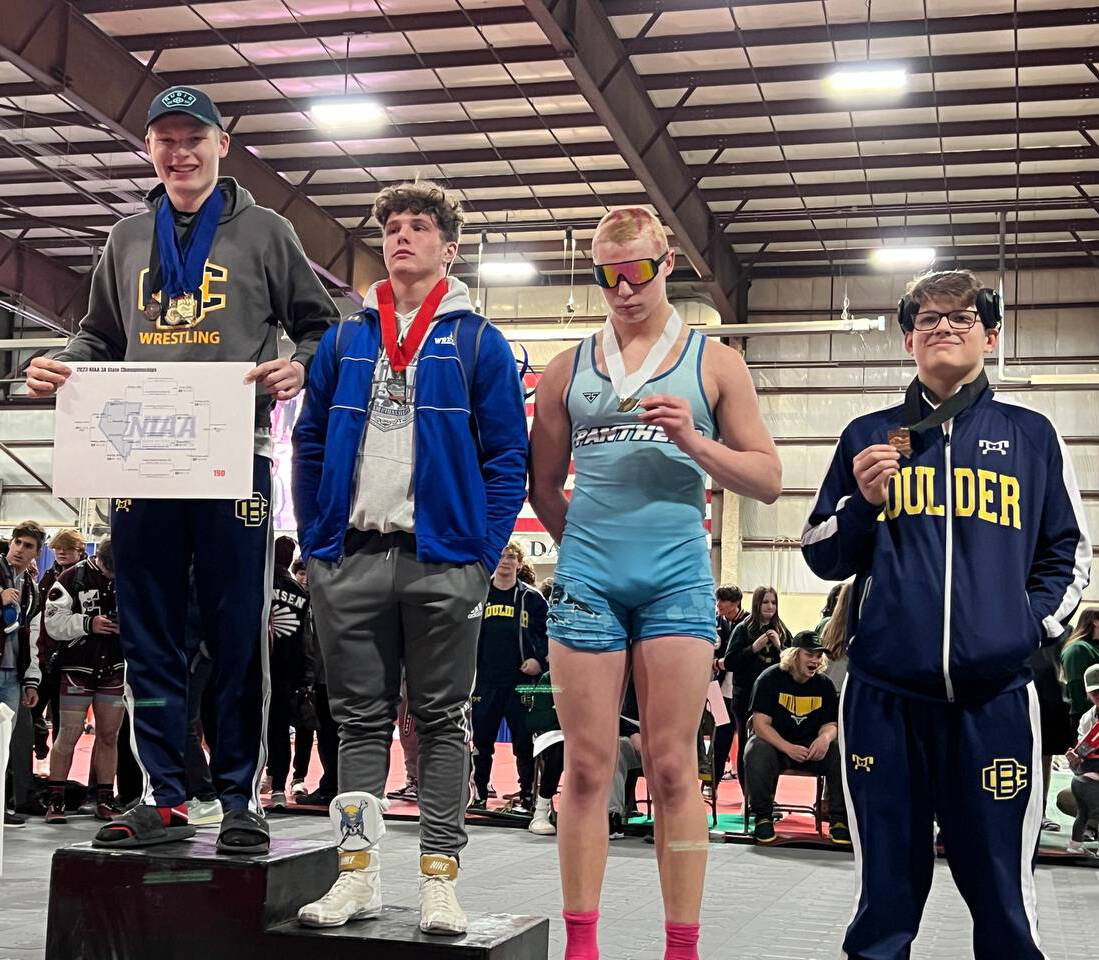 Three wrestlers from Boulder City High School won individual state championships and another captured the runner-up title after the team placed fourth overall during competition Friday and Saturday in Winnemucca, Nevada.
Capturing their individual weight classes, seniors Hunter Moore (175 pounds), Tyson Irby-Brownson (190 pounds) and Dylan Spencer (285 pounds) each made their way through the gauntlet and onto the Eagles' wall of champions.
Repeating as state champion, Moore pinned Moapa Valley's Jared Evans in 3:40 to end his career with the Eagles as a two-time champion.
"I'm extremely happy that all of my hard work has paid off resulting in me becoming a two-time state champion," Moore said. "It's a dream come true and I can't think of anything better to end my high school career with. Earning my first state championship was harder because I have never done it before. The second time I had already been in this situation before so it was easier to get through."
Also repeating as a state champion, Irby-Brownson pinned Moapa Valley's Gavyn Frederick in 1:15.
"I'm so excited to win state again," Irby-Brownson said. "Now I'm on to high school nationals. I have a lot of work to do to get ready for this."
Spencer earned a 7-3 decision over Eldorado's Jermiah Lewis, winning his first state championship.
"It's been overwhelming since the whistle blew," Spencer said. "This is a highlight in my career. … It's been a great journey and I have to thank coach (Jim) Cox, (Allen) Haines and (Clinton) Garvin for their support. I finally get my name on the wall of champions."
Finishing as state runner-up in the 215-pound division was senior Caleb Ramsey-Brown, who was pinned by Elko's Eli Finlayson.
Fielding nine wrestlers who placed at state, sophomore Sammy Bonar (190 pounds) finished fourth, sophomore Logan Goode (126 pounds) finished sixth, senior Cameron Henagir (165 pounds) and junior Anthony Chavez (215 pounds) finished seventh, and junior Charlie Stewart (150 pounds) finished eighth.
Contact Robert Vendettoli at BCRsports@gmail.com.