Tennis teams remain undefeated
August 31, 2023 - 9:19 pm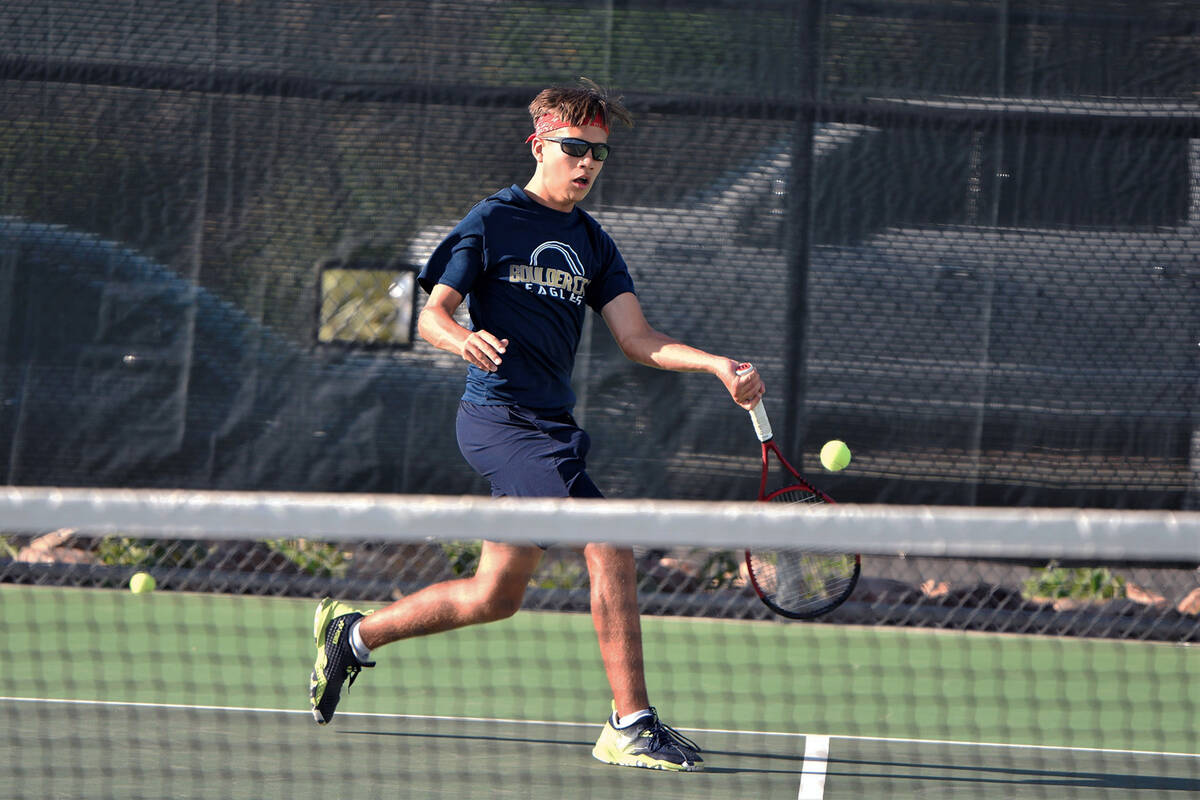 Advancing to 4-0 on the season, Boulder City High School boys tennis picked up victories over 5A Liberty and 3A Pinecrest Sloan Canyon respectively.
"It's always good to play teams that are going to challenge us," head coach Rachelle Huxford said. "We've played Liberty the last few years and they always give us a good match. Sometimes the overall score isn't reflective of how competitive the match was."
Defeating Liberty 13-5 on Aug. 23, the Eagles' doubles tandems stole the show against the Patriots, going undefeated.
"Our doubles teams played really well," Huxford said. "We've really focused on that group. We know that's where the majority of our points are going to come from this season."
Leading the way for doubles, seniors Ike Pappas and Roman Rose finished 3-0, while juniors Chandler Shamo and Alec Imboden finished 3-0.
Juniors Luke Wright and Sean Pendleton finished 2-0, while freshman Branch Danko and Miles Alder finished 1-0.
In singles play, sophomore Bennet Forney finished 2-1 on the day, while sophomores Logan Borg and Shane Barrow each finished 1–1.
"Our singles players are playing well," Huxford said. "It's a young group that's still learning how to play the game. Being a singles player is very hard, but they're coming together."
In a forfeit victory over Sloan Canyon, who couldn't field a doubles team, Barrow finished 2-0 in singles, while Forney and Borg finished 1-0.
Getting some action as reserves, senior Cayden Angell and sophomore Lars Litjens each finished 1-0.
For the girls, the Lady Eagles defeated Liberty 12-6.
Leading the charge, juniors Chayce Larson and Madeline Morris continue their hot start to the season, finishing 3-0, while the tandem of senior Chiara Steffes and junior Sydnie Freeman finished 3-0 as well.
Senior Vera Gunson and sophomore Mariah Torgesen all finished 2-0.
In singles play, senior Emma Woods finished 2-1, while seniors Aria Sheldon and Ariel Chapman each finished 1-1.
The girls picked up a forfeit victory over Sloan Canyon, who couldn't field a team.
Looking to continue their winning streak, the Eagles will travel to Cimarron-Memorial today, followed by a matchup on Tuesday with Coral Academy at Whitney Mesa Tennis Complex.