Strong defense key to win
January 11, 2023 - 4:03 pm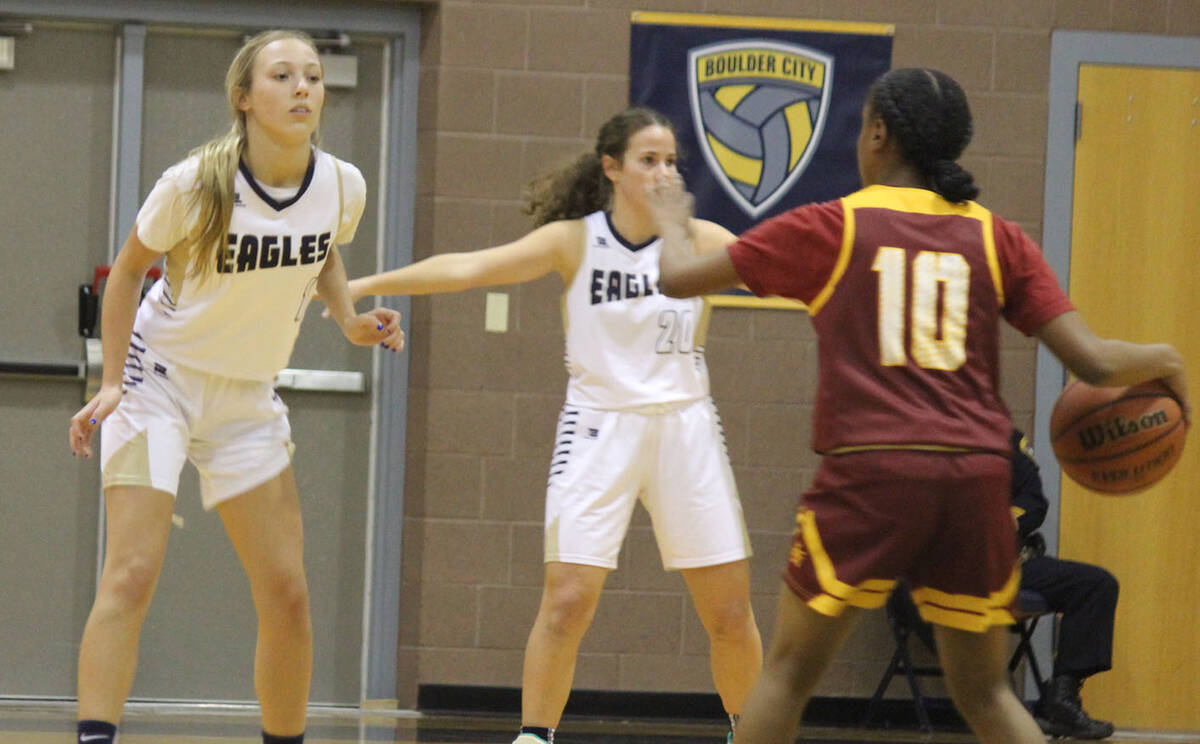 Boulder City High School's girls basketball team picked up its first league victory of the season, defeating Del Sol 41-34 on Monday, Jan. 9.
"I was pleased with our effort and win over a scrappy Del Sol team," said head coach Brian Bradshaw. "I liked how we responded after a disappointing loss to Coral Academy the night before."
Swarming Del Sol with great defense, the Lady Eagles limited the Dragons to 13 first-half points en route to victory.
"We knew Del Sol was coming in averaging 48 points a game and our game plan was to control transition and focus on defense," Bradshaw said. "Our team goal was to hold Del Sol under 35 points for the game and we got the job done. Our kids did a great job communicating and rotating on defense."
Getting enough offense to pull away with the victory, senior Bree Leavitt scored 10 points with eight assists and senior Callie Torgesen added 10 points with 10 rebounds.
Senior Kennedy Barrow added eight points and eight rebounds, while junior Julia Carmichael added six points and 12 rebounds.
Finishing 1-3 in its most recent slate of games, the Lady Eagles fell to Basic 34-29 on Jan. 4, Coral Academy 42-34 on Jan. 5 and Moapa Valley 58-28 on Tuesday, Jan. 10.
Against Basic, Leavitt scored 12 points and Barrow scored 10 points.
Against Coral Academy, Carmichael scored 12 points and senior Ashley Mendez scored nine points.
Against Moapa Valley, Leavitt scored nine points and Torgesen scored seven points.
The Lady Eagles will travel to SLAM Academy on Friday, Jan. 13, followed by a home game against Pinecrest Academy Cadence on Wednesday, Jan. 18.
Contact Robert Vendettoli at BCRsports@gmail.com.
Upcoming games
Friday, Jan. 12, at SLAM Academy of Las Vegas, 5 p.m. junior varsity; 6:30 p.m. varsity
Wednesday, Jan. 18, vs. Pinecrest Academy Cadence, 5 p.m. varsity