Strong defense invigorates Lady Eagles
January 25, 2023 - 3:36 pm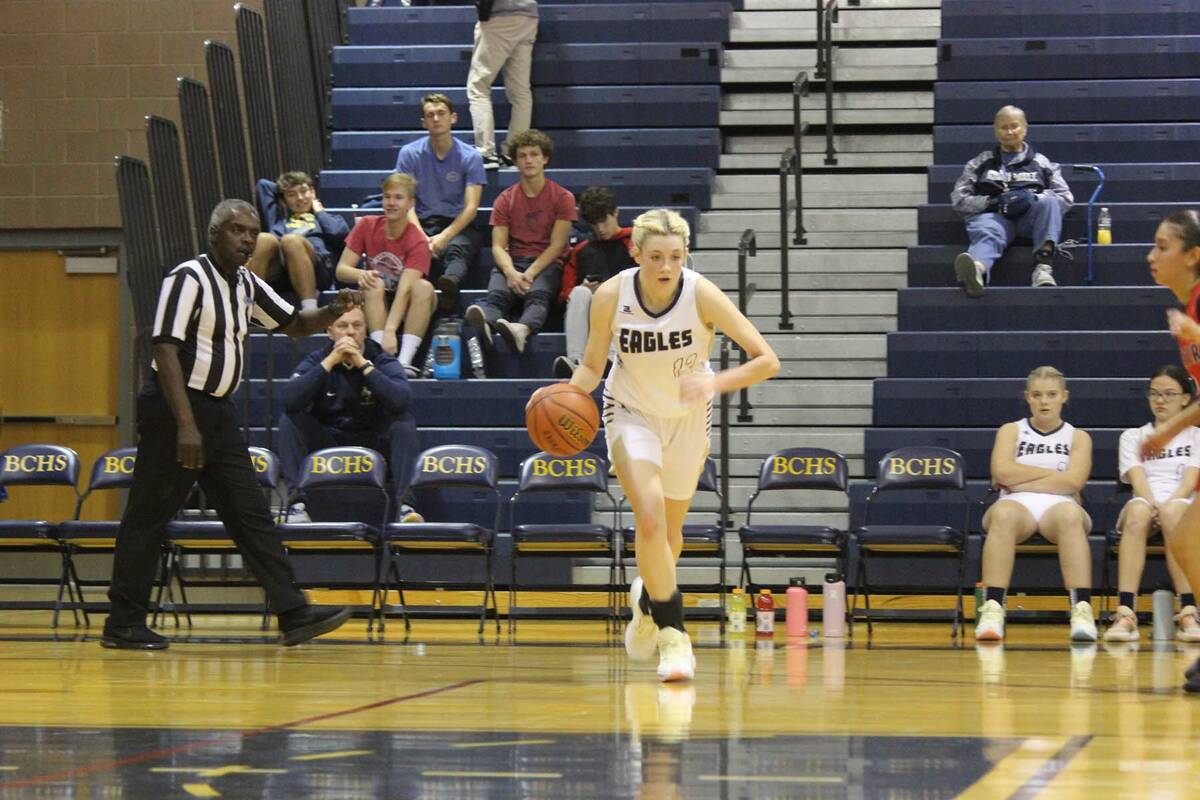 Boulder City High School's girls basketball team picked up a 42-20 victory over Eldorado on Monday.
With the victory, the Lady Eagles advanced to 8-12 on the season with a 2-2 record in league play.
"This was another great defensive effort by us," said girls head coach Brian Bradshaw. "We held Eldorado to 10 points for three quarters and their best player didn't score a basket. We have really picked up our intensity and communication on the defensive end and this is giving us more opportunity to score in transition and run our secondary break."
Turning great defense into utilized offensive possessions, senior Bree Leavitt led all scorers with 16 points, including shooting 3-of-4 from 3-point range.
Adding a double-double for the Lady Eagles was senior Kennedy Barrow, who scored 12 points with 10 rebounds. Sophomore Sophia Muelrath added eight points.
Senior Callie Torgesen brought down six rebounds, with six assists and five steals.
Picking up a 43-5 victory over Pinecrest Academy Cadence on Jan. 18, the Lady Eagles cruised behind a defensive effort that produced 27 steals.
Barrow led the way with 11 points, and junior Julia Carmichael added eight points.
Muelrath scored seven points, with five rebounds and five steals. Senior Ashley Mendez swiped a game-high six steals.
Falling just short against Southeast Career Technical Academy 40-37 on Jan. 19, the Lady Eagles did their best to overcome their first-half offensive woes.
"This was a great basketball game and we played well to give us an opportunity to win," Bradshaw said. "We were down by two with 18 seconds to go and missed a shot coming out of a time-out. Our kids did exactly what they needed to do to get our team in a situation to win the game."
Leavitt led the way with 16 points, and Carmichael added 10 points and eight rebounds.
Barrow pulled down a game-high 17 rebounds to pair with six points, while Torgesen added nine rebounds.
Playing with increased energy fueled by a new defensive scheme, the Lady Eagles have seemed to have found a new identity.
The Lady Eagles will host Pahrump Valley today, Jan. 26, followed by a home game against SLAM Academy on Monday, Jan. 30, and road game at Pinecrest Academy Cadence on Wednesday, Feb. 1.
"We just recently implemented a match-up zone and a diamond press and I love how our players have bought into it and understand how to play against some of the best players in our division," Bradshaw said. "We have forced a combined 85 turnovers in our last three games."
Contact Robert Vendettoli at BCRsports@gmail.com.
Upcoming games
Thursday, Jan. 26, vs. Pahrump Valley, 3:30 p.m. junior varsity; 5 p.m. varsity; 6:30 p.m. freshmen
Monday, Jan. 30, vs. SLAM Academy, 3:30 p.m. junior varsity; 5 p.m. varsity
Wednesday, Feb. 1, vs. Pinecrest Academy Cadence at TBA, 5 p.m. varsity