Spencers' sports dreams realized
February 22, 2023 - 3:31 pm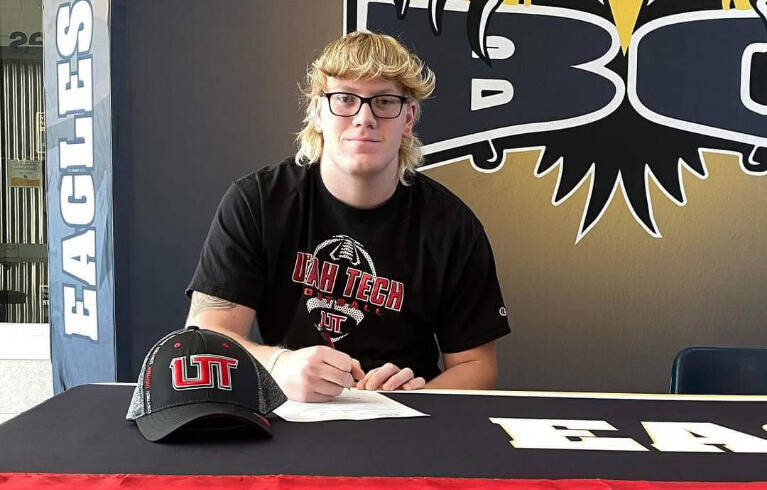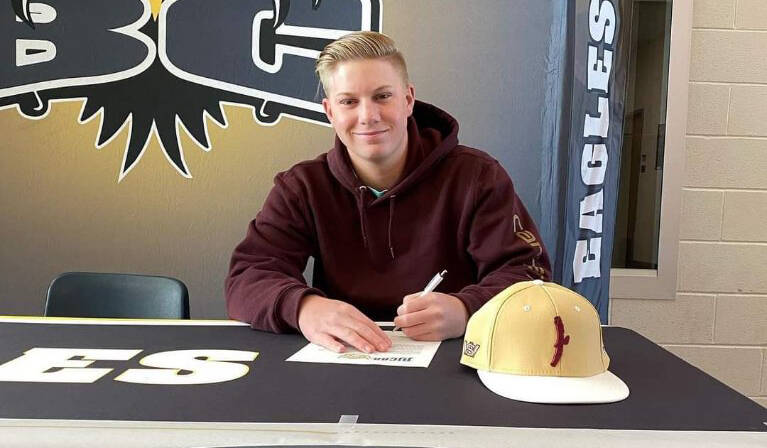 A dream of a lifetime for the Spencer household came to fruition Feb. 1 when seniors Dylan Spencer and Jeremy Spencer signed their national letters of intent to play collegiate sports.
A multisport athlete for Boulder City High School, Dylan Spencer committed to Utah Tech University in St. George for football, while Jeremy Spencer signed with Southwest Virginia Community College in Cedar Bluff for baseball.
A monstrous athlete, Dylan Spencer stands at 6 foot 7 inches, 285-pounds, and showcased his ability on both sides of the ball this past season for the Eagles.
A 3A All-Southern Region first-team selection on both side of the ball, Dylan Spencer was named Lineman of the Year for the Mountain League after making 39 tackles with seven sacks. On the offense line, he doubled as a bulldozing force, playing a key role is the Eagles' surge into the postseason.
He'll now become one of the few Eagles alumni to play at the Division I level, something he takes great pride in.
"It means the world that Utah Tech is giving me this opportunity," Dylan Spencer said. "I love the game of football. I want to make my high school and my community proud. I'm very excited to play football at the next level. I can't wait to see how I compared to other DI athletes."
Planning to major in business, Dylan Spencer raves about the school's amenities for athletes, while taking a liking to the relationship he had already formed with this past year's team.
"The reason why I committed to Utah Tech was because I like the facilities, coaches and the players," he said.
Quite the opposite in frame, but just as gifted playing the game, Jeremy Spencer stands at 6 feet tall and has turned into a gem of a baseball player on the diamond.
Having a breakout season on the varsity level last season as a junior, Jeremy Spencer was a first-team all-league pitcher, while doubling as a second-team position player.
Compiling a 4-0 record on the mound with 17 strikeouts, Jeremy Spencer also had a .380 batting average with 15 runs batted in.
Signing with Southwest Virginia Community College, Jeremy Spencer will link up with another Boulder City alum: class of 2016 graduate Steve Wagner, who took over coaching duties in July.
"I'm excited to have the opportunity to play at the next level and play with new teammates," Jeremy Spencer said. "I like coach Wagner. I've been coached by him before and after visiting there, I liked the team and the way they play together. I want to be part of it."
Planning to major in criminal justice, Jeremy Spencer praises the different change of scenery as a key reason why he's packing his bags for Virginia.
"I like the different weather, different scenery," he said. "It's a smaller place like Boulder City, which is also nice."
Planning to suit up one last time together before they depart for college, the Spencer brothers will take the field together this spring for the Eagles' baseball program and look to bring home a coveted state championship.
Contact Robert Vendettoli at BCRsports@gmail.com.