Roundup: Boys end season with nine-game win streak
February 15, 2023 - 3:59 pm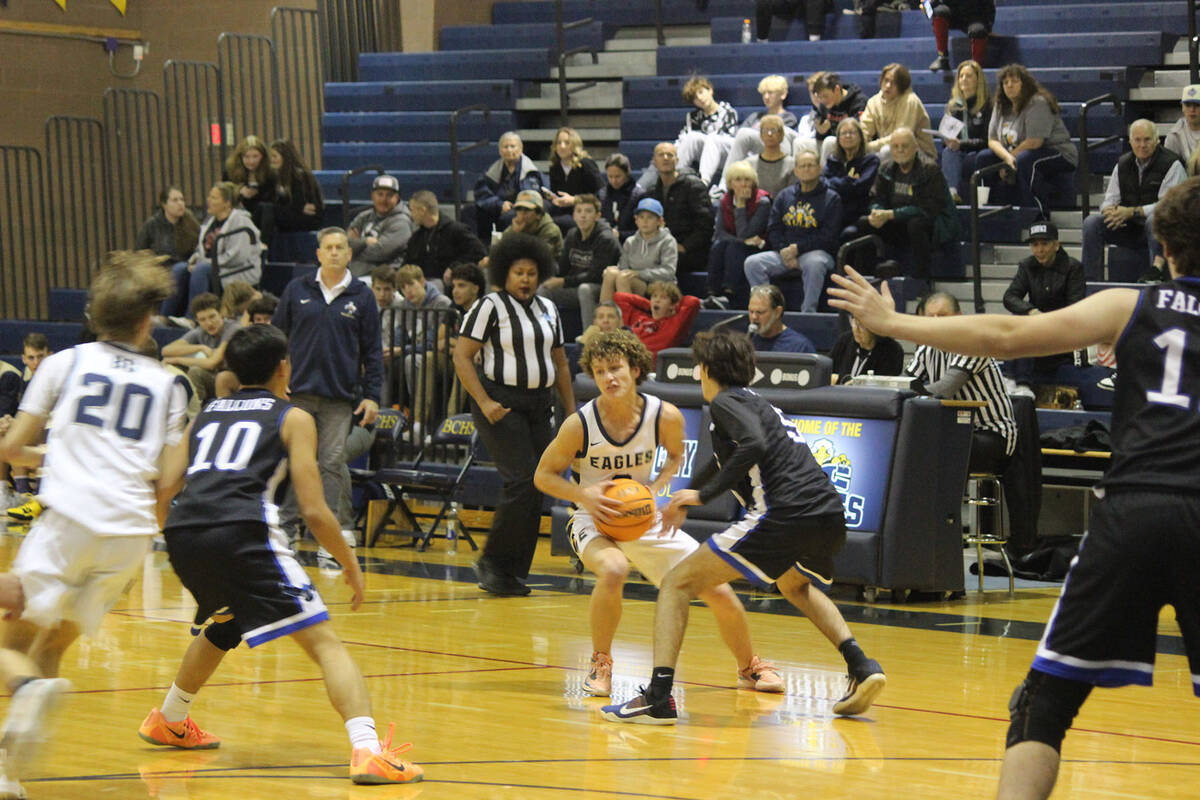 Boulder City High School's boys basketball team ended its regular season with a 69-37 win over Pahrump Valley, advancing its win streak to nine games.
Controlling the game from the opening tip with a 16-4 first-quarter run, senior Bruce Woodbury led all scorers with 14 points and four steals. Junior Roman Rose added 11 points with five rebounds and three assists.
Sophomore Jack Walker added nine points, and senior Bret Pendleton added eight points with 10 rebounds and three steals.
Entering the postseason with hopes of extending their winning streak to double digits, the Eagles will host Sky Pointe tonight in the opening round.
Girls basketball
Boulder City High School's girls basketball team fell to rival Virgin Valley 64-38 on Tuesday, Feb. 13, in the 3A regional quarterfinals, ending its season.
Closer than the score would suggest, the Lady Eagles trailed only 36-33 at the end of the third quarter, before the Bulldogs capped off the game with a 28-5 fourth-quarter run.
"Virgin Valley went on a run and we couldn't score a basket in the last five minutes of the game," girls head coach Brian Bradshaw said. "I loved how we competed. The final score wasn't an indication on how close this game was played. We were in it."
Keeping pace for the majority of the game, senior Bree Leavitt scored 13 points with six rebounds, and senior Kennedy Barrow added nine points with 11 rebounds.
In her last outing with the Lady Eagles, senior Callie Torgesen compiled three points with seven rebounds and five steals.
Bowling
Boulder City High School's girls bowling team finished as the 3A state runner-up on Friday, Feb. 10, falling to Canyon Springs 1,621-1,532 in the finals at The Orleans Bowling Center.
Picking up two victories during the postseason, the girls defeated Coral Academy 1,571-716 in the quarterfinals on Feb. 7 and The Meadows 1,602-1,575 in the semifinals on Feb. 9.
During the postseason the boys fell to eventual state champions Coral Academy 2,031-1,921 in the semifinals on Feb. 8.
They defeated Somerset Losee 1,672-1,425 on Feb. 6.
Contact Robert Vendettoli at BCRsports@gmail.com.
Upcoming games
Boys basketball
Thursday, Feb. 16, regional quarterfinals vs. Somerset Academy Sky Pointe, 6:30 p.m. at BCHS
Friday, Feb. 16, regional semifinals, 6:30 p.m. at TBA, if qualified
Saturday, Feb. 17, regional finals, time and place TBA, if qualified