Returning starters gives softball team edge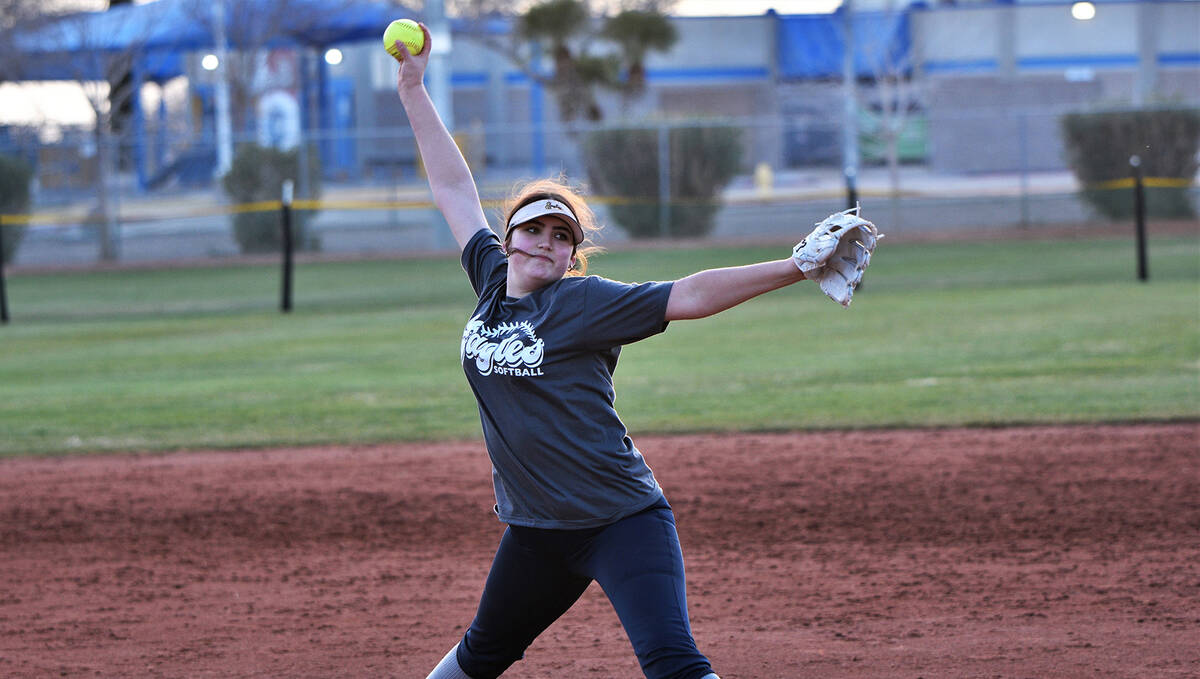 After a strong finish last season that brought the Lady Eagles to the 3A state tournament, the varsity softball team is looking to get back to the dance behind a strong core of returning starters.
While the Lady Eagles will have to find a new ace on the mound following the departure of Alyssa Bryant, Boulder City returns with a strong lineup.
"Our bats are strong," head coach Angelica Moorhead said. "We have some speed and we're excited and ready to start playing. We're expecting a lot from these young ladies. As always, we are looking to get into the state tournament."
Bringing back plenty of run production is junior Talynn Madrid, who was named to the 3A all-state team last season after batting .362 with 17 runs batted in and six doubles.
She'll be joined by a handful of second-team all league selections: juniors Alexis Farrar and Jordyn Wetherbee and sophomores Baylee Cook and Kylie Czubernat.
Farrar had a .348 batting average last season with 25 RBIs and seven doubles. Wetherbee batted .500 with 11 RBIs.
Having a breakout season as a freshman, Cook batted .472 with 29 RBIs, eight doubles and two home runs. Czubernat had a .267 batting average with six RBIs.
On the mound, sophomore Ruby Hood is expected to take over as the team's ace, while getting some help from Czubernat and freshmen Payton Rogers and Riley Elder.
"We're excited for such a young group of pitchers," Moorhead said. "They have some big shoes to fill following Alyssa Bryant, who is off pitching in college now. They have a great defense behind them."
Expecting to have a big season, the Lady Eagles will start the year off today in the Colorado River Invitational at Needles High School in California. They'll follow that up with a nonleague game at Las Vegas High School.
"With some of our returning core players, we are ready to play some good ball," Moorhead said. "They're going to have to be ready to take care of one another and be in the moment of every game."
Contact Robert Vendettoli at BCRsports@gmail.com.
Upcoming games
Thursday-Saturday, March 2-4, Colorado River Invitational at Needles High School in California, varsity
Thursday, March 2, at Canyon Springs, 3:30 p.m. junior varsity
Saturday, March 4, vs. Desert Pines, 10 a.m. junior varsity
Monday, March 6, at Las Vegas High, 3:30 p.m. varsity