Red zone poses challenges for Lady Eagles
January 18, 2023 - 4:04 pm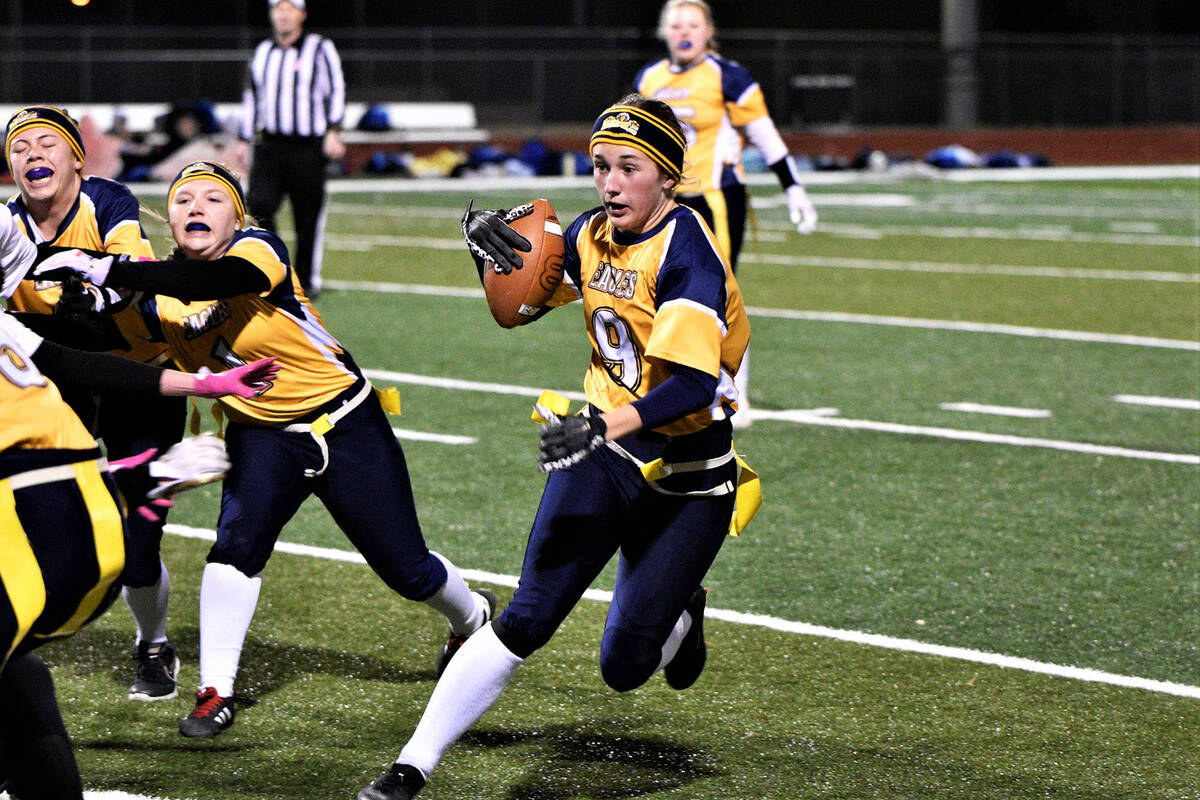 Boulder City High School's varsity flag football team will have to refocus after a crushing 26-20 defeat to rival Moapa Valley on Tuesday, Jan. 17, ending its most recent slate of games with a 2-1 record.
Ahead 20-6 at halftime, the Lady Eagles, which fell to 4-5 on the season, gave up three second-half touchdowns to the Pirates, which advanced to 8-1 on the season.
"Credit to Moapa Valley for coming to play in the second half," head coach Kevin Ruth said. "For the entire game, we were right there; we were close to putting it away and couldn't."
Coming down to the final whistle, senior quarterback Salah Coplin led the Lady Eagles down to the 2-yard line with a chance to win the game on fourth down before her receiver, who caught the ball in the end zone for the winning score, was ruled out of bounds.
"The red zone has been an issue for us all season," Ruth said. "Offensively we're clicking the first 70 yards of the field; we just have to find a way to put points on the board in the red zone."
Having one of her best games of the season, Coplin completed six of 14 passes for 83 yards and a two touchdowns, while rushing for 69 yards and a score on eight carries.
Seniors Ava Del Rio and Ava Payne were on the receiving end of those scores. Del Rio caught two passes for 31 yards, while rushing for 54 yards on six carries. Payne rushed for 61 yards on six carries, catching her lone pass for eight yards.
Days earlier, the Lady Eagles picked up two victories, defeating Amplus Academy 26-6 on Jan. 12 and Pinecrest Academy 37-7 on Friday, Jan. 13.
Against Amplus Academy, Coplin completed 12 of 22 for 175 yards and three touchdowns, while rushing for 94 yards and a score on four carries. Senior Ellie Speaker caught a 20-yard touchdown pass, Junior Madison Hammond made 11 tackles on defense.
Against Pinecrest Academy, Coplin completed 9 of 27 for 129 yards and two touchdowns, connecting with Payne and Speaker for scores. Payne caught four passes for 75 yards.
On the ground, sophomore Makayla Nelson rushed for 90 yards and a score on seven carries. Senior Ella Morris rushed for 27 yards and a score on three carries.
On defense, junior Aspen Christian generated an interception.
The Lady Eagles will travel to SLAM Academy today, Jan. 19, followed by a road game at rival Virgin Valley on Tuesday, Jan. 24.
Contact Robert Vendettoli at BCRsports@gmail.com.
Upcoming games
Thursday, Jan. 19, at SLAM Academy, 4:30 p.m. varsity
Tuesday, Jan. 24, at Virgin Valley, 3:30 p.m. junior varsity, 4:30 p.m. varsity