Postseason starts on high note for baseball team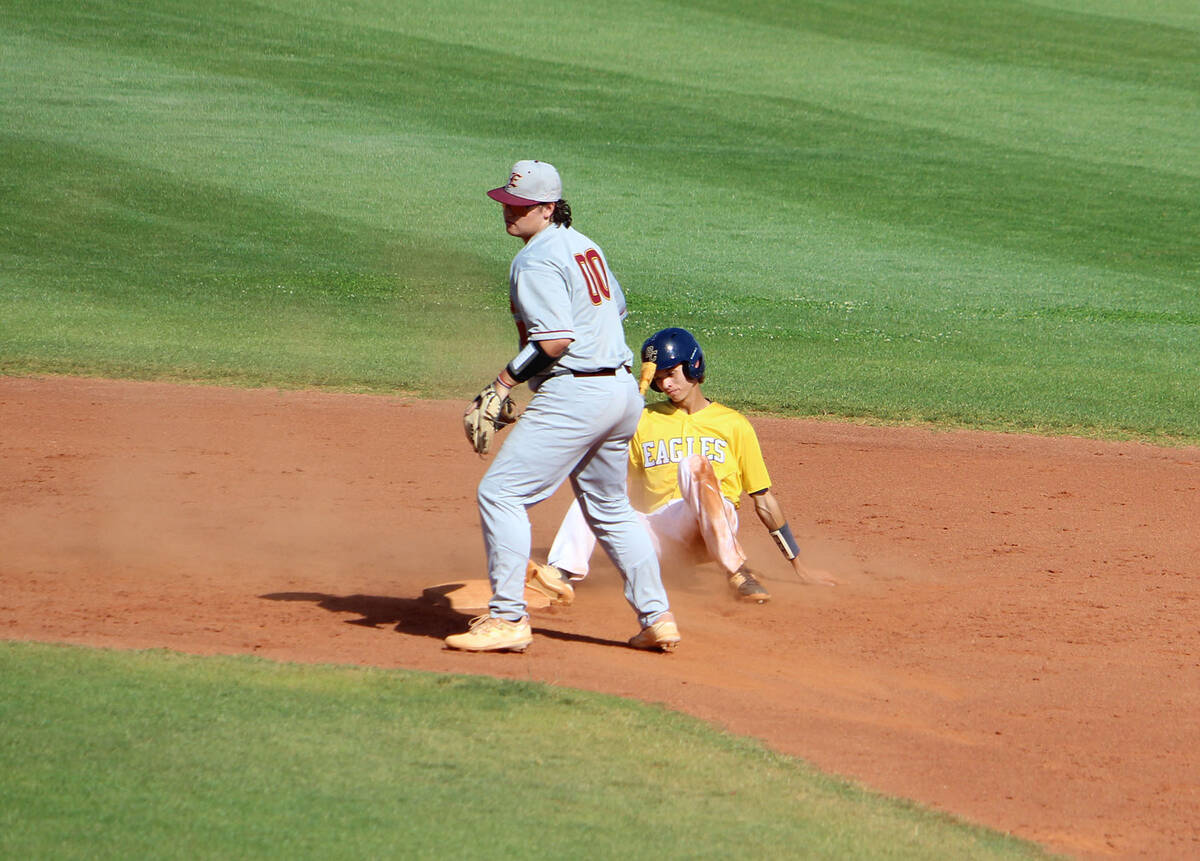 Extending their winning streak to eight games, Boulder City High School baseball cruised past Eldorado 6-0 and Virgin Valley 3-1 this week, opening up the postseason on a high note.
Blanking Eldorado on May 8, senior pitcher Dylan Spencer threw five innings where he allowed only one hit with eight strikeouts.
"Dylan did a great job against Eldorado," head coach Denny Crine said. "He put us in a position to win and kept his pitch count down."
Giving their pitcher plenty of run support, the Eagles jumped out to a 3-0 first-inning lead, while tacking on runs in the second and third inning.
Generating 14 hits offensively, senior Kanon Welbourne batted 2 for 3 with a pair of runs batted in, while senior Isaac Gibson batted 3 for 4.
Seniors Jeremy Spencer (2 for 3), Dylan Spencer (2 for 4) and Brayden Cook (1 for 3) all drove in a run, along with junior Derek Render (1 for 4).
Still, even with a sound victory, coach Crine knows his team is capable of greatness.
"We got 14 hits, but left 11 on base," Crine said. "We need to be better the rest of the way."
Defeating rival Virgin Valley 3-1 on May 9, Render picked up the victory, throwing two scoreless innings of relief, where he struck out four batters.
Starting the game, Welbourne threw five innings, allowing an unearned run off six hits with five strikeouts.
With hits coming at a premium against the Bulldogs at the plate, Render (1 for 2) did his part, driving in a run.
Earning runs any way they could, Gibson (0 for 3) and senior Bruce Woodbury (0 for 2) each earned an RBI in sacrifice efforts."It was a great game," Crine said. "It wasn't our best offensively, but we did what we needed to do to get the win."
Playing into the weekend, continued coverage of the Eagles' postseason run will be recapped in next week's issue.
Contact Robert Vendettoli at BCRsports@gmail.com.