Lady Eagles undefeated in 3A play
September 21, 2023 - 11:32 pm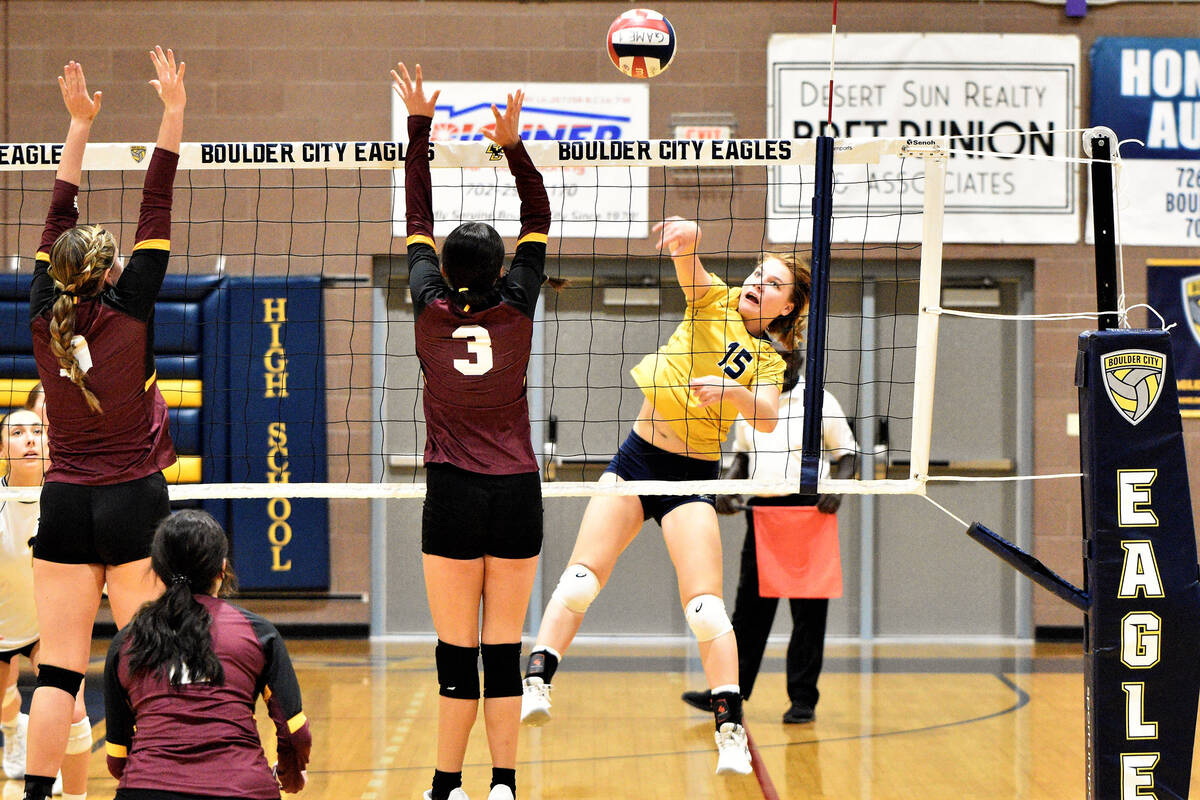 Continuing their reign over the 3A classification, Boulder City High School girls volleyball defeated rivals Moapa Valley on Sept. 14 and Pahrump Valley on Sept. 18.
Escaping Moapa Valley with a hard-fought 3-2 road victory, the Eagles played to the final whistle in Overton, clinching a 25-20, 23-25, 25-21, 22-25, 15-13 win.
Coming up in the clutch for the Lady Eagles, senior Addison Doane was on fire against the Pirates, generating a season-high 27 kills, with 20 digs defensively, while seniors Haley May and Aspen Christian each generated 11 kills.
Gaining contributions offensively from everyone, junior Sophia Kelso added nine kills, while senior Megan Uszynski added four kills and senior Anna Johnson added three.
Serving up assists with a two-headed attack, junior Lily Mackey led the team with 31 assists, while sophomore Delaney Loeslein added 29.
Diving for loose balls consistently, senior Jordyn Woodard led the way with a season-high 36 digs, while senior Kiya Marietta added 14 and junior Eden Gomez added 13.
Having a much easier time with Pahrump Valley at home, the Eagles cruised to a 3-0 victory, behind a 25-16, 25-11, 25-13 effort.
Doane led the way with 14 kills and five serving aces, while Uszynski added 12 kills and three aces.
May added seven kills and a pair of blocks , while Kelso added six kills and a pair of aces.
Woodard made 26 digs, while Uszynski added 11 digs.
Mackey dished out 21 assists, while Loeslein dished out 18 assists.
Undefeated in 3A play with a 9-6 record overall, the Eagles will travel to Somerset Losee on Wednesday.