Lady Eagles to make seventh straight state volleyball bid
November 10, 2023 - 8:58 am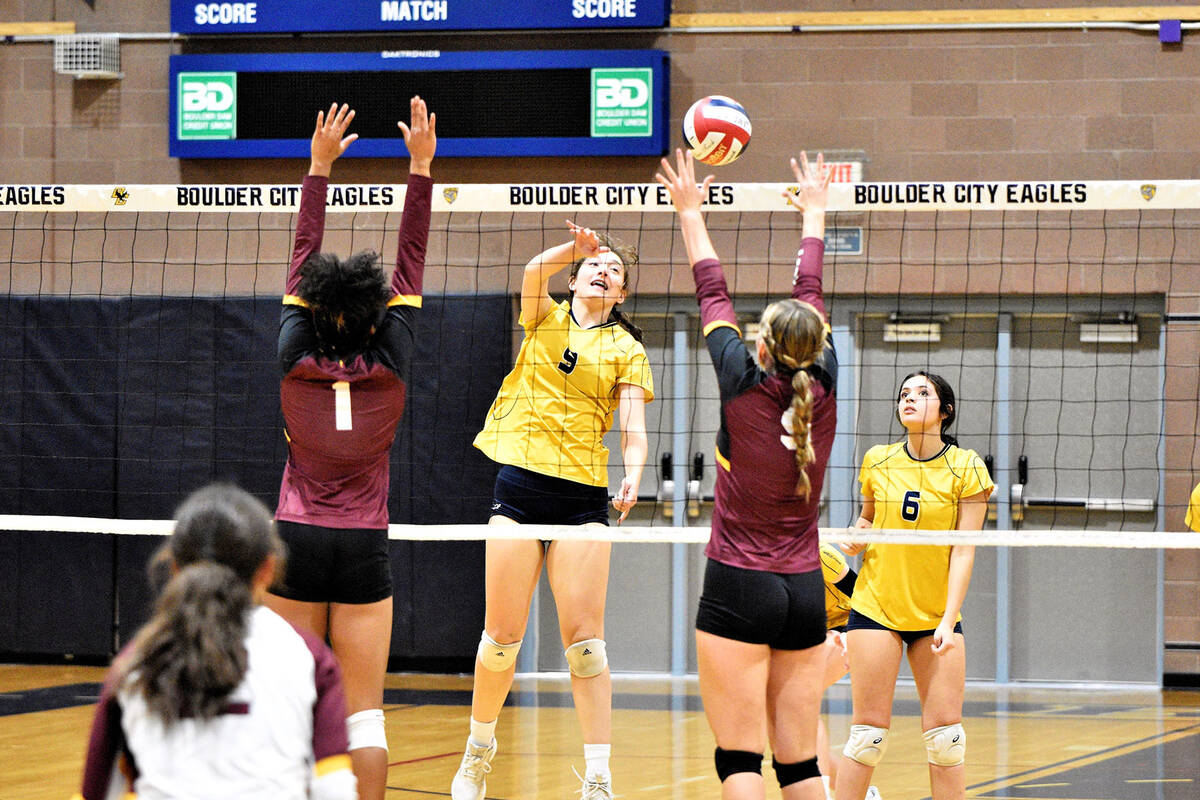 Despite falling to The Meadows 3-1 on Nov. 4 in the 3A regional championship game, Boulder City High School girls volleyball will make their seventh consecutive 3A state tournament appearance.
"The Meadows are a really good team," head coach Chad Robinson said. "Obviously we would have liked to win that game and we had chances. We're happy to make another state tournament appearance. It's great for our program, but that game reminds us we need to stay sharp for the entire game and play a complete game."
Taking The Meadows (24-3) to a fourth set, the Eagles fell 18-25, 23-25, 25-19, 17-25.
Dominating their competition, The Meadows are currently undefeated in 3A league play this season with only the Eagles and Moapa Valley forcing a fourth set against the Mustangs.
The Eagles previously beat The Meadows 3-1 on Aug. 28 in preseason play.
Trying to keep pace offensively, senior Aspen Christian and junior Sophia Kelso each generated eights kills, while senior Addison Doane added five kills, with 11 assists and seven serving aces.
Defensively, senior Jordyn Woodard led the way with 16 digs, while senior Megan Uszynski and sophomore Hayden Nordstrom each added 12 digs.
The Eagles punched their ticket to state with a 3-0 victory against rival Moapa Valley on Nov. 2 in the game prior.
Defeating the Pirates 25-22, 25-20, 25-11, this will be the first year since 2016 that Moapa Valley doesn't join the Eagles at state.
"It was kind of weird playing them in the semifinals because we've had so many championship battles," Robinson said. "Our run of success is nearly identical and when we saw the matchup, we knew for the first time since 2016 one of us wouldn't be advancing to state. I thought the girls played great."
Leading the way offensively, Doane generated 14 kills, while Uszynski added eight kills and Woodard added seven kills.
Becoming a defensive catalyst, Nordstrom led the way with 17 digs, while Uszynski added 14 digs.
Sharing setting duty, Doane led the way with 18 assists, while junior Lily Mackey added 17 assists.
Looking to bring home their fifth 3A state title in six seasons, the Eagles will play Elko on Friday at Virginia Street Gym on the University of Nevada Reno campus.
Contact Robert Vendettoli at BCRsports@gmail.com.