Holiday tourney test girls' skills
January 4, 2023 - 3:28 pm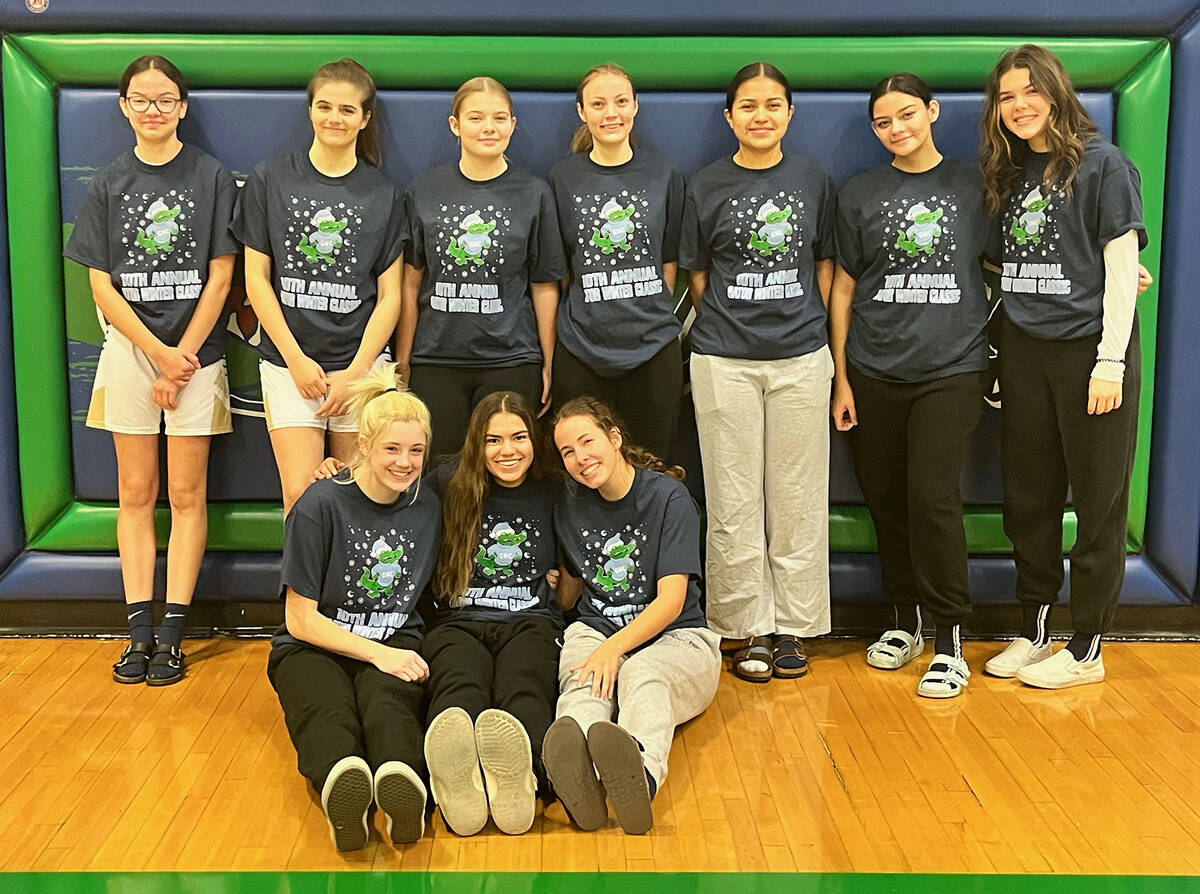 Playing in the Green Valley Holiday Tournament during the winter break, Boulder City High School's girls basketball team finished with a 2-2 record.
Finishing with a 2-0 record in pool play and receiving the top seed in the championship bracket for their division, the Lady Eagles defeated Sierra Vista and Sloan Canyon before falling to Needles and Segerstrom.
Defeating Sierra Vista 31-23 on Dec. 27, senior Bree Leavitt led the way with seven points. Senior Callie Torgesen and juniors Kylie Flowers and Julia Carmichael all scored six points.
Senior Kennedy Barrow led the way with 15 rebounds.
"It was a great team effort on the defensive side to stop an athletic and tall Sierra Vista team," head coach Brian Bradshaw said. "We have been working more on our zone defense in practice and it paid off as our strategy was to slow Sierra Vista down."
Defeating Sloan Canyon 63-14 on Dec. 28, Leavitt and Barrow scored 15 and 14 points, respectively, while sophomore Sophia Muelrath scored 14 points coming off the bench.
Falling to Needles 33-20 on Dec. 29, the Lady Eagles attempted to scratch their way back from a 18-5 first quarter deficit, but struggled to find a way to cut into the lead.
Leavitt and Carmichael each scored nine points, and Barrow pulled down 14 rebounds.
"After the first quarter, we played Needles even for the rest of the game, holding them to just 15 points," Bradshaw said. "We outscored them in the second half. I was definitely disappointed in our level of play at the beginning of the game, however I feel this was a great learning experience for us in preparation for some of the top teams in our league."
Falling to California program Segerstrom in the final game of the tournament Friday, Leavitt scored 13 points.
Looking to get back on the winning track before league play, the Lady Eagles will travel to Coral Academy today, Jan. 5, followed by a home game on Monday, Jan. 9, against Del Sol and road game Tuesday, Jan. 10, against rival Moapa Valley.
"We have played a very tough preseason schedule and the majority of our losses have come against teams that have a winning record," Bradshaw said. "We are in a great place right now as a basketball team and we should feel good about how we competed against some of the best teams in the state."
Contact Robert Vendettoli at BCRsports@gmail.com.
Upcoming games
Thursday, Jan. 5, at Coral Academy of Las Vegas, 5 p.m. junior varsity; 6 p.m. varsity
Monday, Jan. 9, vs. Del Sol, 3:30 p.m. freshmen; 5 p.m. junior varsity; 6:30 p.m. varsity
Tuesday, Jan. 10, at Moapa Valley, 3:30 p.m. junior varsity; 5 p.m. varsity; 6:30 p.m. freshmen