Hinds leads golf team back to state
October 12, 2023 - 6:03 pm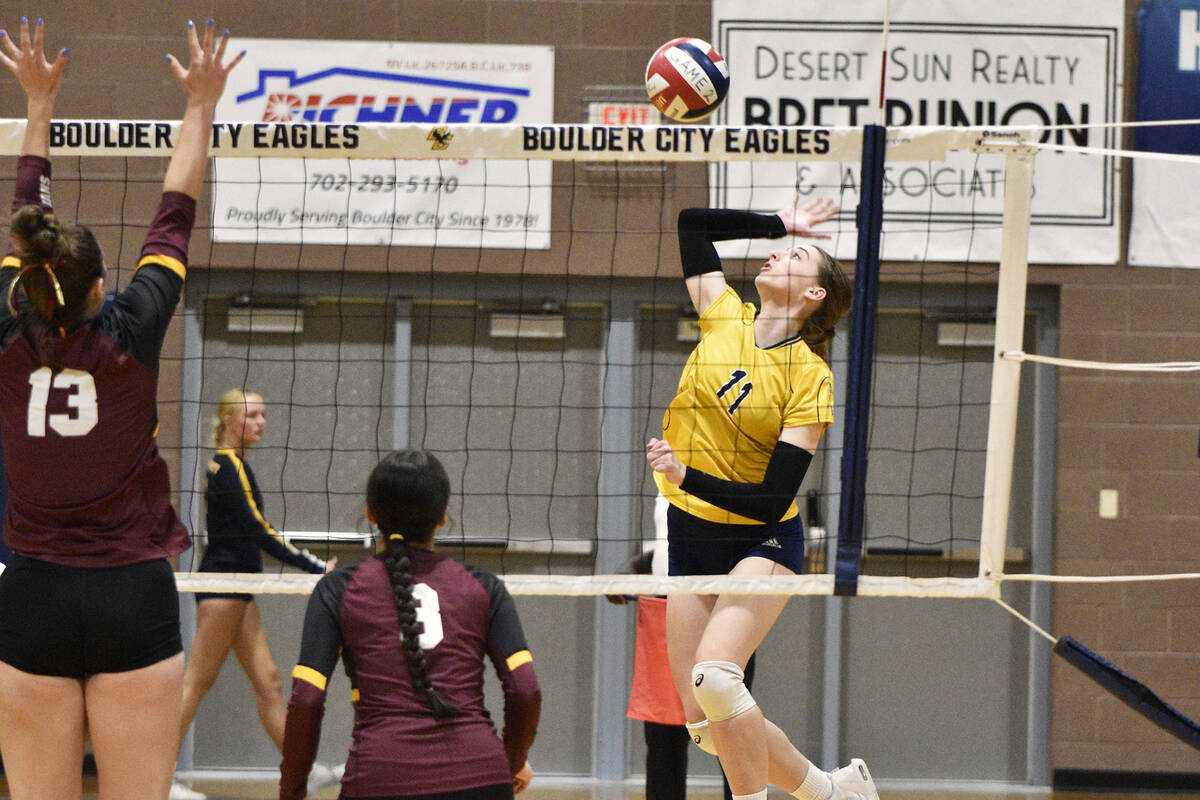 Boulder City High School girls golf phenom Emmerson Hinds is leading the Eagles back to state after finishing as the 3A Southern Region champion on Oct. 10 at Mountain Falls Golf Club.
"Emmerson won the individual title, shooting 70 on both days," head coach Bobby Reese said. "Pretty amazing talent that young lady is."
A freshman poised beyond her years, Hinds shot a 140 on the day, edging out The Meadows' Mizara Norton (142).
As a team, the Eagles (812) finished in second place behind The Meadows (751), with a strong effort from freshman Makenzie Martorano, who finished ninth out of 18 golfers with a score of 200.
Senior McKenzye Trobiani and sophomore Rylee Elder finished 12th and 13th, respectively, with scores of 232 and 240 respectively.
The 3A state meet will be held Oct. 17 at Palms Golf Course in Littlefield, Ariz. and Oct. 18 at CasaBlanca Golf Club in Mesquite.
Cross country
Continuing to excel for the Boulder City High School girls' cross country program, juniors Ellie Palmer and Layla Lourenco finished 16th and 19th, respectively out of 62 runners at the Southern Nevada Coaches Association Invitational on Oct. 6 at Liberty.
Competing against 5A, 4A and 3A programs, junior Paul Moll finished 53rd out of 85 runners for the boys.
Competing at a weekday race on Oct. 10 at Southeast Career Technical Academy, Palmer finished second out of 32 runners, while sophomore Kendall Shamo finished 20th.
Moll finished 16th out of 46 runners for the boys, while freshman Ezekiel Ford finished 30th.
Heading into the weekend, the Eagles will host the Lake Mead Invitational at Veterans' Memorial Park on Saturday.
Girls volleyball
Bouncing back from a tough loss against The Meadows on Oct. 5, Boulder City High School girls volleyball sharpened iron with iron over the weekend at the Dragons Invitational, finishing with a perfect 8-0 record.
Defeating key teams, the Eagles cruised past Northern 5A challenger McQueen, along with Southern 4A programs Bonanza, Cadence, Chaparral, Cimarron-Memorial, Las Vegas, Spring Valley and Sunrise Mountain.
Building upon that momentum, the Eagles picked up their 20th victory of the season against Pine Crest Sloan Canyon Oct. 10, in a 25-21, 25-16, 25-19 victory.
Senior Addison Doane led the way with 14 kills and eight serving aces, while senior Megan Uszynski added 11 kills with four aces.
Senior Haley May added six kills, while junior Sophia Kelso added six kills and four aces.
Defensively, senior Jordyn Woodard led the way with 26 digs, while Doane added nine.
Junior Lily Mackey led the way with 33 assists on the night.
Sitting with a 20-7 record, the Eagles will look to continue their dominance after suffering their first league loss, when they travel to Western on Monday and Pahrump Valley on Wednesday.
Boys tennis
Boulder City High School boys tennis is in the midst of a playoff run after defeating Chaparral in back-to-back matches.
Cruising to a 16-2 victory to end the regular season on Oct. 5, the top seeded Eagles matched up with the Cowboys on Oct. 9 for a 17-1 quarterfinals victory.
Getting points from their singles competitors, sophomores Shane Barrow and Logan Borg each finished 2-0, while sophomore Lars Litjens finished 2-1.
In doubles play, the tandem of seniors Ike Pappas and Roman Rose finished 2-0, while juniors Luke Wright and Sean Pendleton finished 1-0.
Matched up with Coral Academy on Oct. 11 in the semifinals, continued coverage of the Eagles postseason will be in next week's issue.
Girls tennis
Top-seeded Boulder City High School girls tennis will host Pahrump Valley today in the 3A Southern Region semifinals after having a first round bye.
Coming off an 18-0 win against Chaparral on Oct. 5 in their regular season finale, the Lady Eagles finished league play with a perfect 11-0 record.
Cruising past the Cowboys, senior Emma Wood finished 2-0 in singles play, along with the doubles tandems of senior Julia Carmichael and junior Irene Fresneda-Rodriquez and senior Chiara Steffes and junior Sydnie Freeman.
Contact Robert Vendettoli at BCRsports@gmail.com.