Girls tennis crowned state champs
November 2, 2023 - 11:07 pm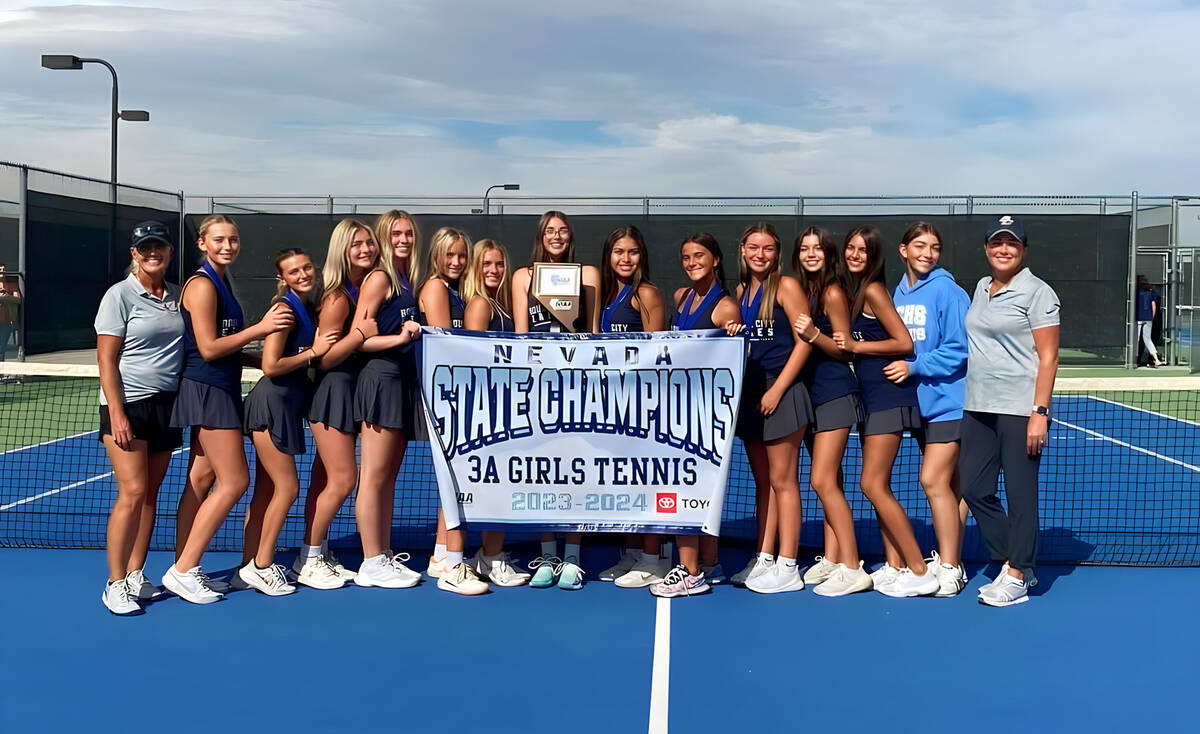 Finally climbing the mountain top, the Boulder City High School girls tennis team was crowned 3A state champions on Oct. 27, defeating Northern Nevada opponent Truckee.
"This was an incredibly surreal moment, as we huddled together, emphasizing the importance of giving it our all on the court," head coach Jami Pappas said. "Our journey through the rounds had its ups and downs, with a loss in the first round but we made a strong comeback in the last. The team's outstanding performance had us on the edge of our seats during the tiebreaker, where, despite no coaching, nine players battled like never before."
Battling through adversity to claim their first state championship in school history, the Lady Eagles found themselves sitting with a 9-9 tie after regulation, needing overtime to decide the outcome.
Playing against a Truckee opponent that didn't want to leave empty-handed, the overtime match ended with a 3-3 tie, with the Eagles sweeping through doubles and Truckee sweeping through singles play.
Going to a second tie-breaker, the Eagles won on points, 32-30, to pull away victorious.
"Izzy (Rehrer), Aria (Shelton) and Emma (Woods) had the toughest singles players and all got crucial points against the top-seeded Truckee girls," Pappas said. "When the officials confirmed our victory with a 32-30 score, I couldn't contain my excitement, jumping up and down in joy. I felt an overwhelming rush of emotions at that moment. Pride for the girls, happiness for the state title, and immense gratitude for Rachelle Huxford's unwavering support. It was a moment filled with appreciation."
Lifting a heavy hand in the finals, senior Julia Carmichael and junior Irene Fresneda-Rodriquez finished 3-0, including a win in overtime against Truckee, along with the tandem of senior Chiara Steffes and junior Sydnie Freeman.
Juniors Chayce Larson and Madeline Morris finished 2-1 with a victory in overtime, while senior singles player Emma Woods finished with a 1-2 record.
In the Individual state tournament, Carmichael and Fresneda-Rodriquez were crowned state champions in doubles, defeating Truckee's Naomi Park and Ava Phelan 6-2, 6-2.
"I'm thrilled for Julia and Irene, who demonstrated exceptional dedication and passion, earning their well-deserved state championship title," Jami Pappas said. "They truly showed with their relentless efforts."
Larson and Morris were awarded third place in doubles, defeating North Valley's Skyla Kinsley and Ivy Williams 6-1, 6-1.
In singles play, Woods finished third, defeating Truckee's Paige Wilcox, who came in as the North's top seed 6-1, 6-0.
"Emma's commitment and confidence were remarkable, and her third-place win was well-earned," Pappas said. "She displayed resilience and determination throughout the playoffs. Maddie and Chayce also delivered a commendable performance. Their partnership promises a bright future in tennis if they choose to continue together."
Just missing out on sweeping the team titles, the boys fell to South Tahoe in the championship final 12-6.
Earning their points in doubles play, the duo of seniors Ike Pappas and Roman Rose swept 3-0, while the duo of juniors Carson Alder and Chandler Shamo finished 2-1.
Juniors Luke Wright and Sean Pendleton finished 1-2.
In individual play, Ike Pappas and Rose finished second in doubles play, falling to Moapa Valley's Aidan Johnson and Braden Leavitt in the finals 6-2, 6-3.
Contact Robert Vendettoli at BCRsports@gmail.com.