Girls gear up for playoffs
February 15, 2023 - 4:00 pm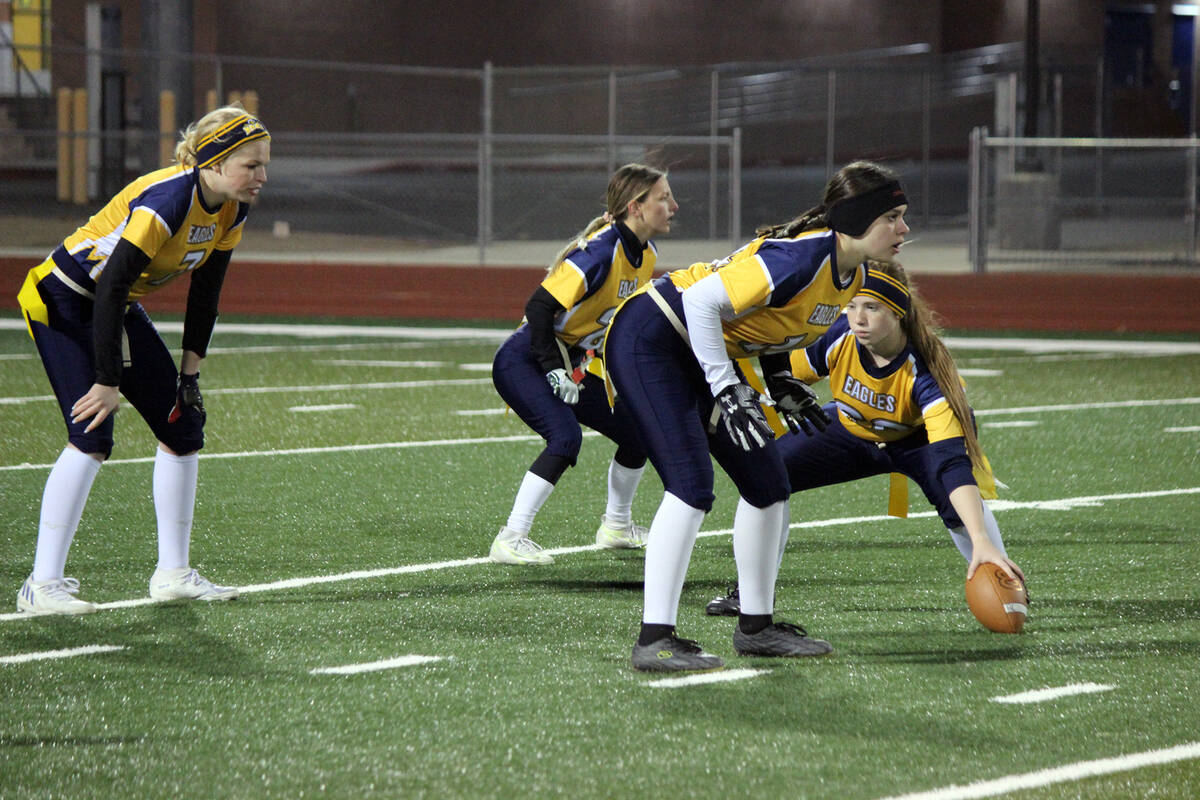 The varsity flag football team from Boulder City High School advanced to the state semifinals after defeating SLAM Academy 21-12 on Monday, Feb. 13.
"The girls played hard the first round of the playoffs against a very physical team," said head coach Kevin Ruth. "We have positions that needed to be filled with some players that are really stepping up to do that. Virgin Valley is a tough team that is very well coached but our girls are excited for the opportunity to play them in the semifinals."
Doing enough offensively to put the Bulls away, senior quarterback Salah Coplin completed 7 of 20 passes for 71 yards and two touchdowns, while rushing for 24 yards and a score.
"Salah is doing a good job," Ruth said. "We are going to throw it a little more than usual to loosen up Virgin's defense and she has been working hard to be able to do that."
Helping Coplin in the backfield is junior Izabel Rehrer, who rushed for 113 yards on 14 attempts to add balance to the offense.
"Izzy has been a huge surprise," Ruth said. "I knew she was fast and competitive watching her play soccer but she has really gotten into flag football. She is learning how to read the blocks to get extra yards. The line is going to be a huge part of our success."
On the receiving end of Coplin's touchdown passes were junior Jordyn Wetherbee, who caught three passes for 35 yards, and sophomore Baylee Cook, who caught three passes for 25 yards.
Defensively, Wetherbee made six tackles with three sacks, and junior Aspen Christian added two tackles and an interception.
On a three-game win streak, the Lady Eagles defeated Western 32-0 on Feb. 9 in their regular season finale.
Continued coverage of the 3A state tournament will conclude in next week's issue.
Contact Robert Vendettoli at BCRsports@gmail.com.
Upcoming games
Friday, Feb. 17, state finals, 4 p.m. at Las Vegas Raiders headquarters, if qualified