Girls fight to end, come up short
January 18, 2023 - 4:05 pm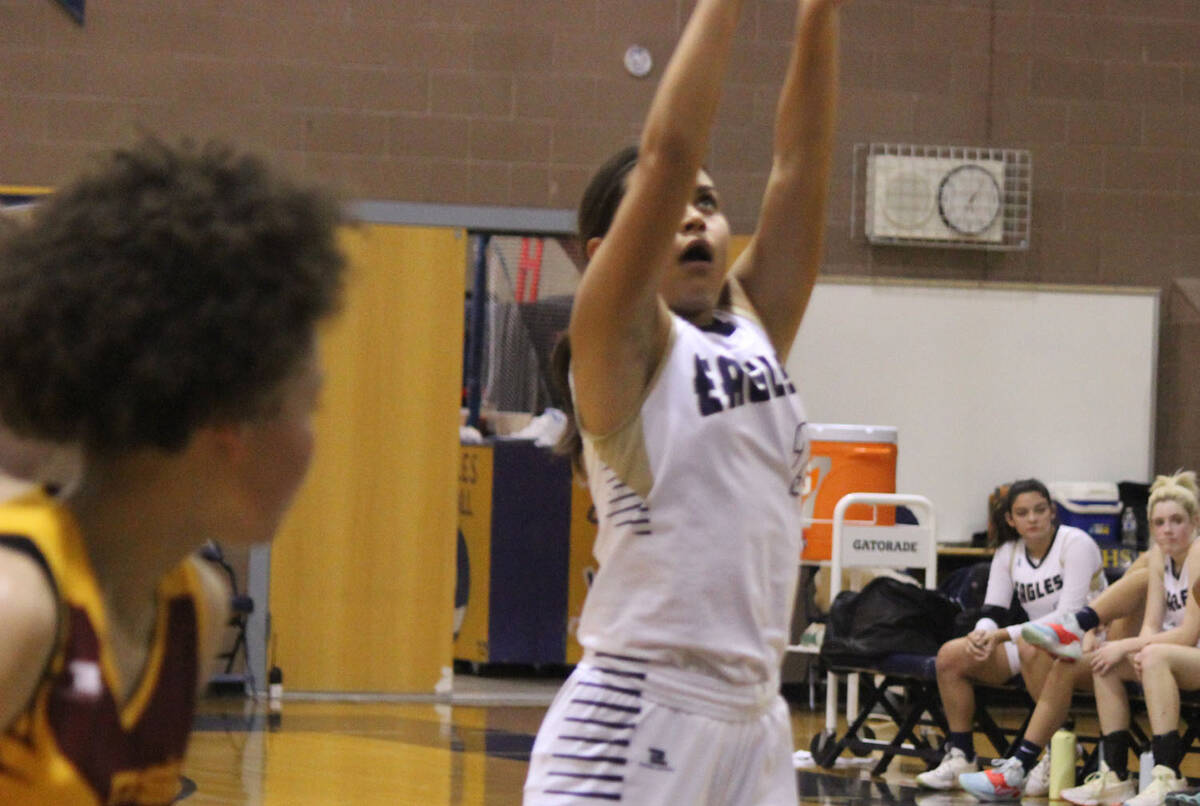 Boulder City High School's varsity girls basketball team dropped to 6-11 on the season after losing a competitive 40-37 contest to SLAM Academy on Friday, Jan. 13.
"Going into the SLAM game we knew this would be a tough game for us as they were playing very well, coming off a big win against Coral Academy," said head coach Brian Bradshaw. "We had many opportunities late in the game to make a run, but struggled with our offensive play and had some unforced turnovers that really hurt us. We struggled getting our transition game going."
Down 23-18 at halftime to the Bulls, which advanced to 8-4 on the season, the Lady Eagles struggled offensively, managing to comment on only 12 of their 48 shot attempts.
Playing to the final horn despite their struggles, the Lady Eagles found themselves in the game late with a 12-9 fourth-quarter run before coming up short.
"I was proud of our fight to the end," Bradshaw said. "Callie Torgesen had some key steals down the stretch that put us in a position to cut the lead down to one point before SLAM hit two free throws with two seconds remaining to secure the win."
Providing offense for the Lady Eagles were senior Bree Leavitt, who led all scorers with 18 points, and junior Julia Carmichael added eight points.
Senior Callie Torgesen added four points, along with 10 rebounds, six steals and three assists.
Active on defense, senior Kennedy Barrow added 10 rebounds and five steals, while Carmichael added 10 rebounds with two steals.
Collectively on the night, the Lady Eagles generated 21 steals on defense in a game they'll take with them as a learning lesson moving forward.
"SLAM is a very good basketball team and I give them credit for beating us," Bradshaw said. "I feel the outcome will be much different when we play them at home later in the season. Our kids are still learning and it's just a matter of time before we put everything together."
Looking to get back in the win column, the Lady Eagles will travel to Southeast Career Technical today, Jan. 19, followed by a home game against Eldorado on Monday, Jan. 23.
Contact Robert Vendettoli at BCRsports@gmail.com.
Upcoming games
Thursday, Jan. 19, at Southeast Career Technical Academy, 3:30 p.m. freshmen; 5 p.m. junior varsity; 6:30 p.m. varsity
Monday, Jan. 23, vs. Eldorado, 5 p.m. junior varsity; 6:30 p.m. varsity