Eagles win second straight
October 12, 2023 - 6:05 pm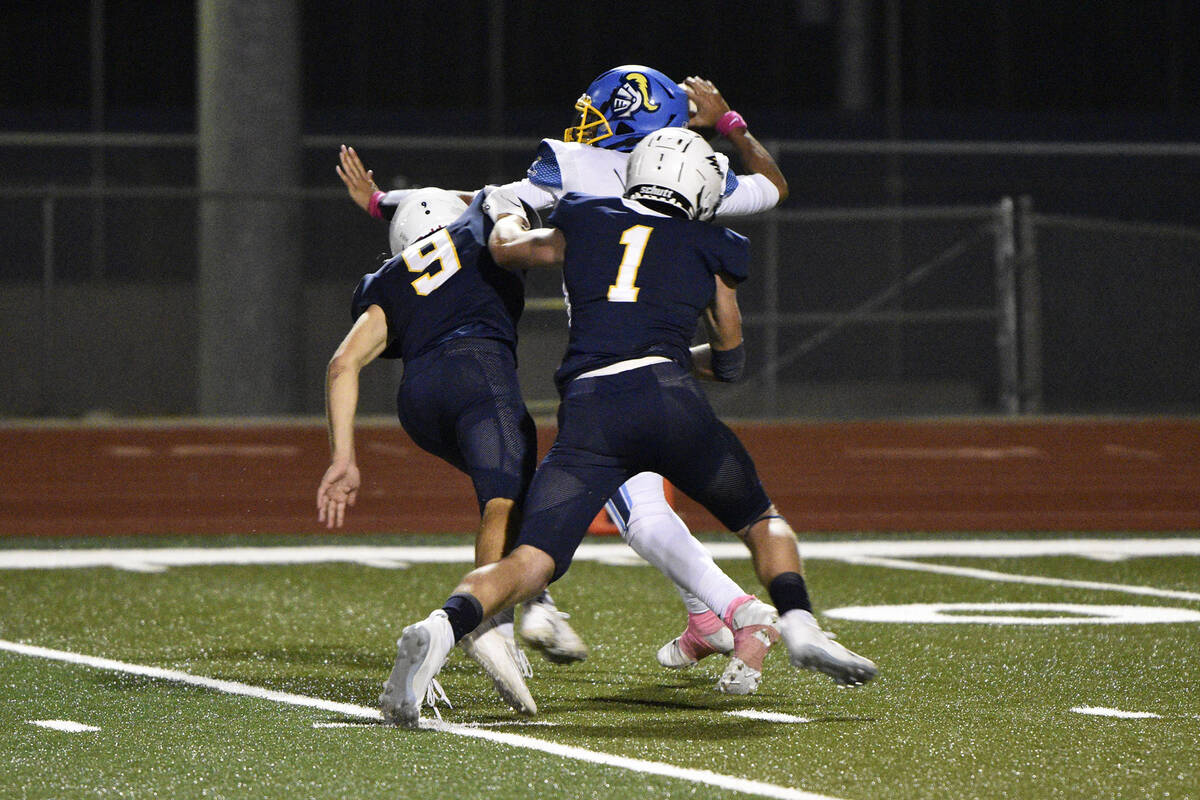 Building a winning streak, Boulder City High School football defeated Democracy Prep 41-28 on Oct. 6.
"I thought we played good overall," head coach Bubba Mariani said. "We made a couple of mistakes here and there, but they're definitely a team that people don't give enough credit. They gave us a really good game, and it took our best to beat them."
Taking their 41-28 lead into the fourth quarter, the Eagles were able to stop Democracy on a fourth and goal attempt to open the quarter, shifting momentum in the game.
"It was a huge play for us," Mariani said. "They were building some momentum heading into the fourth and we took it from them. I definitely think that play helped change the game."
Leading the charge for the Eagles, junior quarterback Gage Hopkinson completed 21 of 33 passing for 251 yards and four touchdowns, while rushing for 70 yards and a score on 13 attempts.
Connecting with multiple receives for scores, senior Chase Jappe caught six passes for 55 yards and two touchdowns, while junior Easton Welbourne caught 10 passes for 107 yards and a score.
Senior Derek Render caught six passes for 82 yards and a score.
An all-around threat, Jappe also rushed for 24 yards on four attempts, while making six tackles on defense.
"Chase is a guy who's really dangerous," Mariani said. "I've said it before, we have multiple playmakers on this team and Chase found a way to make the easy plays. Their defense doubled Brady the majority of the night, which was able to get some other guys free to have big games."
Getting after the quarterback on defense, senior Mason Terrill made a pair of sacks, along with a sack each from Jappe, senior Gabriel Richey and junior Cooley Campbell.
Senior Anthony Chavez forced a pair of fumbles on the night.
"I love that we're able to get a pass rush on opposing offenses," Mariani said. "Getting after the quarterback is definitely important and is a strong suit for us on defense. I now challenge our guys to get better in run support and become more well-rounded."
Sitting with a 5-1 record, the Eagles will travel to 3A conference leader SLAM Academy (6-1) on Friday for a big matchup.
Contact Robert Vendettoli at BCRsports@gmail.com.