February 1, 2023 - 3:49 pm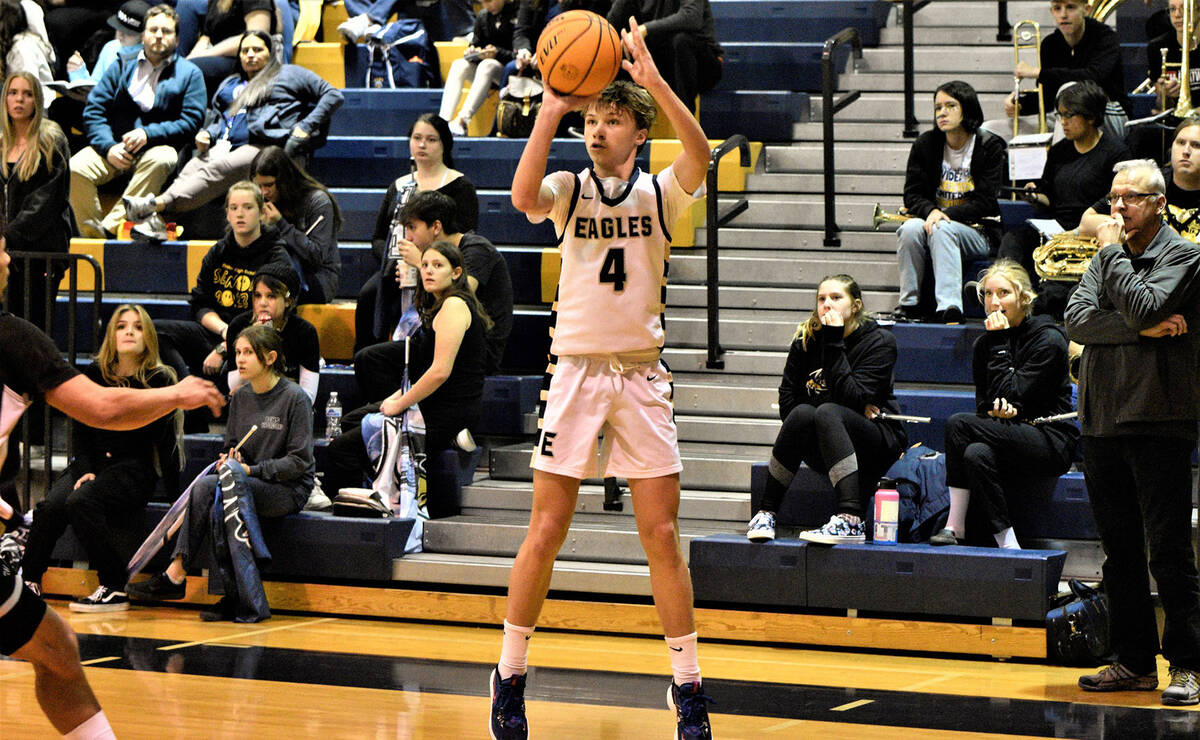 Riding a five-game winning streak after knocking off SLAM Academy 52-46 on Monday, Jan. 30, Boulder City High School's varsity boys basketball team finds itself in first place in Desert League play.
"I thought we were really solid defensively," said boys head coach John Balistere. "We controlled the game early and never relinquished the lead. We knew they were a really good team and they certainly made their run, but we were able to withstand it and knock down some free throws when it mattered."
Picking up their biggest victory of the season against a SLAM team that came into the game with a 22-1 record, the Eagles led wire to wire, showing signs of growth as a team.
"I think we're starting to find a rhythm," Balistere said. "We're finally getting healthy and guys are starting to jell together. We're starting to feel like a team."
Ahead 30-15 at halftime, SLAM Academy made a late second-half run to get the game to within two points late in the fourth quarter, but the Eagles never relinquished the lead.
Making key defensive stops and knocking down shots when it mattered most, the Eagles made the most of their opportunity in what felt like a playoff atmosphere.
Making nine of their 13 free-throw attempts, the Eagles also shot 58 percent on their two-point attempts, efficiently and effectively putting points on the board.
Senior Brayden Jones led the way with 15 points. Senior Bret Pendleton and junior Roman Rose each added 13 points.
Jones grabbed six rebounds, while Rose dished out five assists. Senior Bruce Woodbury added five points, four steals and three assists.
Advancing to 12-10 on the season, the Eagles defeated Pahrump Valley 61-28 on Jan. 26.
Rose scored a game-high 24 points. Sophomore Luke Wright added nine points and Woodbury dished out seven assists.
The Eagles will look to continue their winning streak on Friday, Feb. 3, when they host Southeast Career Technical Academy, followed by a road game at Coral Academy on Tuesday, Feb. 7.
Contact Robert Vendettoli at BCRsports@gmail.com.
Upcoming games
▶ Friday, Feb. 3, vs. Southeast Career Technical Academy, 3:30 p.m. junior varsity; 5 p.m. freshmen; 6:30 p.m. varsity
▶ Tuesday, Feb, 7, vs. Coral Academy at TBA, 5 p.m. junior varsity; 6:30 p.m. varsity