Eagles roll in first round of playoffs
November 2, 2023 - 11:09 pm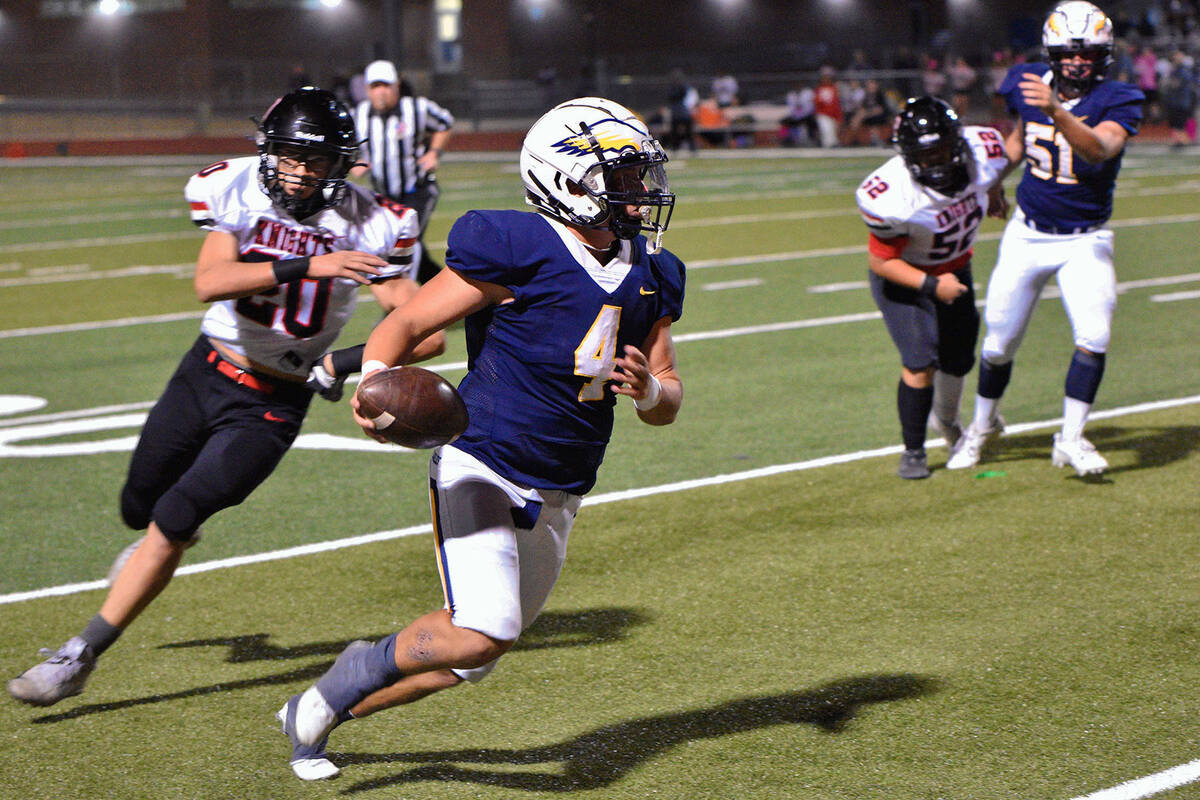 Cruising during the first round of the 3A regional playoffs, Boulder City High School football defeated Mater East 48-0 on Oct. 26.
"I'm really happy with how we played," head coach Bubba Mariani said. "This was our first complete offensive and defensive game where everyone went out and played like we hoped they would."
Stealing the show for the Eagles, senior Chase Jappe rushed for 118 yards and two scores on 11 carries, while catching two touchdown passes for a combined 58 yards.
"We knew coming into the playoffs that we would need to run the ball if we wanted to win," Mariani said. "Putting Jappe back there was great for us, he runs very hard. Being able to run and pass is crucial for us. Whenever a team tries to stop one, we're gonna do the other and they're gonna be wrong."
Equally entertaining on both sides of the ball, junior quarterback Gage Hopkinson completed 14 of 26 passing for 211 yards and a pair of touchdowns, while rushing for 75 yards and a pair of scores on seven attempts.
A playmaker on defense as well, Hopkinson caught a pair of interceptions, while making four tackles.
Ballhawking consistently throughout the night, junior Ethan Welbourne caught a pair of interceptions, returning one for a touchdown, while senior Travis Hess pulled down an interception as well.
Offensively, Welbourne caught seven passes for 109 yards receiving.
Putting constant pressure on the quarterback, senior Charlie Stewart (four tackles) recorded a pair of sacks, while senior Mason Terrill (two tackles) added a sack.
"Our defense played amazing," Mariani said. "This is the type of game we've been looking for all season from them. We made adjustments and we're gonna roll with a 5-2 defense the rest of the season. It gives us great run support and we trust our defensive backs to go one-on-one with any receiver."
Looking to ride their momentum, the Eagles will travel to Moapa Valley on Friday, looking to avenge a 42-9 defeat on Sept. 22.
"I just want our guys to go in and believe we can win," Mariani said. "We're coming off a complete game and I believe we have what it takes to advance."
Contact Robert Vendettoli at BCRsports@gmail.com.