January 25, 2023 - 3:37 pm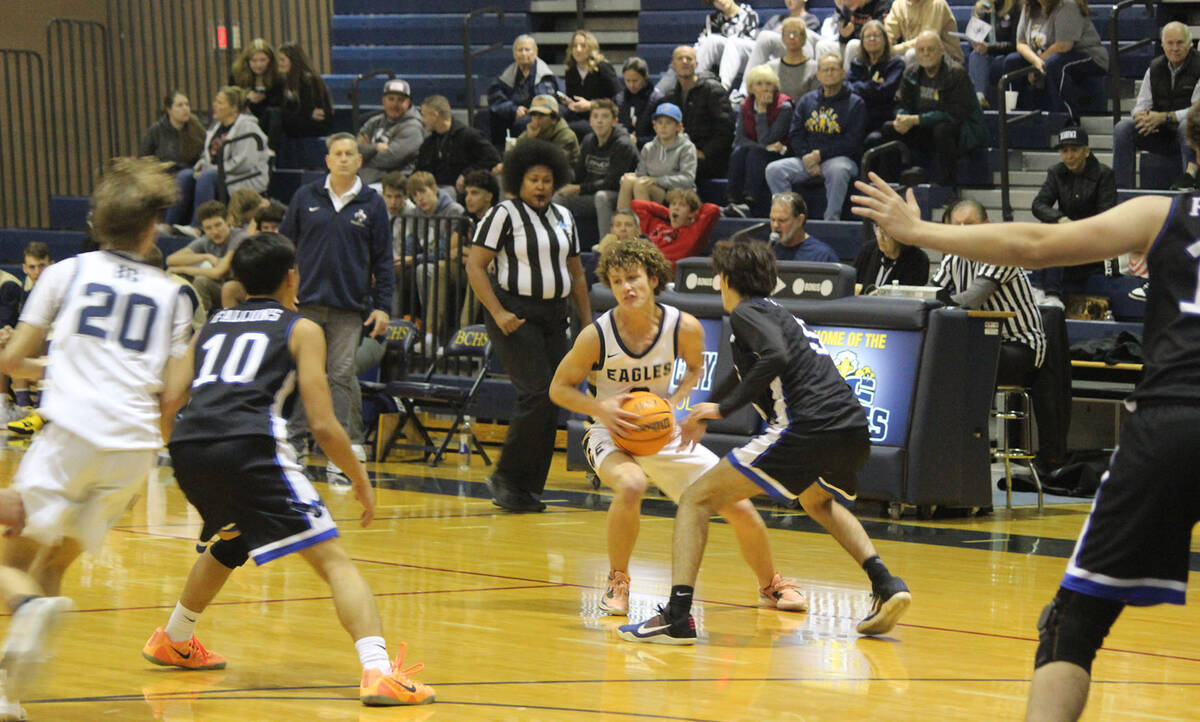 Boulder City High School's varsity boys basketball team is riding a win streak, with victories at its three most recent games, defeating Pinecrest Academy Cadence, Southeast Career Technical Academy and Coral Academy.
"We're playing alright," said boys head coach John Balistere. "We gotta find a good rhythm. We keep having some breakdowns on the defense end, so we need to work on that, but there are things we're doing very well."
Advancing their record to 10-10 on the season, the Eagles defeated Coral Academy 60-45 on Tuesday, Jan. 24, behind 14 points and five assists from senior Bruce Woodbury and 10 points from junior Brady Sorenson.
Defeating Southeast Career Technical Academy 56-25 on Friday, Jan. 20, junior Roman Rose scored a game-high 17 points with four assists, while sophomore Luke Wright added 12 points.
Defeating Pinecrest Academy 53-37 on Jan. 18, Rose scored 15 points and senior Brayden Jones added 15 points with seven rebounds. Senior Bret Pendleton added 10 points and two steals.
The Eagles look to carry their new-found momentum into the remainder of league play.
Hosting Pahrump Valley today, Jan. 26, the Eagles have a home game against SLAM Academy on Monday, Jan. 30, and road game at Pinecrest Academy Cadence on Wednesday, Feb. 1.
"Our team needs to keep understanding the value of playing defense," Balistere said. "I like the fact that we control our own destiny. We have to just take it one game at a time."
Contact Robert Vendettoli at BCRsports@gmail.com.
Upcoming games
Thursday, Jan. 26, vs. Pahrump Valley, 3:30 p.m. junior varsity; 5 p.m. freshmen; 6:30 p.m. varsity
Monday, Jan. 30, vs. SLAM Academy, 3:30 p.m. junior varsity; 5 p.m. freshmen; 6:30 p.m. varsity
Wednesday, Feb. 1, vs. Pinecrest Academy at Cadence at TBA, 3:30 junior varsity; 6:30 p.m. varsity