Eagles move to 3-0 with road win
September 21, 2023 - 11:33 pm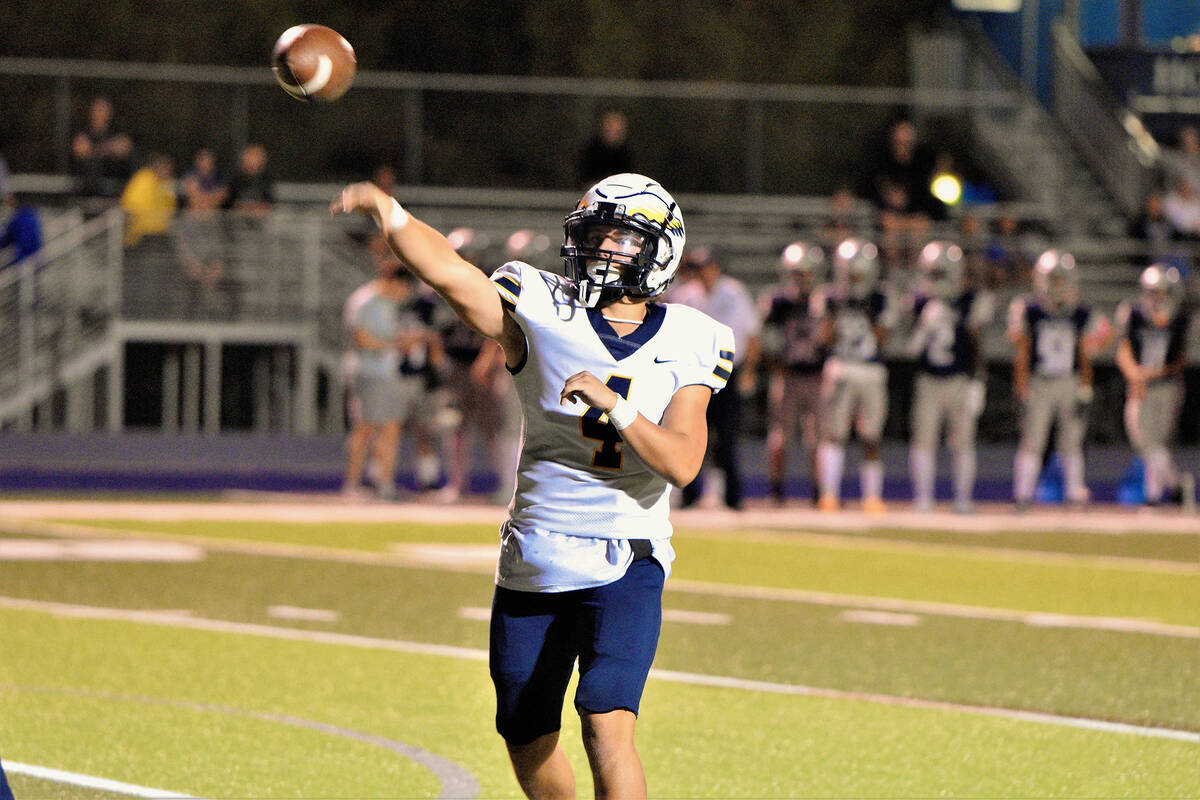 On a mission to inflict their will, Boulder City High School football didn't stop until the final whistle during their 43-13 rout of The Meadows on Sept. 14, showing the program's new commitment to excellence.
"We've preached over and over, it's never enough," head coach Bubba Mariani said. "I don't want to just win games; I want to break our opponents will on a weekly basis. We will play to the whistle and execute our offense."
Executing the offense near perfectly, junior quarterback Gage Hopkinson was phenomenal against the Mustangs, completing 17 of 25 passing for 334 yards and four touchdown passes.
Extending plays regularly, Hopkinson rushed for 52 yards and a score on nine attempts.
"Gage has been really good for us," Mariani said. "There's been multiple times where it appeared the drive was going to stall and Gage made a play with his legs or dropped a ball into a window that we didn't think was possible with his arm and the drive continued. I kind of feel bad because he's extended drives so many times this season, that now you come to expect it."
Spreading the ball around equally, Hopkinson regularly looked for the open man, connecting with four different receivers for scores.
"Our receiving core has been playing great," Mariani said. "The theme of this week's practice is making sure our routes are crisp, because when they are, that's when our guys are open and the plays work. Our guys are understanding that when they execute the play, they'll be open in the right spot and Gage will get it to them."
Leading the receiving core, senior Brady Sorenson caught five passes for 101 yards and a touchdown, while senior Derek Render (three catches, 51 yards) and Chase Jappe (two catches, 77 yards) each caught touchdown passes.
Providing a spark offensively, defensively and on special teams, junior Easton Welbourne caught four passes for 88 yards and a touchdown, while returning a kickoff for an 87-yard score.
On defense, Welbourne made four tackles with an interception, forced fumble and fumble recovery each.
"Easton is super fun to watch," Mariani said. "This was the second week in a row where he came to the sideline and demanded we run a play for him and it worked. He's definitely earning our trust more and more. We want to put the ball in his hands."
Turning in a complete defensive effort, senior Charles Stewart made nine tackles, while junior Sam Bonar (six tackles) and sophomore Caleb Porter (two tackles) each generated a sack.
Helping out on social teams, Bonar also blocked a Mustang field goal.
Currently riding a three-game winning streak, the schedule will get tougher for the Eagles this week, when rival Moapa Valley comes to town on Friday.
"We have a game plan and we plan to execute it," Mariani said. "You know what you get with Moapa Valley offensively. It's our job to go out there and shut it down."
Contact Robert Vendettoli at BCRsports@gmail.com.