Eagles lose to SLAM on the road, 39-20
October 19, 2023 - 7:01 pm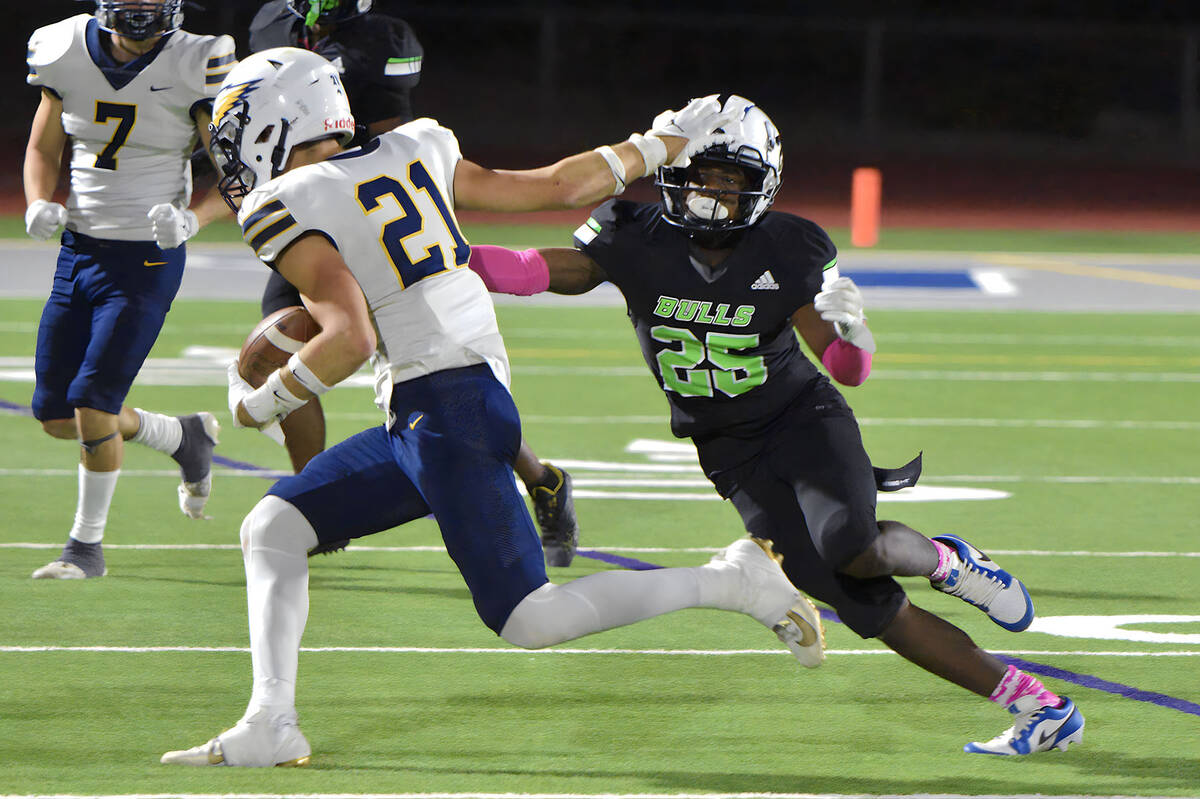 Boulder City High School football fell short of defeating division leader SLAM Academy on Oct. 13 in a 39-20 defeat, but provided a good showing overall.
Trailing 20-13 at halftime, the Eagles would give up a late fourth-quarter touchdown, adding to the Bulls' lead in what was a highly-contested matchup.
Under duress the majority of the night, Eagles junior quarterback Gage Hopkinson completed 16 of 32 passing for 251 yards and three scores, while throwing a single interception.
Senior Brady Sorenson caught fire in the passing game, hauling in 11 receptions for 141 yards and two scores, while senior Chase Jappe caught a 66-yard touchdown pass.
Defensively, Sorenson made 14 tackles, while junior Sam Bonar (seven tackles) and senior Mason Terrill (five tackles) each generated a sack.
Looking to end the regular season on a high note, the Eagles (5-2) will host Pahrump Valley on Friday.
Boys soccer
Boulder City High School boys soccer fell to 0-11-1 on the season, dropping to Doral Academy 11-0 on Oct. 16.
Looking for their first win of the season, the Eagles will host SLAM Academy on Oct. 26.
Girls volleyball
Boulder City High School girls volleyball defeated Western 3-0 on Oct. 16 to advance to 21-7 on the season.
Routing the Warriors 25-2, 25-13, 25-10, senior Addison Doane led the way with 12 kills and eight digs defensively, while senior Megan Uszynski added eight kills with five serving aces.
Senior Haley May added seven kills, while senior Aspen Christian added five kills.
Putting forth an all-around effort, senior Jordyn Woodard led the way defensively with 15 digs and nine aces, while junior Lily Mackey led the way offensively with 23 assists.
Currently on a 10-game winning streak, the Eagles will host Somerset Losee on Tuesday.
Cross country
Hosting the Lake Mead Invitational at Veterans' Memorial Park on Oct. 14, Boulder City High School junior girls cross country star Ellie Palmer finished sixth.
Junior Layla Lourenco finished 10th at the event, while sophomore Kendall Shamo finished 13th.
For the boys, junior Paul Moll finished 27th out of 44 runners.
Hosting a weekday event on Oct. 17, Palmer finished second out of 33 runners, while Lourenco and Shamo finished ninth and 10th respectively.
For the boys, Moll finished 12th out of 46 runners, while freshman Ezekiel Ford and junior Brandon Trupp finished 19th and 20th respectively.
Junior Brandon Pickett finished 22nd.
The Eagles will next host the 3A regional meet on Oct. 27 at Veterans' Memorial Park.
Contact Robert Vendettoli at BCRsports@gmail.com.