Eagles control their destiny, eye championship
February 8, 2023 - 3:36 pm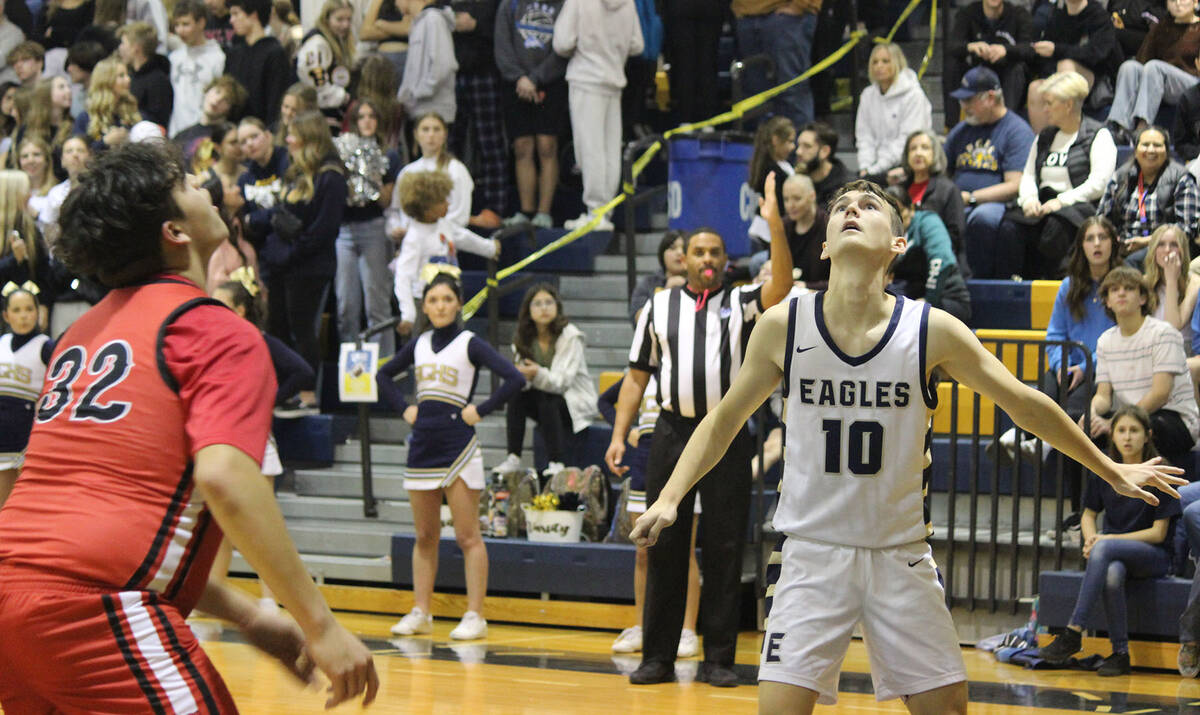 Boulder City High School's varsity boys basketball team is currently in control of its own destiny, with hopes of raising another league championship banner as it rides an eight-game winning streak.
"We've played really good basketball on this winning streak," said head coach John Balistere. "I think the most important thing is we now control our destiny in league play, if we win again on Thursday. Our goal every year is to win our league and we're close to accomplishing that."
Within their win streak, three games have been in the past week, highlighted by a 71-59 victory over Coral Academy on Tuesday, Feb. 7.
Controlling the game from start to finish, junior Roman Rose scored a game-high 25 points and senior Bret Pendleton added 16 points. Senior Bruce Woodbury added 10 points and sophomore Luke Wright added seven points.
"I thought we played good in spots on defense," Balistere said. "Our energy was good in the first half. They made big shots to keep the game close, but down the stretch we grinded out and hit key free throws."
Clicking offensively, the Eagles also defeated Pinecrest Academy Cadence 65-54 on Feb. 1 and Southeast Career Technical Academy 70-48 on Friday, Feb. 3.
Against Pinecrest Academy Cadence, Rose scored 22 points, with five assists and four steals. Senior Brayden Jones added 14 points with five rebounds. Pendleton and Woodbury each scored 11 points.
Against Southeast Career Tech, Jones scored 20 points with seven steals and five rebounds. Pendleton added 14 points with three assists and two steals.
Looking to end the regular season on a high note, the Eagles travel to Pahrump Valley today.
Contact Robert Vendettoli at BCRsports@gmail.com.
Upcoming games
Thursday, Feb. 9, at Pahrump Valley, 3:30 p.m. junior varsity; 5 p.m. freshmen; 6:30 p.m. varsity
Tuesday, Feb. 14, Southern Region quarterfinals, 6:30 p.m. at TBA, if qualified