Eagles best Pirates — finally
October 16, 2019 - 3:39 pm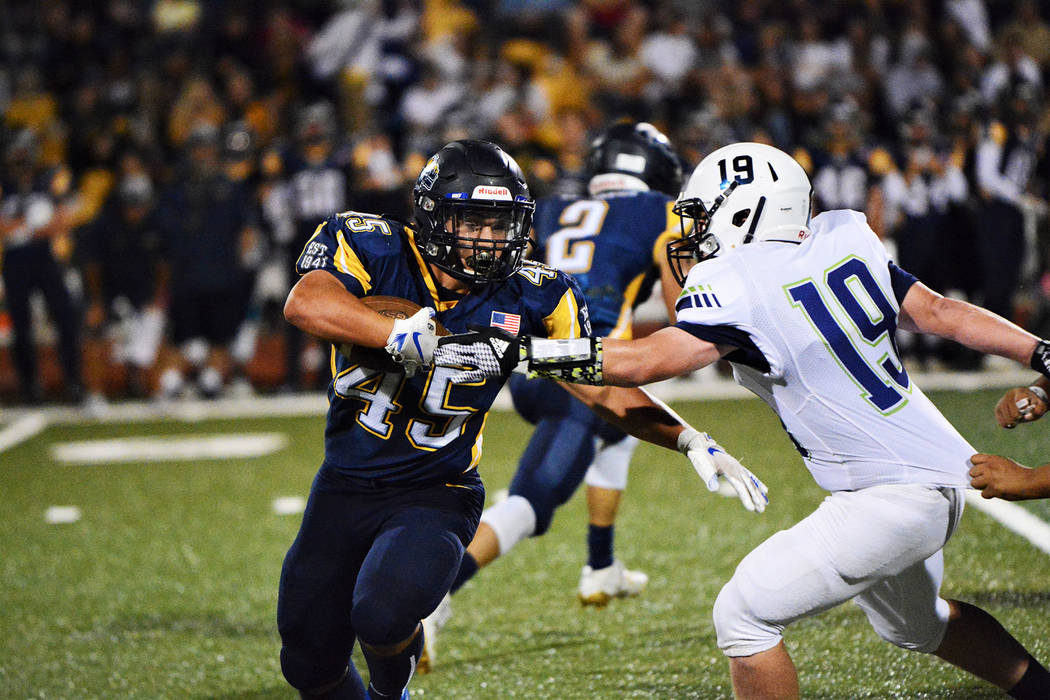 Boulder City High School's football team defeated Moapa Valley 15-12 on Friday, Oct. 11, picking up a monumental victory.
Coming from a 10 point deficit in the fourth quarter, the Eagles defeated the Pirates for the first time since 2005.
"This win is huge," head coach Chris Morelli said. "It kind of validates what the coaching staff is trying to do with this group of kids. These kids have worked hard for the last three years to do this and be in this position."
Scoring 13 unanswered points in the fourth quarter, junior quarterback Dakota Christian started the comeback with an 8-yard touchdown run. Splitting time with senior quarterback Parker Reynolds, Christian completed 2 of 3 for 37 yards, along with his touchdown dash.
Reynolds completed 7 of 14 for 48 yards. Junior Trey Davis caught five passes for 41 yards and junior Deavin Lopez caught two passes for 28 yards.
"Dakota is a game changer," Morelli said. "He's there for that purpose, to make the big plays when we need them. "We're going to stick with Parker and let him run the offense the way we need it to be run and we'll bring in Dakota to add another dynamic."
Capping the comeback victory, defense was the Eagles key to success, like it has been all season. Junior defensive back Toby Schaper scored on an 85-yard interception return and junior Matt Felsenfeld delivered a safety early in the game.
"Both of those guys have really stepped up their games and made key contributions for us," Morelli said. "They've both grown as players and have had a positive impact on our defense and are going out there and making plays. Troy has become one of our leaders on defense and Matt's been playing lights out since we moved him to middle linebacker and hasn't skipped a beat."
Christian also generated an interception for the Eagles. Sophomore Isaac Tuenge generated a sack.
"Again, our defense was lights out," Morelli said. "All the credit goes to coach (Alex) Moore. I've been saying this for the last five years; he's one of the best defensive coordinators in the state and the way he prepares these guys on the defensive side of the ball is phenomenal."
Phenomenal on the punting game as well to set up the Eagles defense, Lopez, for the majority of the night, pinned Moapa Valley in its own territory, including his last punt of 43 yard, which started Moapa at their own 30 yard line.
Sitting in second place in the 3A Sunrise standings, the Eagles picked up Morelli's first victory against the rival Pirates. Negotiating their way through one hurdle that has loomed over the program for the past decade, the Eagles sit in the driver's seat to accomplish the remainder of their goals.
"This is a huge step for our program," Morelli said. "Moapa Valley is a football town, they train year round, so this is an accomplishment and a momentum builder. Going in there and picking up a win sends a message to the rest of our league about the kind of heart that these kids have."
Looking to add onto their winning streak, the Eagles will host Rancho on Friday, Oct. 18.
Contact Robert Vendettoli at BCRsports@gmail.com.
Upcoming games
Today, Oct. 17, vs. Rancho, 4 p.m. B team
Friday, Oct, 18, vs. Rancho, 7 p.m. varsity