BCHS volleyball continues league domination
October 5, 2023 - 8:41 pm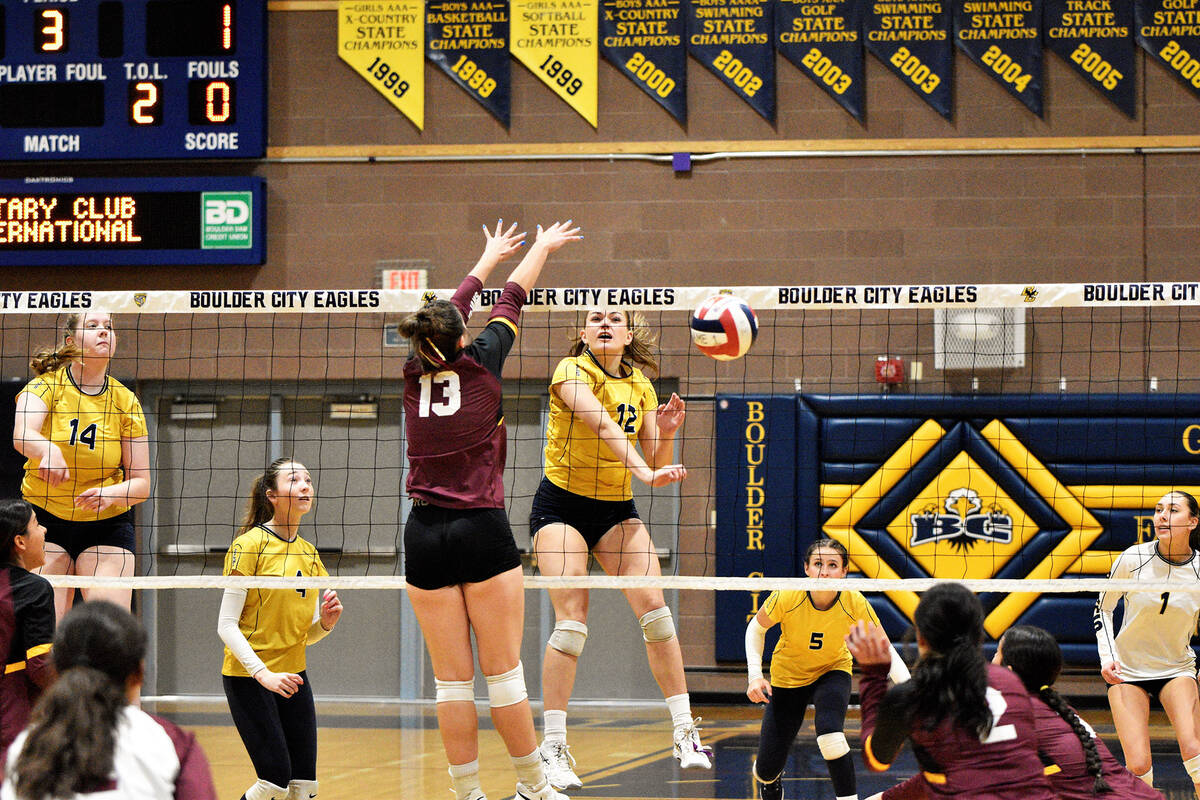 Boulder City High School girls volleyball remains undefeated in 3A play, routing SLAM Academy on Oct. 3 and Somerset Losee on Sept. 27.
Defeating SLAM 25-14, 25-6, 25-18, senior Aspen Christian led the way with 11 kills and two blocks, while junior Sophia Kelso added six kills and two serving aces and senior Haley May added four kills with three blocks.
Defensively, senior Jordyn Woodard led the way with 29 digs, while junior Lily Mackey added 14 digs.
Senior Addison Doane added 12 digs, with four aces, three kills and a block.
Spreading the ball around, Mackey generated 23 assists on the night.
Defeating Somerset Losee 25-12, 25-20, 25-17, Doane led the way with 12 kills, five digs and four aces, while Christian added seven kills with three digs and a block.
May added five kills, along with senior Anna Johnson.
On defense, Woodard made 11 digs, while junior Eden Gomez added 10 digs.
Mackey dished out 24 assists, while making five digs.
Standing with a 11-6 record on the season, the Eagles will look to improve their perfect 6-0 league record today at home against The Meadows, followed by an away game at Sloan Canyon on Tuesday.
Cross country
Putting together their most complete race, Boulder City High School girls cross country had three runners finish within the top 12 at Foothill on Sept. 28.
Competing in a weekday race among 34 runners, junior Ellie Palmer led the way with a third-place finish, while junior Layla Lourenco finished sixth.
Sophomore Kendall Shamo finished 12th on the day, while later finishing 24th out of 50 runners in the O'Dea sophomore race on Oct. 3 at Desert Breeze Park.
For the boys, junior Paul Moll finished 21st out of 56 runners, while junior Brandon Tripp finished 39th.
Back at it this week with a pair of events, the Eagles will travel to Liberty on Friday, followed by a meet on Tuesday at Southeast Career Technical Academy.
Boys soccer
Boulder City High School boys soccer fell to 0-10-1 on the season, falling to SLAM Academy on Oct. 2 and Sloan Canyon on Sept. 28.
Falling to SLAM 9-1, senior Zach Strachan scored a goal for the Eagles, assisted by senior Ian Aldridge.
The Eagles fell to Sloan Canyon 4-0.
Still searching for their first victory of the season, the Eagles will resume play on Oct. 16 on the road against Doral Academy.
Contact Robert Vendettoli at BCRsports@gmail.com.