Youth baseball building bright future in Boulder City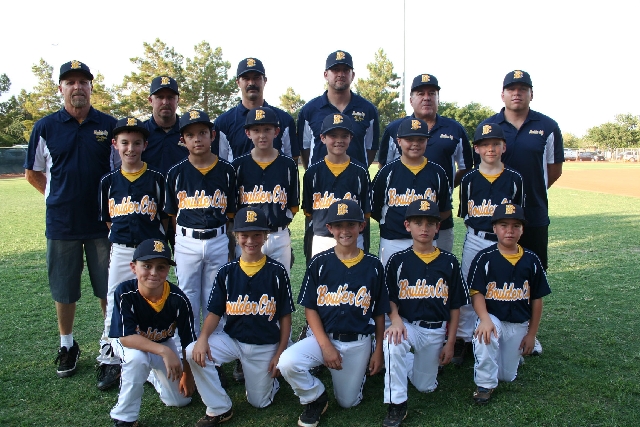 The future continues to appear rich in baseball talent for Boulder City High School.
The Boulder City Little League All-Stars are the second youth group to do well this summer. The All-Stars, ages 9 and 10, compiled a 3-1 pool-play record and reached the semifinals of the Nevada District 2 All-Star Tournament that played June 28 to July 6.
The previous week, the Connie Mack 16-under team, of which many athletes were ages 13 to 14, finished 8-12 against teams with much older and experienced athletes.
Upon the conclusion of the 16-under season, coach Bobby Reese, who also coaches the high school's varsity team, commented about how the "future of baseball at the high school looked bright because of all the young talent in the area."
Now, it's all-star manager Don Trumble who is looking ahead.
"Boulder City Little League is a small league compared to others," Trumble said. "We are historically doing well if we win one of our four guaranteed all-star games.
"To have won three of four games and go to the semifinals is something Boulder City can be very proud of. I look forward to seeing these boys play baseball together as a group when they reach the high school."
The all-stars practiced for only two weeks together before the tournament.
A few of the top performers for the tournament were Scotty Bahde and Blaze Trumble. Bahde batted .588 and had an on-base percentage of .681 while also leading the team as a pitcher.
Trumble, who also pitched well, batted a team-leading .684 for the tournament and had an on-base percentage of .714. Joey Camps batted .466, while Matthew Felsenfeld batted .400 and Dustin Landerman batted .384.
The BC All-Stars defeated Legacy 13-7 on June 28 and defeated Green Valley 15-8 a day later. After a tough 8-7 loss to Paseo Verde Green on July 2, the All-Stars defeated Silverado West 10-0 on July 3.
In the July 6 semifinal, the All-Stars faced the No. 1 team in the tournament, Paseo Verde Gold. Bahde pitched an excellent game and the All-Stars were leading 4-3 heading into the fifth inning. But they lost 9-4.
"We lost with our heads up," Trumble said. "The kids played so well in the entire tournament. Game temperatures were as high as 115 degrees but the team took it in stride."
Also pitching well were Camps and Joe Giunta. Bahde got his first career out-of-the-park home run against Legacy, while Trumble got his second against Green Valley.
"All of the boys really came together as a team," Trumble said. "Some of the more experienced players took on leadership roles, but the rest of the team really stepped up and played hard.
"We were blessed with seven coaches who really worked hard to get these boys ready to face teams from Little Leagues that had as many as 10 teams from which to draft players. I think I can speak for all of the coaches when I say we couldn't be prouder of the way these boys represented Boulder City."