Wrestlers work on skills at California camp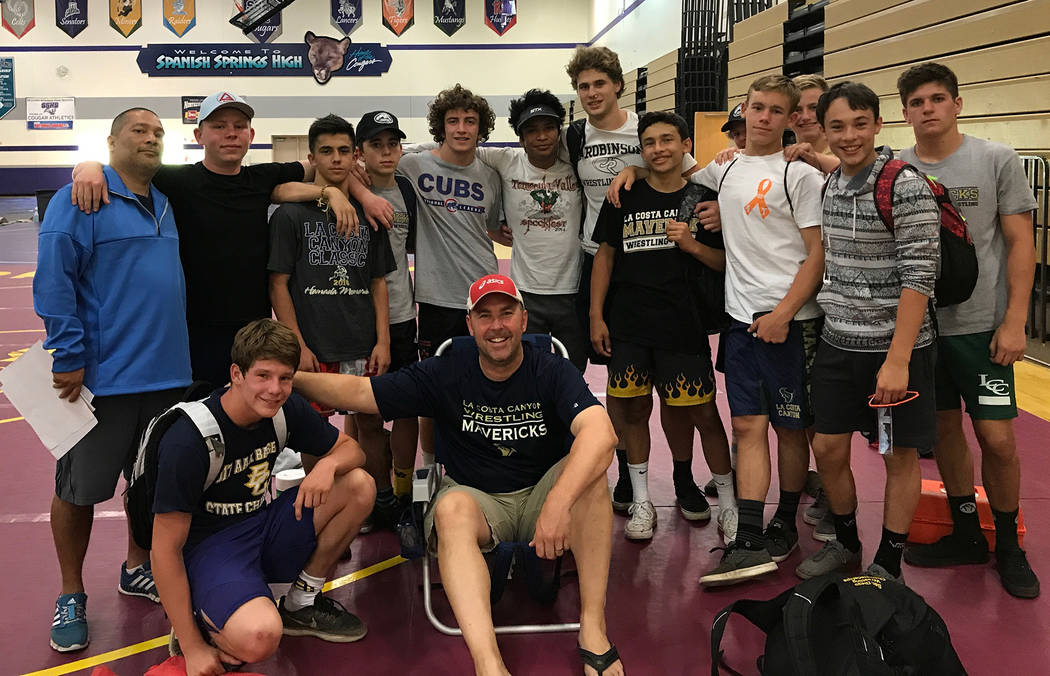 Hoping to secure Boulder City High School's first individual wrestling state championship since 2013, several Eagles traveled to Encinitas, California, recently for the La Costa Camp to hone their skills for the upcoming season.
Seniors D.J. Reese and Zayne Dennington; juniors Jimmy Dunagan, Hayden Moore and Ryan Vanario; and sophomore Ladd Cox attended the technique camp at La Costa Canyon High School, learning firsthand from two-time NCAA heavyweight champion Stephen Neal, who also won three Super Bowl championships with the New England Patriots.
Neal finished his career at California State University, Bakersfield, as a four-time all-American, compiling a 156-10 record.
"Going to the La Costa Canyon camp was great experience for me," Reese said. "We all got to work with excellent coaches on how to improve our technique. Getting to work personally with Stephen Neal was a lot of fun, and he really helped us on our blast doubles."
Dunagan, who placed fourth at last year's 3A state championships in the 152-pound weight class, said the environment at the camp was the ultimate bonding experience.
"I really enjoyed my time at the La Costa Camp," he said. "I had a lot of fun bonding with my teammates near the beach and creating memories with them. I can't wait to come back here again next year."
Moore said he was focused on what he learned at the camp and how he'll be able to implement it this upcoming winter.
"I liked the ability to be with my friends and teammates by the beach and also learned vital techniques to new and already-known moves to improve myself," Moore said. "During this camp, I learned a new tilt series that I look forward to using this upcoming year. The coaches also helped me polish down a lot of other moves that have worked for me in the past."
Putting in extra effort this summer to end the Eagles' championship drought — Brandon Foster won the title at 195 in 2013 — Reese teamed up with La Costa Canyon High School for the majority of June, traveling with the program to the Ponderosa Duels in California and the Spanish Springs Duels in Reno.
"It was a ton of fun traveling with La Costa Canyon High School this summer," he said. "The guys on the team were extremely welcoming, and I felt like I was a part of the program. I went with them last year as well, so it was nice to see everyone again."
Finishing his junior season as the 3A state runner-up at 126, Reese said he feels confident that his travels outside of Boulder City will benefit him during the upcoming season.
"Traveling with La Costa I got a ton of mat time, getting in 28 matches between the two duels," Reese said. "Traveling to California and Reno was really beneficial for me because I got to wrestle extremely different types of opponents and saw a lot of different wrestling styles coming at me. This made me have to adapt my style of wrestling to counter theirs and be able to get takedowns and win matches. Traveling this past month has made me more versatile on the mat, which is extremely important."
Setting his sights on 138 pounds for his senior season, Reese went 20-0 against competition in his weight class the past two duels while finishing 1-7 against wrestlers 155 pounds and more.
"Adjusting to my new weight class, I'm trying to wrestle opponents bigger than me," Reese said. "There's still a lot of time before the season starts; I'd like to fill out my frame more and add some strength. I have big goals for my senior year."
Reese said he wants to continue to improve, hoping to parlay his state runner-up finish into a championship next February.
"It would mean a lot to me to win a state championship and be up on the wall with all of our past champions," he said. "They all put in so much time and effort into the sport of wrestling, and I would I love to show my dedication to the sport by putting my name up there with them."
Contact Robert Vendettoli at BCRsports@gmail.com.