Wrestlers show their power at Desert Storm tourney
December 21, 2016 - 2:00 pm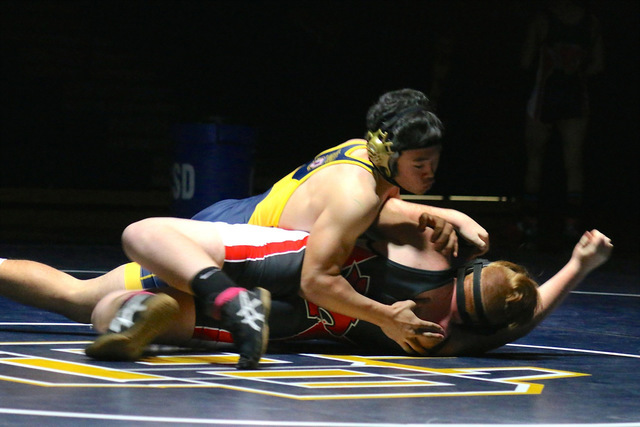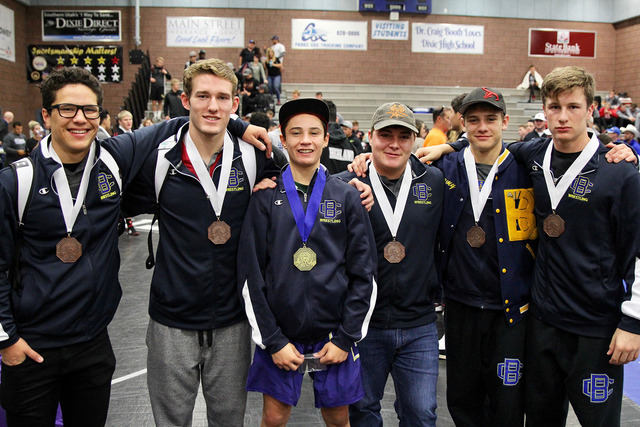 The Boulder City High School wrestling program is starting to come into its own as a powerhouse, taking fourth place at the Dixie Desert Storm tournament in Utah out of 32 teams, one week after its 11th-place finish at the 53rd annual Jimmy Hamada La Costa Classic in California.
"The team is really starting I come into their own," head coach Jim Cox said. "We battled against some tough competition and the guys haven't wavered. Everyone has been focused each day on getting better. I'm really excited for the next half of our season."
Finishing behind only Desert Hills, Canyon View and Millard, the Eagles were led by junior 113-pound wrestler Garrett Leavitt, who took first place during the event.
"Honestly, I'm just so happy to have been given this opportunity," Leavitt said. "Going up against the competition here, it's really opened my eyes to the type of wrestler I can be and gave me perspective after all the hard work I put in this summer. I'm looking forward to the rest of the season and hopefully accomplishing my goals with a new positive mindset."
"I thought Garrett wrestled very well," Cox said. "He's someone to really keep an eye on moving forward, like a lot of our kids. We have a lot of guys capable of achieving their goals if they stay focused and reach for it."
Seniors Bryan Foster (170 pounds) and Jimmy Brown (132 pounds) took third and fourth place, respectively, while seniors Dillon Viera (160 pounds), Devin Fox (220 pounds) and junior Jimmy Dunagan (152 pounds) all placed fifth.
For consecutive weeks Brown, Dunagan and Fox made it to the podium at prestigious tournaments, with the trio placing first, eighth and 12th at the Jimmy Hamada La Costa Classic last week.
"It's good these guys are getting the experience on the road against tougher opponents," Cox said. "As a team we have championship aspirations, as do all of our wrestlers. This only helps them get better."
Concluding the Eagles' efforts at Desert Storm, sophomore Mike Kaposta (275 pounds) and freshman Ladd Cox (138 pounds) both finished 2-2, while senior Octavian Trumbo (145 pounds) and junior Zayne Dennington (120 pounds) each finished 1-2.
The night before rebounding nicely in Utah, the Eagles suffered their first loss of the season to 4A opponent Las Vegas 35-33, but provided a great showing to suggest that it is among the teams to beat in the 3A classification.
"(It was a) really tough loss for our guys, but I'm proud of them," Cox said. "They battled all night and all of them had great matches. I was really happy with the turnout we had and loved having the match under the lights. It's a cool way to do things."
Performing in front of a crowd sitting in a blacked-out gym and holding glow sticks, 182-pound Japanese foreign exchange student Jin Takahashi earned the highlight of the night, getting a fall in only 26 seconds against the Wildcat's Donovan Rosenthal.
"Jin has really stepped up in recent matches," Cox said. "He's really worked on his technique as of late and is doing a great job adjusting after each match."
Also picking up victories against the Wildcats were Foster, Dennington and Leavitt, along with freshman Curtis Brown (106 pounds) and junior Ryan Vanarrio (195 pounds).
Taking off the holiday break, the Eagles will return to action Jan. 6 for the Pahranagat Valley Invitational in Alamo, Nevada.
Contact Robert Vendettoli at BCRsports@gmail.com.