Wrestlers shine against Sierra Vista
January 10, 2018 - 3:44 pm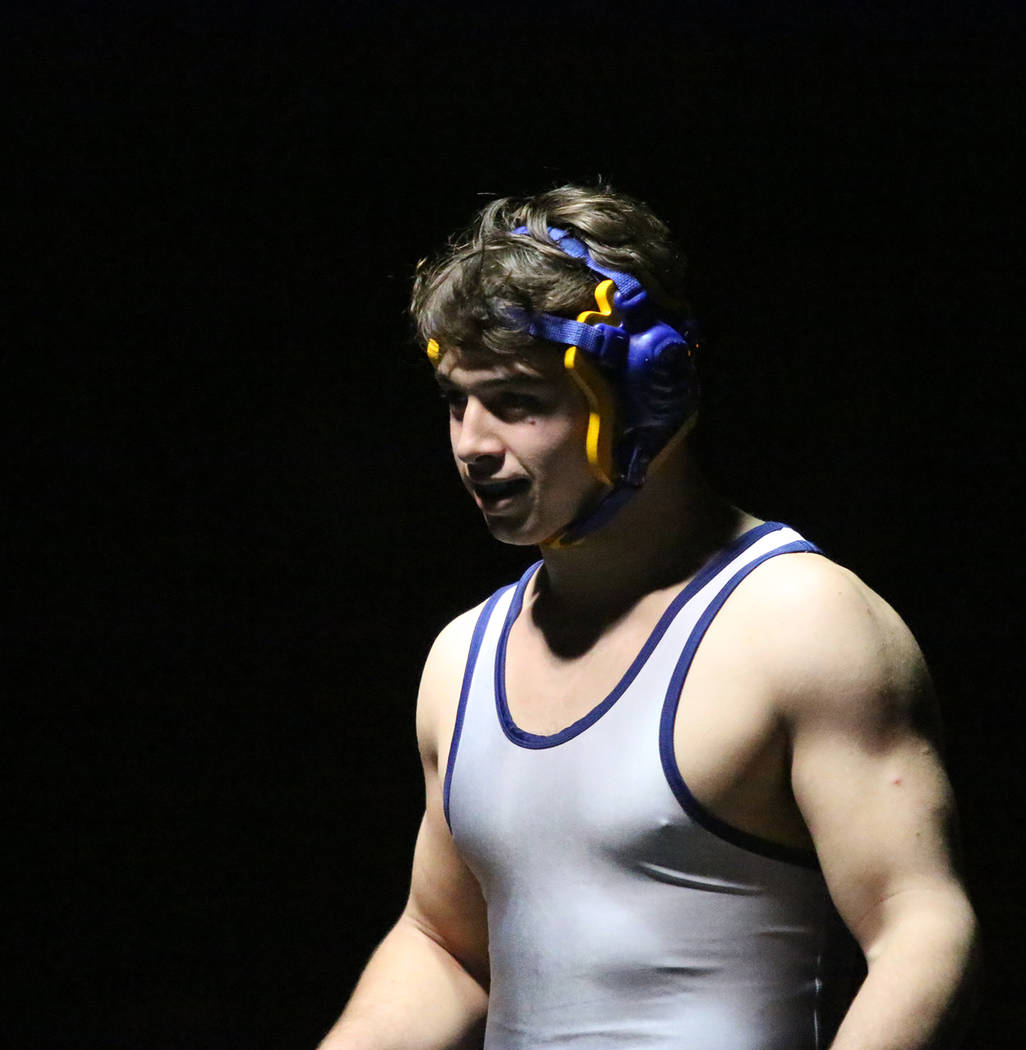 Defeating 4A Sierra Vista on Tuesday with a team score of 51-22, Boulder City High School wrestling team was at its best coming out of the holiday break.
"Honestly, I think this is the best the guys have looked all season and it's only going to get better," head coach Jim Cox said. "We had a tough first month of the season, traveled to a few different tournaments, California and then Utah. I really feel like after the Dixie tournament a lot of our guys started to get in midseason form and are starting to take off."
Already beating five 4A programs this season — Coronado, Desert Oasis, Liberty, Sierra Vista and Valley — the Eagles have shown they're not only willing to wrestle against anyone, but are capable of beating anyone put in front of them.
"Each year we try to schedule the toughest regular season match-ups possible," Cox said. "The only way to sharpen iron is with iron and our guys do a great job staying focused and not buying into the hype of a 4A opponent. We try to put it in their mindset that their opponent is just another wrestler like them."
Certainly buying into that approach, six Eagles earned pin falls Tuesday, highlighted by sophomore 113-pounder wrestler Curtis Brown, who picked up the fastest win of the night with a 42-second pin against Sierra Vista junior James Weaver.
Picking up pin falls as well for the Eagles were senior 126-pound wrestler Garrett Leavitt (5:52), junior 160-pound Jimmy Dunagan (1:13), junior 195-pound James Ewell (3:24), junior 220-pound Ryan Vanario (1:52) and sophomore Aiden Fradella (1:11).
Claiming a decision victory, senior 132-pounder D.J. Reese picked up a 14-8 win over Akram Zerhouni, while junior 145-pound Hayden Moore (7-2) and sophomore 152-pound Ladd Cox (5-0) won on decisions as well.
"I think the team did great tonight," Reese said. "We showed once again that we're not afraid to face off against anyone. Each match the guys in here just keep getting better and we're pushing forward to our ultimate goal of a state championship."
The Eagles will travel to Delta, Utah, this Friday for the highly competitive Delta Duals, before returning home to host rival Virgin Valley on Wednesday.
"I love to get the guys out of their comfort zone and taking them to different tournaments," Cox said. "The only way you get better is to see a variety of styles and prepare for them all. We're expecting another tough competitive weekend."
Contact Robert Vendettoli at BCRsports@gmail.com.
Upcoming games
Friday and Saturday, Jan. 12 and 13, Delta Duals in Delta, Utah, 3 p.m.
Wednesday, Jan. 17, vs. Virgin Valley, 6 p.m.