Wrestlers pin hopes on summer training
August 6, 2014 - 12:34 pm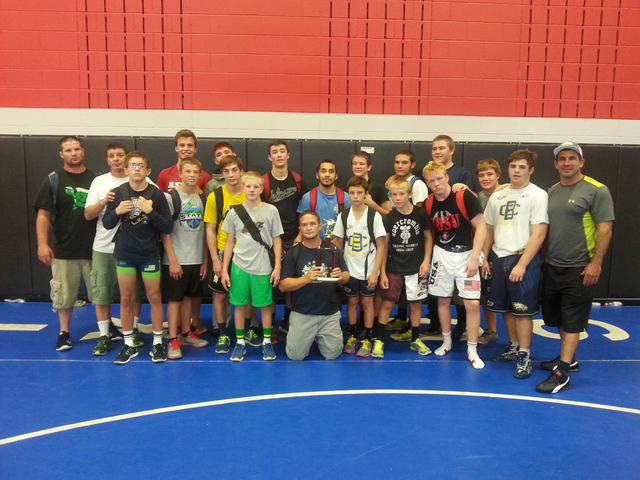 The way for Team Boulder to get better this coming winter was to spend a grueling summer on the mats.
Grueling as in 15 individual matches in two days.
Team Nevada, comprised of nine wrestlers from Boulder City High and seven from Sunrise League-rival Virgin Valley, finished second July 26 in the Mid Summer Bash in Dallas, Texas, behind top wrestler Collin Fox who finished with a 14-1 record in the 120-pound weight class.
"Fifteen matches in two days can get your attention and that of a lot of other people if you do well," Boulder City coach Jim Cox said. "Collin was outstanding. The main focus was to get the wrestlers experience to make them better and improve the overall team. A lot of guys did well even in matches they lost because of the quality of the competition."
Team Boulder has been among the best small-school wrestling teams in Nevada for several seasons, including winning its league title the past five seasons.
"The wrestlers got half of one-season's matches in two days," Cox said. "It was a grind, but well worth it as far as experience."
Team Nevada competed against 14 teams, including Team Kansas Black, which was an all-star team of individual state champions and state finalists.
There were four teams from Texas, two from Oklahoma and one from each Minnesota, Missouri, south Florida and Pennsylvania
"We beat every team except for West Chester (Pa.) and St. Louis (Mo.) and we were able to take second place," Cox said. "We took second because of a better team record than Missouri, so we edged them in the final standing."
Team Boulder missed winning first place because of a close 38-26 loss to West Chester.
Among his victories, Cox defeated a former Brute national champion 13-5 from Kansas.
Team Boulder wrestlers were Garrett Leavitt (90 pounds, 2-5 record); Brady Branscum (105, 10-5); Jaden Peterson (152, 5-10); Dylan Dennington (165 and 175, 7-4); Devon Fox (175 and 185, 1-5 because of an injury default); Sam Doane (185, 2-12); Nelson Van Diest (205, 8-6); and Kyle Gossard (285, 4-11).
"It was a great experience and I know the kids really enjoyed themselves against some very good national competition. Summer wrestling is where you get ahead of your competition. You have to do more than the next guy. No doubt, this made each of them a little bit better as a wrestler and will help the team be better this winter," Cox said.