Wrestlers claim regional title
February 7, 2018 - 2:42 pm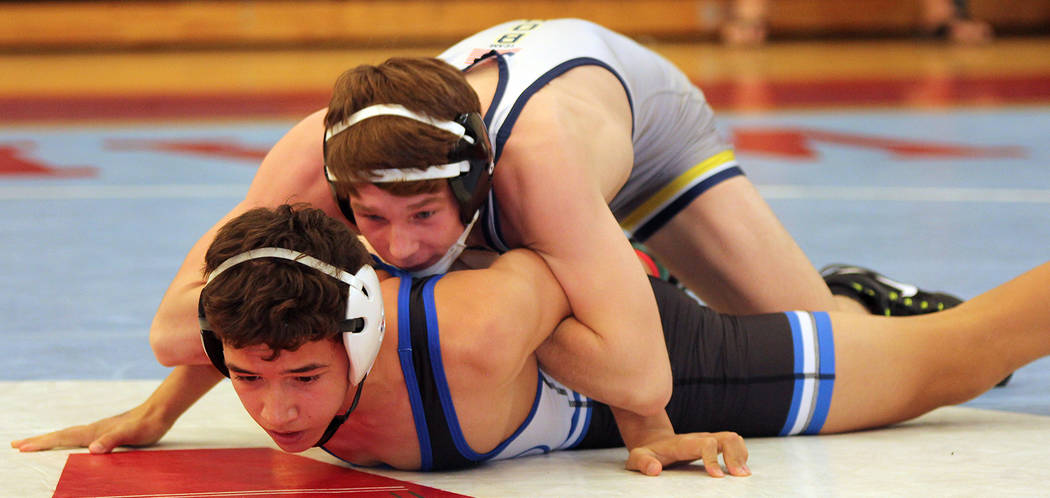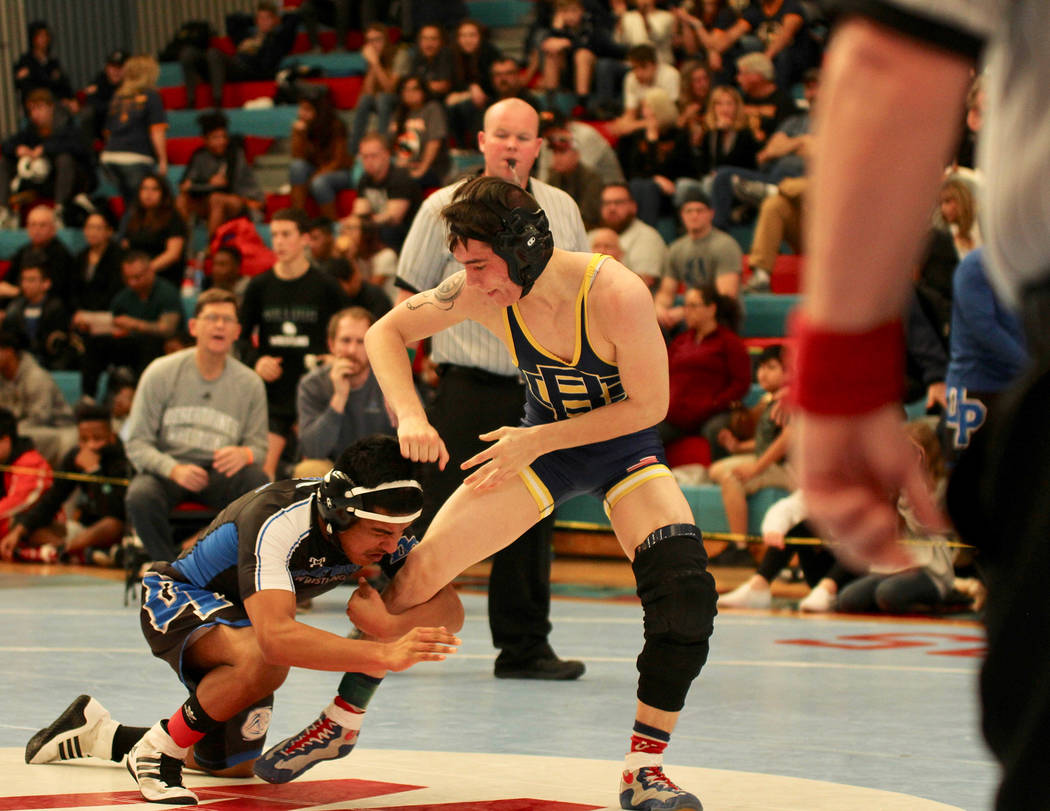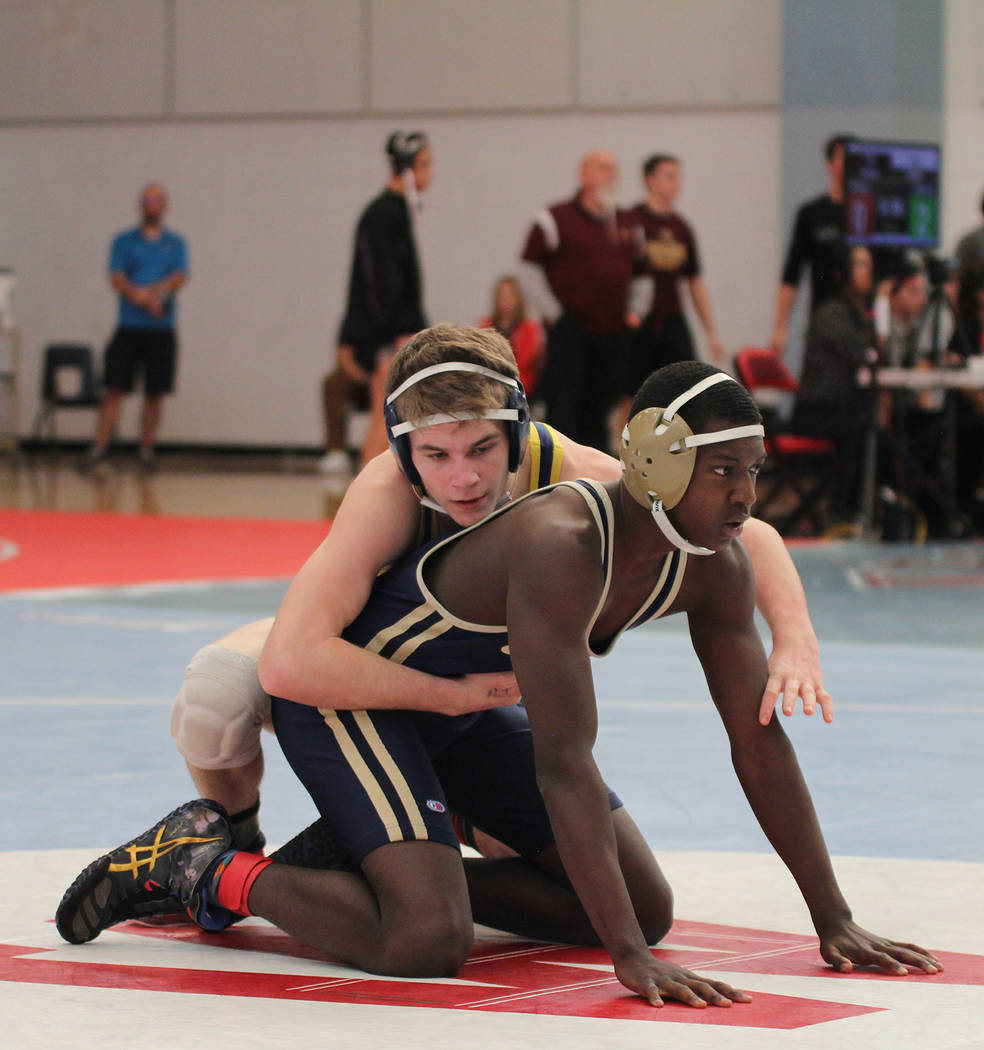 Herculean efforts by senior Zayne Dennington helped Boulder City High School clinch its second consecutive 3A Southern Region championship Saturday.
Competing with a torn ACL, Dennington defied the odds with 15 seconds remaining in the 126-pound championship match. Trailing Virgin Valley's Vicente Pinto 3-1, he managed a one-point escape, pulling Pinto to the mat in the process with one second left to earn two points for a dramatic 4-3 victory.
"A few weeks ago, I thought my season was over, but I love it too much to miss my last few weeks of high school wrestling," Dennington said. "I decided to put my love for the sport over my fear of making my knee worse and the pain that would come with it."
"I'm just so happy for Zayne because he deserves this moment," head coach Jim Cox said. "When Zayne got injured, he could have gave up on his season, but the special thing about him is he sees no fear. Zayne saw an opportunity and he went after it."
Dennington was one of five Eagles to win an individual regional title Saturday at Western High School, as the team claimed the championship with an overall score of 273 while also placing a tournament-leading 13 state qualifiers.
Rivals Virgin Valley (217 points) and Pahrump Valley (207 points) finished second and third, respectively.
Facing adversity of his own, junior 195-pound wrestler Ryan Vanario clinched his state tournament berth with a pin, as did seniors D.J. Reese (132 pounds) and Wyatt Harling (220 pounds) and sophomore Ladd Cox (145 pounds).
Having suffered an undisclosed leg injury the day before regionals, Vanario pinned Mojave's Sergio Salazar in 1:26 in the finals, despite wrestling through some discomfort.
"I was very narrow-minded about wrestling injured," Vanario said. "I came into the tournament believing I could make my way through regionals by wrestling my way, but worse came to worst and I had to adapt to overcome that challenge. Wrestling injured gave me a better understanding about myself and what I'm capable of doing."
Also placing at the tournament and advancing to state were senior Garrett Leavitt (120 pounds) and sophomore Curtis Brown (106 pounds), who finished in second place; senior Adam Clary (182 pounds), juniors Hayden Moore (138 pounds), Jimmy Dunagan (152 pounds) and Thorston Balmer (170 pounds) and sophomore Cade Cowley (160 pounds), who finished in third place; and senior Robert Pavlowski (285) pounds), who finished in fifth place.
Looking for their first 3A state championship as a team, the Eagles resume their schedule Friday at The Orleans.
Contact Robert Vendettoli at BCRsports@gmail.com.
Upcoming games
Friday, Feb. 9, state, at Orleans Arena, starts at 9:45 a.m.