Wins keep coming for summer baseball players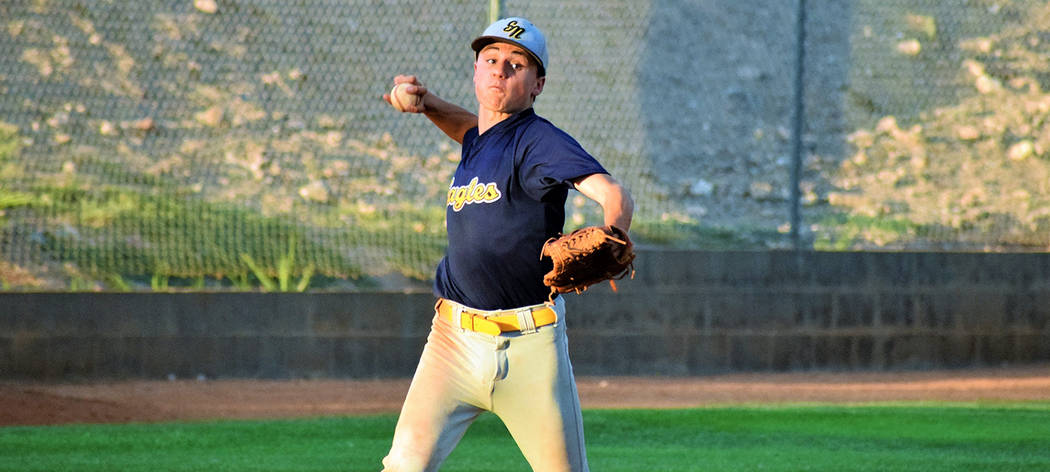 Carrying a 3-3 tie into the bottom of the eighth inning, slugger Caleb Brown hit a game-winning RBI single to center field to lead the Southern Nevada Eagles 14U past 4A Foothill affiliate Southern Nevada Falcons 4-3 at Whalen Field on July 6 in the Connie Mack summer baseball league.
"Foothill chose to walk the bases loaded with one out and Caleb came in clutch to walk it off for us," head coach Matt Kilar said. "You can never count this team out."
Brown kept the Eagles in the game with a 3-for-4 performance at the plate.
David Wagner threw one scoreless inning of relief, after starter Ryan Brzozowski threw seven innings in which he allowed three unearned runs on eight hits with four strikeouts to earn the win.
"Ryan was lights-out pitching; he did amazing for us with no earned runs," Kilar said. "He never once cracked under pressure. I'm very proud of the way he handled himself against Foothill on an unusually quiet night for our bats."
Jeremy Spencer and R.J. Kilar both finished 1-for-4, driving in runs.
Hoping to keep their momentum alive, the Eagles will travel to Palo Verde on Friday, July 13, to face Panthers Green in their regular season finale.
It's a potential state tournament matchup; the Panthers (15-1) are the top team in the National League, while the Eagles (15-2) are the top team in the American League.
The 14U Nevada championship will be held July 17-21 at Shadow Ridge High School.
16U
The Southern Nevada Eagles 16U defeated 4A Green Valley twice July 7 to remain undefeated this season.
The Eagles won the first game 8-5 with help from Joey Giunta (2-for-3) and Blaze Trumble (1-for-3), who each drove in a pair of runs.
Deavin Lopez (2-for-3), J.J. Neal (2-for-3) and Clark Newby (1-for-1) also drove in a run each, while Scott Bahde picked up the victory.
"Green Valley was one of the better hitting teams top to bottom that we've faced all summer," head coach Steve Connell said. "After the first game, I felt like the second game would be extremely tight, so we treated it accordingly by throwing (pitching) Troy (Connell) and Joey (Giunta)."
Making the correct call, the Eagles won game two 3-0, behind a nearly perfect effort from Troy Connell (five innings, six strikeouts, two hits) and Giunta (two innings, four strikeouts, no hits).
Giunta (2-for-4), Trumble (1-for-3) and Newby (0-for-3, sacrifice fly) all generated first-inning RBIs.
Lopez, Troy Connell and Matt Felsenfeld each finished 1-for-3 in game two.
Remaining 17-0 on the season, the Eagles have no scheduled games until the July 19-23 Connie Mack State Tournament at Faith Lutheran High School.
"In any sport, especially baseball, it's tough to remain undefeated because everyone wants to deal you the first loss," Steve Connell said. "The boys have shown great consistency and athleticism to remain unbeaten during these 17 regular season games. We are looking to come to the state tournament sharp and not take any game for granted."
Contact Robert Vendettoli at BCRsports@gmail.com.