Win tonight will clinch playoff berth
October 24, 2013 - 11:03 am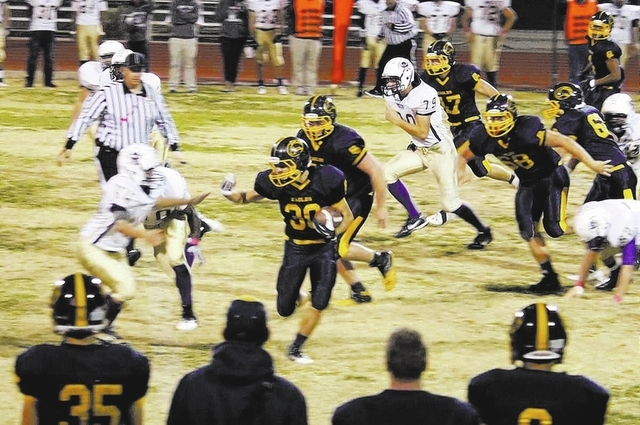 The Boulder City football team can clinch a playoff spot tonight with a win on the road at Chaparral.
"We are pretty much starting the playoffs with our game against Chaparral. It's time to win or go home, and we are not ready for the season to end yet," senior running back Sam Woodbury said. "If we lose, we are done, so we are going to take it one game at a time and come ready to play.
"I think knowing that we have to win this game to move on will give us all a sense of urgency that will help us play to the best of our ability and when we do that we are a hard team to beat."
The Eagles, 3-5 overall and 1-3 in the Sunrise League can clinch the fourth and final playoff spot by beating Chaparral, 3-5 and 1-3.
"It all comes down to one game," junior wingback Brooks Roe said. "We are excited to play Chaparral because we know that it is a must win. We have momentum from the Sunrise Mountain game and beating Chaparral will just keep that going into the playoffs."
The Eagles are coming off a 62-12 home rout of Sunrise Mountain Friday on senior night. Sunrise Mountain is 1-7 and 0-4.
Woodbury rushed for 117 yards and one touchdown, and Xavier Steel rushed for 125 yards and three touchdowns for the Eagles.
With a victory against the Cowboys, the Eagles can secure the final spot from the Sunrise League behind Desert Pines, Moapa Valley and Virgin Valley. As the No. 4 seed, the Eagles would draw a first-round playoff opponent Nov. 1 of Faith Lutheran (7-2, 4-0), seeded No. 1 in the Sunset League.
The Eagles lost to Faith Lutheran 31-19 earlier this season, but defeated the Crusaders twice last season including in the opening round of the playoffs.
"It feels great to control our destiny against Chaparral," senior Dillon Prach said. "Our season started good and then we struggled against some real good teams, but that doesn't matter right now. We are playing well and can make the playoffs by playing our best game and winning on the road.
"It's all about how you finish. We have a chance to finish strong. We could have beaten Faith Lutheran and we played a real good first half against Moapa Valley. We are showing that we can play well against good teams. Now, we just have to finish. We want that rematch with Faith Lutheran because they got lucky this last time and we want to make a statement in the playoffs by beating them. But first, we have to deal with Chaparral."
Although Chaparral has struggled much of its season, the Cowboys looked impressive Friday in battling Sunrise League leader Desert Pines (8-0, 4-0) to the final seconds.
Desert Pines' defense made a goal-line stand as time expired to hold on for a 23-22 home win over Chaparral. Chaparral missed a potential winning field goal with 23 seconds remaining but got another opportunity after a roughing-the-kicker penalty.
A few plays later, the Cowboys were stopped at the 1-yard line on the final play. Desert Pines had to rally from a 16-point deficit.
"Chaparral is like a playoff game. It is now single elimination for us and for them," junior quarterback Trenton Carmell said. "It is the biggest game of the year. We are considering it a playoff game. For us, this is the first round of the playoffs. If we win, we move on. We are going to have to execute on both sides of the ball.
"We are going to have to play all out until there is nothing left in us."