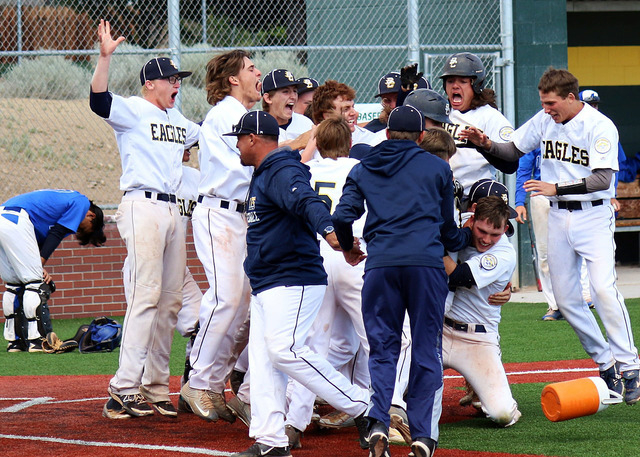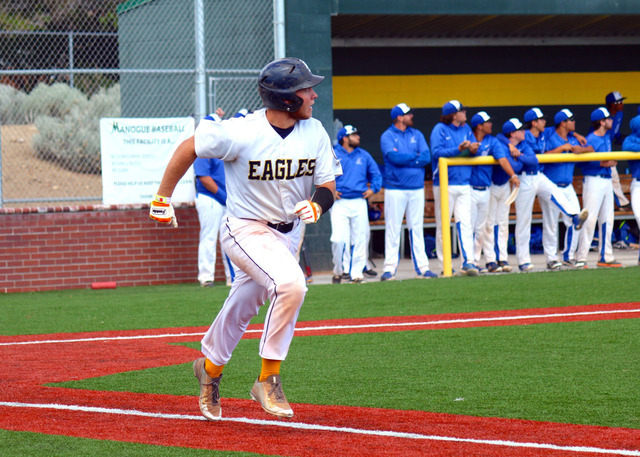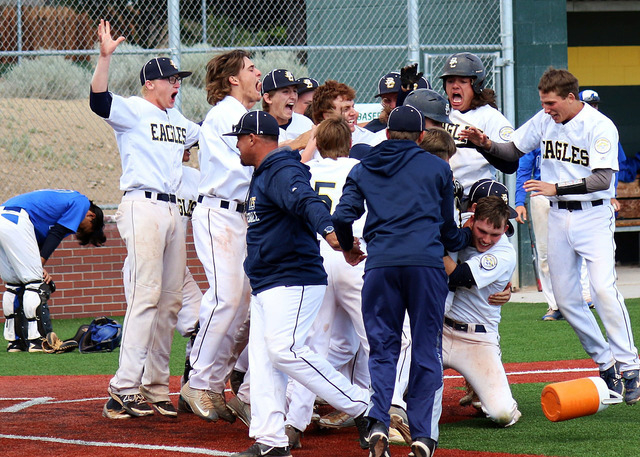 How do you top a perfect game? Hit a home run to seal a state championship.
You might have thought senior Peyton Koopman wouldn't be able to top the emotional high he felt less than a month ago, when he threw a perfect game against Clark High School.
But he topped that milestone Saturday. He crushed a walkoff two-run homer to give Boulder City a 4-3 win over Sierra Vista at Bishop Manogue High School in Reno and its first Division I-A state baseball title since 2006.
"My emotion level was crazy after I hit that pitch," said Koopman, who hit his homer on a 2-and-0 pitch. "I was in shock that we took it home. As soon as the ball came off the bat, I couldn't believe it. I couldn't be happier when I hit the wall off. My last season with this program couldn't have ended any better."
Fellow Boulder City senior Steve Wagner, who finished the game 1-for-3 at the plate, said he was in shock when the game ended so abruptly.
"When Koopman hit the walk off, the team was shocked," Wagner said. "We were at a loss for words, it was something that I will never forget in my life.
"The whole team was hyped and it was an awesome feeling," Wagner added. "Koopman has come through for us all year and it's no surprise that he did it again."
Koopman would finish the day 2-for-4 with three runs batted on a home run and double. Senior Zach Murphy went 1-for-3.
Junior pitcher Jake Hubel struck out six Mountain Lions in the Eagles' title victory, allowing two earned runs on eight hits.
Sweeping their way through the state tournament, the Eagles started with a 13-9 victory against the defending Division I-A state champion Churchill County Greenwave, before beating Northern Nevada opponent Elko 6-4 in the championship play-in game.
"It's really satisfying knowing that we're state champions," said Wagner, who transferred to Boulder City in his junior year from Division I program Foothill. "Boulder City gave me a chance and they made me a great baseball player. I never got the opportunity at Foothill and they were sleeping on me. Now, I'm an Eagle and I'm a state champion."
Concluding the season with a 28-7 record overall, head coach Bobby Reese and his boys accomplished the goal they set for themselves back in March. This year's senior-laden Eagles squad will likely be remembered for years to come.
Contact Robert Vendettoli at BCRsports@gmail.com.