Volleyball team wins opening match at regionals
November 7, 2013 - 9:38 am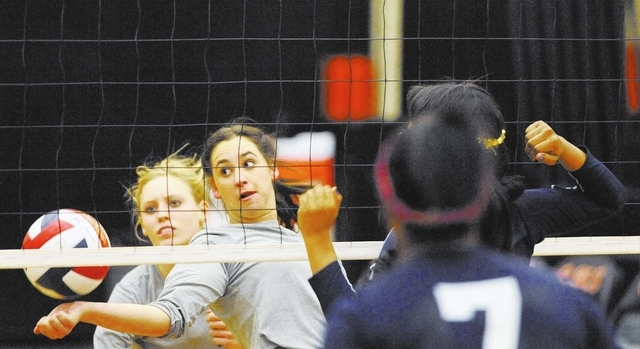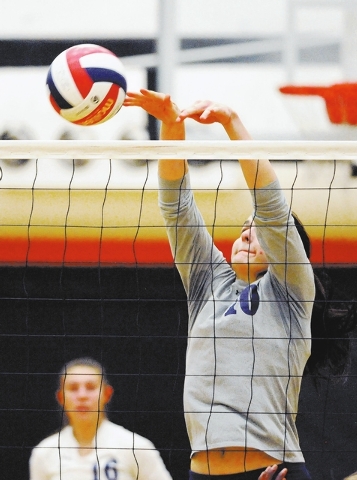 Senior outside hitter Whitney Barlow had 19 kills and senior setter Kendall Miller added 27 assists and three blocks as the Boulder City girls' volleyball team defeated Cheyenne 25-12, 25-16, 25-16 on Tuesday in the opening round of the Southern Region Championships at Chaparral High.
Junior Alyssa Ybarra added 16 digs to lead Boulder City (21-9), which will meet Pahrump Valley (18-16) in a region semifinal match at Chaparral at 7 p.m. today. Cheyenne finished 12-17.
In the other regional semifinal at 5:15 p.m. today, Faith Lutheran (23-12) will play Clark (14-12).
"It was awesome for the girls to finish our Sunrise League season unbeaten and win their fifth straight league title," Lady Eagles head coach Cherise Hinman said. "It is definitely a good spot to be a No. 1 seed in the region. We will not overlook any opponent."
The top four teams from the Sunrise League and Sunset League advance to the region tournament and cross over and play each other.
"We have played all three of them this season and so we know what to expect," Hinman said. "We don't want to look ahead to a possible region final with Faith Lutheran. We really want to play one match at a time and play hard. I want the girls to play relaxed and play their game.
"The goals are to win the region and then take a shot at the state championship. We have to play our best."
A victory tonight over Pahrump Valley advances the Lady Eagles to the Division I-A State TournamentNov. 15-16 in Las Vegas. They last reached a state tournament in 2011, when they lost in the title match to Truckee, and last won a state championship in 1989.
The Southern Region Championship is at 4 p.m. Friday at Legacy High. The winner and the runner-up advance to the state tournament to play opponents from Northern Nevada.
Pahrump Valley defeated Chaparral 17-25, 25-23, 25-22, 25-23 on Tuesday to win its quarterfinal match. Chaparral (13-10) reached the state championship match last season after beating Boulder City in the region semifinal.
The players the Lady Eagles will need to stop are hitter Payton Hart and defensive specialist Lauren Ashford. Hart has 12 kills and Ashford had 24 digs against Chaparral.
Defending region champion Faith Lutheran defeated Sunrise Mountain 25-7, 25-5, 25-16 in its region quarterfinal Tuesday. The Crusaders, who beat Boulder City earlier this season, won for the 16th time in 17 matches.
Clark defeated Moapa Valley 15-25, 25-14, 25-23, 25-16 on Tuesday in its quarterfinal match.
Boulder City finished a perfect 12-0 in the Sunrise League regular season with a convincing 25-15, 25-21, 25-27, 25-12 victory in its regular season finale at Chaparral on Oct. 31.
A year ago, the No. 1 seeded Lady Eagles won their quarterfinal opener against No. 4 seed Cheyenne, but were upset in the semifinal round by Chaparral.
"We have worked too hard this year to let our season end before the state tournament," Miller said. "I know we are determined and motivated."
On Oct. 29, Miller and Barlow led the Lady Eagles to a 25-12, 25-18, 25-16 victory over Virgin Valley at Mesquite.
Boys Soccer
The Eagles (4-13-1 overall and 1-11-0 in Sunrise League) ended their season Oct. 31 with a 9-1 home loss against Tech. Tech, 14-5-3 overall and 8-2-1 in the league, advanced to the Southern Region Tournament. The Eagles, who reached the playoffs a year ago, did not qualify for this postseason.
On Tuesday, Oct. 29, forward Nick Walker scored the only goal of the game for the Eagles in a 2-1 loss against Moapa Valley in Overton. The Eagles' defense yielded the deciding goal in the final minute of play.
Girls Soccer
The Lady Eagles (4-9-2 overall and 3-7-2 in Sunrise League) ended their season Oct. 31 by losing 9-0 to first-place Tech at McCarran Park. It marks the first time in 15 years that they do not reach the playoffs. They finished fifth in the league standings where only the top four teams advance to the region tournament.
On Tuesday, Oct. 29, Jana Williams' goal gave the Lady Eagles a 1-0 halftime lead, but the defense allowed a second-half goal in a 1-1 tie at home against Moapa Valley.
Winter athletics
Six Boulder City athletic teams are practicing and will begin their seasons by the first week of December. They are boys and girls bowling, boys and girls basketball, girls' flag-football and wrestling.
Baseball fundraiser
This is the final week to sign up to play in the Boulder City baseball team's second annual Texas Hold 'Em Poker Tournament at 6:30 p.m. Nov. 15 at The Hacienda.
A $50 buy-in will get each player $2,000 in tournament chips.
There will be reduced rates for drinks and free finger foods, hats and T-shirts. There are special prizes for any player who knocks out a baseball coach (Reese, Alex Moore, Tim O'Neill, Chris Morelli and Johnny Nelson) from the competition.
For more information, contact Reese at 702-218-5866 or at RWR941@interact.ccsd.net.