Volleyball players hone skills in sand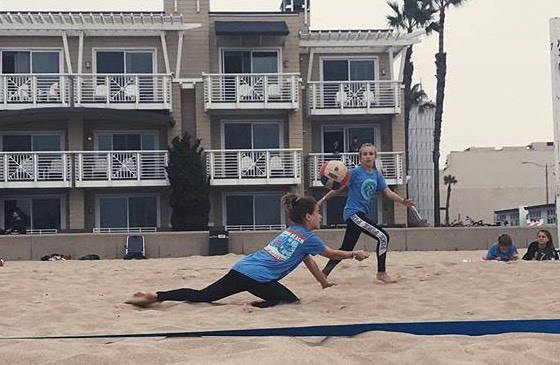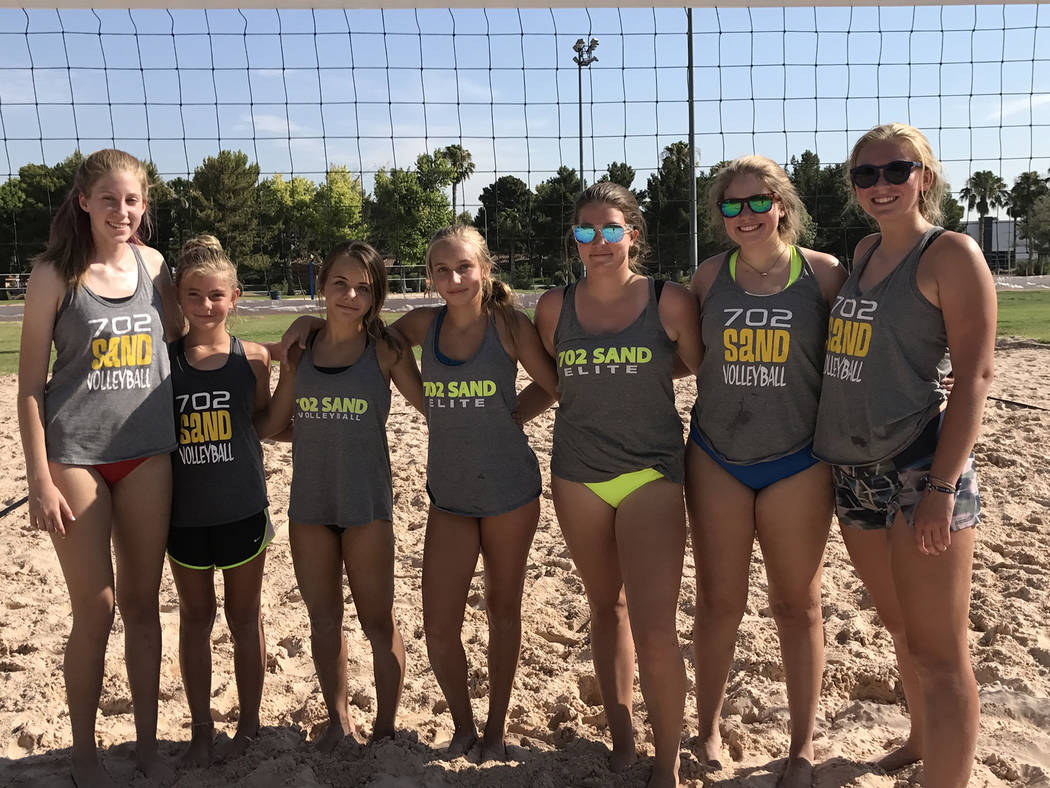 Taking their talents to the beach, a trio of Boulder City youth volleyball players are hoping to make a name for themselves on the sand before stepping on the hardwood for the Lady Eagles.
Traveling to Santa Monica, California, natives Rachel Krumm, Zoey Robinson and Ava Wright, all members of the 702 Sand Volleyball club team, competed in the West Coast Amateur Athletic Union Junior Olympic Games on Tuesday and Wednesday, participating in the 14-year-old age bracket.
"I am very excited to play in this prestigious tournament because I have so much love and passion for the sport," Wright said. "It is an amazing feeling qualifying for this tournament knowing that all of the hard work and dedication that I have put in has paid off. It is truly the best feeling in the world."
Wright, who will be a ninth-grader this year at Boulder City High School, has teamed with Robinson, who will be an eighth grader at Garrett Middle School for the Olympic games, qualifying for the tournament on March 18 at the Las Vegas Sand Series.
Playing together for a year and a half despite the age difference, Robinson said she likes the duo's chances in California, having formed a bond together on the court after experiencing their fair share of ups and down during their first year together.
"When we play together we understand each other without saying anything because of our close bond," Robinson said. "We played in the 14-year-old age group this past year both in Las Vegas and in California and didn't do too well, but we learned a lot. This year we've been able to be super competitive. It's been extremely satisfying."
Finding success this spring, the duo also qualified for the USA Volleyball Junior Beach Tour National Championship set for July 20-25 in Siesta Key, Florida, but will be unable to attend the event.
Hoping to find her own success in Santa Monica, Krumm, who will enter ninth grade this year, has teamed with Las Vegas native Addi Simmons, after qualifying for the event at the Las Vegas Sand Series as well.
Praising the game of sand volleyball for making her a better player and hopefully a future Lady Eagle, Krumm said she is ecstatic to get back on the court and compete with her crosstown teammate.
"It's been a great experience for Addi and I to compete at this level," Krumm said. "There's obviously always room for improvement, but we've gotten better. Sand volleyball has helped with our training for the indoor season."
A newly improved sand volleyball court at Veterans' Memorial Park gives the girls the opportunity to practice close to home.
With the goal of playing varsity volleyball in mind, the trio has also teamed together during the indoor season, representing the Boulder City Juniors club volleyball 14U team.
Finishing 35-12 under head coach Chad Robinson, who aids the Eagles junior varsity program, the girls finished their season tied for fifth out of 120 teams in the Southern California Volleyball Association Summer Soirée held June 28-July 2 at the Anaheim Convention Center.
"The girls came together all season and did a wonderful job," Chad Robinson said. "They faced a lot of tough teams and held their own. The talent on this team is evident by our record."
Fielding a 15U and two 14U volleyball teams, Chad Robinson said he is hopeful to the volleyball club will serve as a feeder program for Boulder City High School, given the effort his players put into the season as well as learning the game at a higher level.
"These girls never cease to amaze me with their dedication and commitment to the sport," he said. "Playing year-round, these girls really want to be the best players they can be. If they stick with the sport like they have, I know they will be great players at the high school level."
Contact Robert Vendettoli at BCRsports@gmail.com.