Volleyball coach expects core of seasoned veterans, promising newcomers to do well
August 30, 2017 - 2:34 pm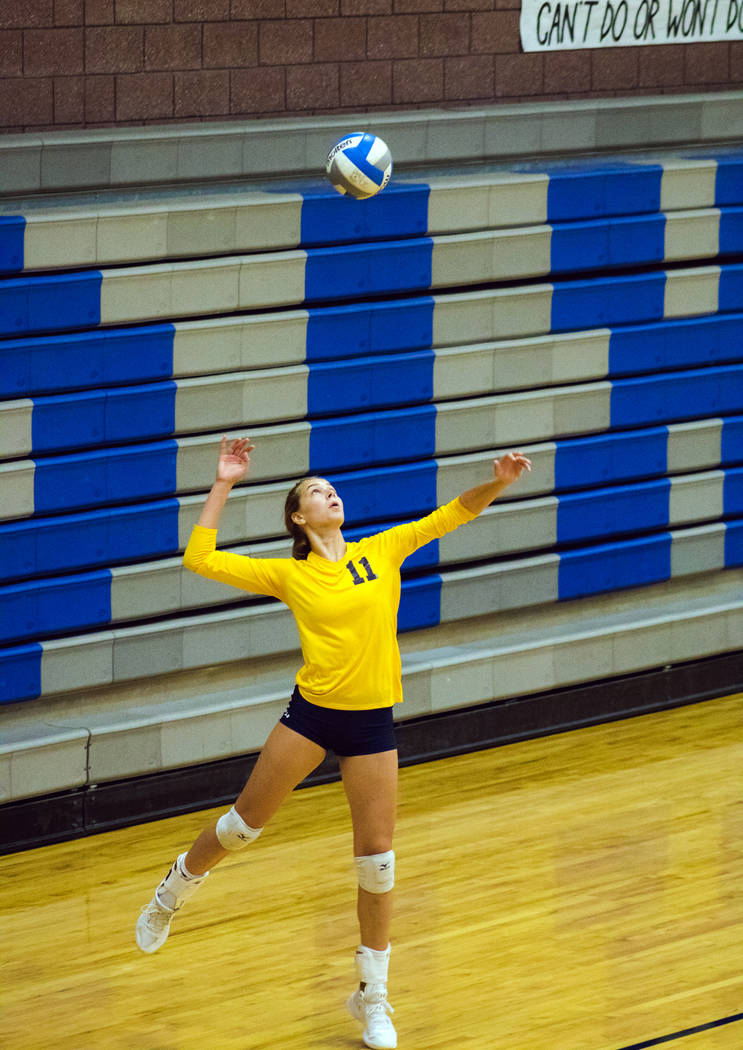 Starting their season in Utah with the Dixie Fly High Tournament, Boulder City High School star senior Maggie Roe gathered exactly what she needed to know about this year's Lady Eagles volleyball team.
"Playing in the Dixie Fly High Tournament was a great chance for us to see what we did good on and what we need to work on," Roe said. "I think overall the team played very well this weekend. I'm very excited to see where this season takes us."
Compiling a 5-3 record during the tournament, the Lady Eagles rebounded nicely after dropping their first two games, Emery 0-2 and Uintah 1-2, and winning five of their last six matches.
Throughout their final stretch, the Lady Eagles recorded 2-0 shutouts against Kanab, Gunnison Valley, Providence Hall and Altamont, while defeating Beaver 2-1.
Their lone loss on day two came against Cedar 2-1, in a game that came down to the wire, 20-25, 25-23, 13-15. "The girls played really well after a few early hiccups," head coach Cherise Hinman said. "Once we got settled, the team started to play more relaxed and confident. Overall this was a fun trip with lots of great play."
Hoping this weekend's hot start is a sign of things to come for the program, Hinman wasn't shy about her expectations for this season's roster.
"Obviously, we have a very proud tradition of making it to the postseason every year I've been here (21 years), so continuing that is definitely our priority," she said. "We're also challenging the girls to get back to the state tournament this season, knowing how talented our roster is. I think this group has the right mixture of talent to be right in the thick of things this year."
Headlined by Roe, who has established herself as the top 3A player in the state, the Lady Eagles also return senior Jerra Hinson, bolstered by a freshman core that Hinman has high expectations for.
Playing 19 sets this weekend, Roe displayed her all-around dominance, generating team highs in kills (64), serving aces (21), blocks (17) and digs. Roe also finished second on the team for assists with 41.
Starting each set, Hinson chipped in 14 digs, 13 kills, nine blocks and six aces. "We're going to rely heavily on both of them to provide leadership for us this season, being seasoned veterans," Hinman said. "Being the older girls that have played up the past few years, I expect them to be ready for the challenge."
Young but undeniably talented, the Lady Eagles are hanging their state championship hopes on a strong underclassman supporting class.
Already looking like seasoned veterans, the freshman trio of Kamry Bailey (38 digs, 41 kills, seven aces, three blocks), Ava Wright (84 assists, 21 aces, 18 digs) and Maddie Wood (31 digs, 10 aces) impressed in Utah, giving the Lady Eagles a core of stars to build around for the future.
"I expect a lot out of all three of them," Hinman said. "They're all ready to contribute right away on the varsity level in my opinion so it will be nice to see what we have not only for this season, but the future."
Returning junior Ashleigh Wood (46 digs, 15 aces) and sophomores Ellie Ramsey (22 kills, six digs) and Reagan Herr (17 kills, seven kills) area also expected to make key contributions this season.
Looking to gain more experience for their young core, the Lady Eagles will play in the 4A laden Las Vegas Invitational starting Friday.
Contact Robert Vendettoli at BCRsports@gmail.com.
Upcoming games
Today and Friday, Sept. 1 and 2, Las Vegas Invitational, 3 p.m. and 8 a.m.