Visit to Capitol Reef fruitful
August 17, 2016 - 1:01 pm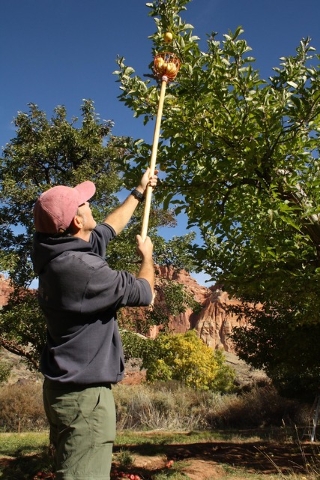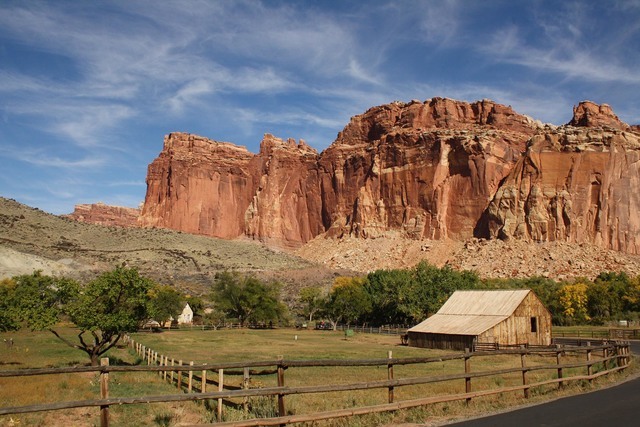 In the heart of south-central Utah's red rock country is Capitol Reef National Park. The park is well-known for slot canyons, natural arches and bridges, waterfalls and the Waterpocket Fold, a huge wrinkle in the earth that extends nearly 100 miles. What most people don't know is that it also has extensive fruit and nut orchards — the largest such holdings of the National Park Service, and currently ripe for the public's picking.
In many regions of the United States, cherished tradition sends families to local orchards every fall to harvest fruit for their own use. But those of us who would do likewise in Southern Nevada have had slim pickin', so to speak. However, we can remedy that with a trip to Capitol Reef this time of year.
The park is home to more than 3,100 trees including peach, cherry, apricot, pear, plum and apple trees. Now through the first week of September is the perfect time to pick ripe pears and peaches. The apple harvest usually starts the first week of September and runs through mid-October.
Within a mile or two of the visitor center, these orchards are remnants of those planted by pioneers, who, in 1880, settled a community they called Fruita, and tapped the Fremont River for water, using irrigation ditches. The orchards are protected as part of the Fruita Rural Historic Landscape, listed on the National Register of Historic Places. The park now maintains the orchards by pruning, mowing, planting, grafting and mapping.
You are welcome to head into any orchard in the park if the gate is unlocked. The park provides hand-held fruit pickers and ladders and there are self-pay stations with scales and plastic bags available.
Although you do pay a small fee for what you take home, while you are in the orchard you can help yourself to as much ripe fruit as you can eat.
Don't limit yourself just to the orchards, though, for this park is full of great places to explore. In the Fruita area, the Capitol Gorge and Fremont River trails are good choices.
Each is only a 2-mile round-trip. Capitol Gorge has prehistoric and historic inscriptions and the Fremont River Trail offers excellent views of the Waterpocket Fold.
Another good choice is the Hickman Bridge Trail, which brings you to a rare 133-foot natural bridge and fine canyon views, in a 1.8-mile round-trip.
Elevations in the park range from 3,800 to 8,200 feet with the Fruita orchard area around 5,500 feet. This time of year, thunderstorms are common, so bring rain gear.
For more information on the park, including scenic driving tours, hiking trails, camping and the historic fruit orchards, contact Capitol Reef National Park at 435-425-3791 or www.nps.gov/care.
Other than the visitor center, there are no services in the park. In Torrey, 8 miles west, you will find restaurants, cafes, a market, gas stations and a variety of lodging. Check it out at www.torreyutah.gov.
Many of Deborah Wall's columns have been compiled in the book "Base Camp Las Vegas, Hiking the Southwestern States." She is also the author of "Great Hikes, a Cerca Country Guide" and a co-author of the book "Access For All, Seeing the Southwest With Limited Mobility." Wall can be reached at Deborabus@aol.com.