Vicious kill starts volleyball game, leads to victory over Bulldogs
September 20, 2017 - 3:40 pm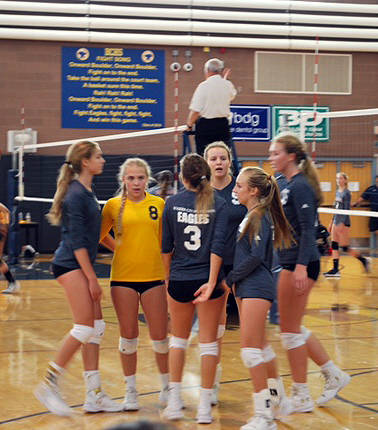 Freshman Ava Wright set the tone early for Boulder City High School girls volleyball Tuesday night against Virgin Valley, floating a beautiful assist to senior Maggie Roe for a vicious kill on the game's first play. Having trouble during the regular season with the rival Bulldogs in the past, the Lady Eagles built confidence early with an 11-point opening-match victory, sweeping Virgin Valley 25-14, 26-24, 25-20.
"That first match really set the tone for us," head coach Cherise Hinman said. "We came out and from the get go we were on making crisp passes and working the ball around. You saw in the second and third match, Virgin hung tough with us, they have a really good squad. I'm happy we were able to gain momentum early and put them away late."
Crediting the Lady Eagles' ball movement for their dominant league victory, Wright led all players with 31 assists, routinely setting up Roe and freshman Kamry Bailey, who each had a team-leading 17 kills.
"At the beginning of our season we struggled on passing," Wright said. "During practice the past few weeks, we've worked hard on technique and movement so we could improve on this part of our game. It paid off against Virgin."
The Lady Eagles also raised their intensity defensively against the Bulldogs, led by senior Jerra Hinson, who keyed the effort with three blocked shots.
"I think we had a strong defensive game because we have been working on being ready for every ball in practice and that showed tonight," Hinson said. "I'm very proud of our defense and how well my team has progressed throughout the season."
Currently undefeated in 3A Sunrise League play, Hinman said the girls' win over Virgin Valley should definitely raise their confidence level, matched with their tremendous effort during this past weekend's Boulder City Invitational.
"Anytime you can sweep a quality opponent, it brings your spirits up," Hinman said. "The girls played great this weekend even throughout a few losses and that carried over to tonight's win."
Finishing with a 4-3 record with three ties, the Lady Eagles took care of business against the opponents they were expected to beat, sweeping Las Vegas, Spring Valley, Liberty Baptist Academy and Pahrump Valley 2-0, while tying with Kahuku (Hawaii), Desert Oasis and The Meadows 1-1.
Suffering only three losses over the weekend, the Lady Eagles had trouble with 4A opponent Legacy, getting swept both games 25-21, 25-15, while falling to 1A opponent Pahranagat Valley 15-6, 15-7.
"I thought the girls played great," Hinman said. "Obviously, we would have liked to been in the championship, but we played a lot of great teams and exited with a winning record. We played a lot of higher-classified opponents and pulled out sweeps against them so I'm definitely proud of the girls."
Highlighting the girls' performance, Roe led the way with 15 kills against Pahrump Valley, while also tallying nine each in the Lady Eagles' victories over Las Vegas and Spring Valley.
Bailey was also key against Pahrump Valley, generating 14 kills, while Wright fueled the effort with 33 assists.
Looking to stay undefeated in league play, the Lady Eagles will travel to Southeast Career Technical Academy on Monday, followed by a home game against rival Moapa Valley on Wednesday.
Contact Robert Vendettoli at BCRsports@gmail.com.
Upcoming games
Monday, Sept. 25, at Southeast Career Technical Academy, 5 p.m. junior varsity, 6 p.m. varsity
Wednesday, Sept. 27, vs. Moapa, 5 p.m. junior varsity, 6 p.m. varsity