Varsity baseball coach steps down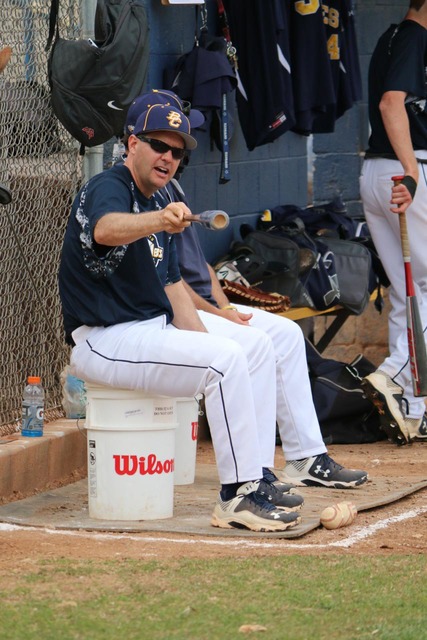 After guiding Boulder City High School's baseball program to its second consecutive 3A state championship in May, Eagles head coach Bobby Reese has stepped down from the program.
Citing that he made his decision in March before the Eagles' championship run, Reese said the desire to watch his daughter, sophomore softball player Ryann Reese, play the next two seasons was the primary factor in his decision to step away from the 3A juggernaut.
"I made my decision back in March, mainly because I hated missing all my daughter's games," Reese said. "I'm hoping to watch half the games of each of my kids (his son, junior D.J. Reese, plays baseball) next spring. This was a very tough decision, but being able to watch both my kids was the driving factor. It's very important to me, and I will enjoy the time to the fullest."
One of the top high school head coaches in the state of Nevada, Reese won 3A coach of the year last season for guiding the Eagles to their first state championship since 2006.
Compiling a 123-54 record (69.4 winning percentage) with the program throughout his tenure, including four 3A state tournament appearances, Reese would be the first to tell you he didn't do anything but build on the existing talents to make the Boulder City program into the power it is today.
"I took a very good program over five years ago, and I just kept a great thing going," Reese said. "When I took the job over, my priority was to leave the program in at least as good of shape as it was when I took it over. With the help of my coaching staff, I think we did that, and whoever inherits the program should have success."
Crediting his coaching staff numerous times, Reese said the program wouldn't be where it is today without the help of varsity coaches Alex Moore (head varsity assistant and pitch caller), Tim O'Neill (hitting coach and stat keeper), Chris Morelli (infield coach) and Bill Strachan (pitching coach), along with junior varsity coaches Johnny Nelson and Jimmy Lee.
"My coaching staff and I had a very good run the past five seasons. We made four state tournament appearances, finishing twice as the champion and once as the runner-up. That's a lot for all of us to be proud of. We made history together. We're all part of the first back-to-back state champion baseball team in school history."
Moore, who serves as the school's athletic director, said the program has yet to fill the void. He is currently interviewing applicants, and he expects to make an announcement at a later date.
Hopeful to continue to help the program any way he can in the future, Reese said he wished the next coach luck and was confident that the Eagles would find the right fit for the position.
"I know some very qualified coaches that have applied for the position, and I am very excited for both the kids and the program for their next coach," Reese said. "I certainly hope to still coach and in different sports at Boulder City, because I am not ready to stop coaching. I just need to change roles at this time. I'm always willing to help out the school when I'm needed."
Contact Robert Vendettoli at BCRsports@gmail.com.