Undefeated tennis teams sit atop leagues after crushing opponents in strong start to season
September 14, 2016 - 1:02 pm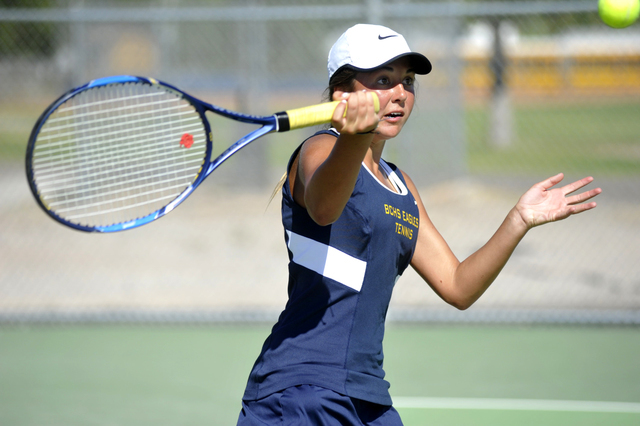 There is no one hotter in the 3A Sunrise League than Boulder City High School when it comes to tennis, with both Eagles programs currently sitting atop their divisions with undefeated 6-0 records.
Taking care of Moapa Valley 16-2, Chaparral 17-1 and Virgin Valley 17-1 within the past seven days, both programs are officially cruising through the division, having decisively played and defeated each member of the Sunrise League. Still unsatisfied, however, boys tennis head coach Rachelle Huxford has stated that the team won't rest until it cruises through each of its rivals during their second matches and into the postseason.
"I'm very proud of how the boys have played," Huxford said. "We've been dominating our division so far and we're hopeful to continue to be dominant. We know opposing teams are going to be switching it up the second time around and try to give us more of a challenge when they face us. The boys, throughout the season, haven't wavered and I know they'll continue to fight toward their goal of being undefeated after each match."
Echoing Huxford's sentiments was girls head coach Katy Dorne, who stated the undefeated girls program isn't letting up anytime soon after defeating Moapa Valley 11-7, Chaparral 16-2 and Virgin Valley 13-5 in a dominating week as well.
"Right now we've had a great season," Dorne said. "We're undefeated and we're continuing to get better. This year we have a really great team that knows how to work hard. It's most certainly showing on the court and we're excited to continue to play well into regionals."
Starring for a deep boys roster that should not only hold the top seed in the team regionals but also send multiple players to the individual regionals is junior singles player Andre Pappas and freshman singles player Bretton Erlanger, who are both undefeated heading into the second stretch of the season.
Eagles duos of freshman Boen Huxford and Preston Jorgensen and juniors Garrett Leavitt and Clayton Pendleton are both undefeated this season as well, while junior Tanner Montgomery and sophomore Karson Bailey also have had a spectacular season, dropping only one set.
The Lady Eagles aren't far off the boys' dominant path, having routed every opponent by eight or more points this season, except Sunrise second-seed Moapa Valley on Sept. 8 when they handed the Pirates their first loss of the season 11-7.
Backed by the strong undefeated singles duo of freshman Tegan Pappas and sophomore Natalie Bowman, the Lady Eagles have a solid pairing who can lead them throughout the postseason, both at team and individual levels.
The four-year duo of seniors McKenna Frazier and Kyra Yamamoto also look to make some noise in the individual bracket, and have gone undefeated through the team's first stretch of opponents.
"Everyone on this team has stepped up and we are really playing well," Yamamoto said. "I can't say how proud I am of everyone. We're ready to face everyone for a second time and hopefully earn a high seed at regionals."
Preparing for their second run in with Southeast Career Technical Academy, the Eagles will host the Roadrunners today at 3 p.m. after the boys (17-1) and girls (14-4) won soundly on the road in their previous meeting.
Contact Robert Vendettoli at BCRsports@gmail.com.
Upcoming Games
■ Today: vs. Tech, 3 p.m.
■ Tuesday: at Del Sol, 3 p.m.