Undefeated Eagles look like champs
August 29, 2018 - 4:23 pm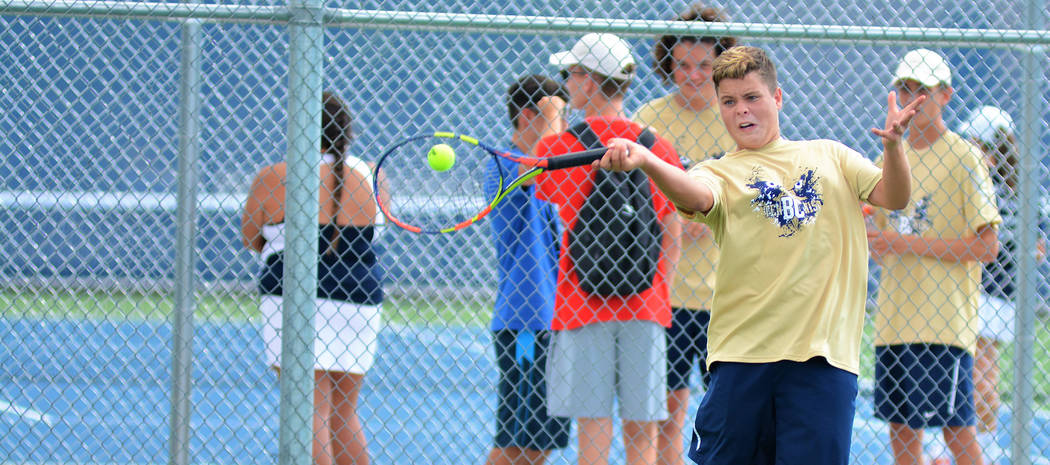 Boulder City High School's boys tennis team is in the driver seat after finishing 4-0 in its first week of games.
Defeating a pair of 4A programs, Basic 16-2 on Friday, Aug. 24, and Foothill 11-7 on Tuesday, Aug. 28, the Eagles also picked up a monumental victory against 3A challenger The Meadows on Aug. 23.
In a rematch of last season's 3A state championship match, the Eagles went down to the wire with the Mustangs, winning 10-9 off of tiebreakers.
"This is a really good win for our team," head coach Rachelle Huxford said. "They boys came out and did what they needed to do to win. We knew this was going to be a tough matchup and it was. I'm proud of all of their efforts."
Most likely to be the top two teams in the newly combined 3A region, the victory over the Mustangs was important for the Eagles, who will look to repeat as 3A state champions.
"This victory will surely give the boys a lot of confidence, but I also think it will keep them on their toes," Rachelle Huxford said. "They played a really great match and almost beat us. Last year at state it wasn't this close, so while I know this will give them a boost to start the season, I also think it will show them that we still have things to work on."
The Eagles' No. 1 doubles tandem of juniors Boen Huxford and Preston Jorgensen and No. 1 singles player Connor Mikkelson made up the majority of the team's points, finishing 3-0 against the Mustangs.
"I'm very proud of all three of them," Rachelle Huxford said. "They all played great matches and it's nice to know that we can rely on them. As a team though, we need to find a way to score more points. Matches in the future can't be this close and we can't rely on just three players."
Coach Huxford tweaked her lineup against Basic, breaking up the pairing of Boen Huxford and Jorgensen. Moving to singles for the match, Jorgensen finished 3-0 against the Wolves, while Boen Huxford paired with junior Ty Pendleton to finish 3-0.
Junior singles players Breton Erlanger also finished 3-0 on the day.
Against Foothill, Mikkelson finished 3-0 in singles, while Boen Huxford and Jorgensen finished 2-0 in doubles.
The Eagles will travel to Pahrump Valley today, Aug. 30, followed by a road match at Adelson School on Tuesday, Sept. 4.
Contact Robert Vendettoli at BCRsports@gmail.com.
Upcoming games
Thursday, Aug. 30, at Pahrump, 3 p.m., varsity
Tuesday, Sept. 4, at Adelson, 4 p.m. varsity
Wednesday, Sept. 5, vs. Valley, 3 p.m. varsity