Trone sees senior year as chance for state title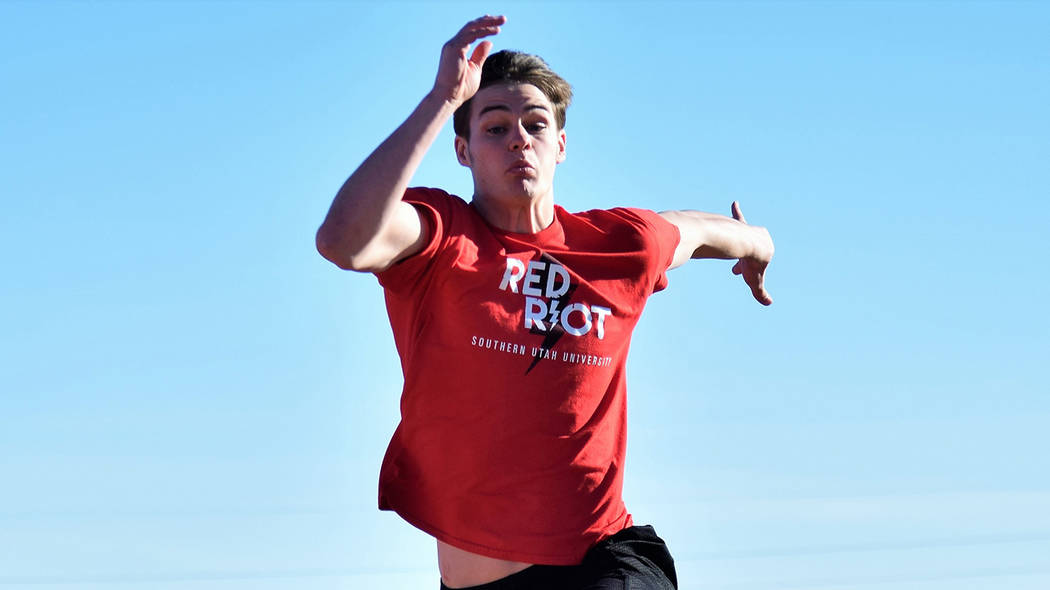 An all-around star for the Boulder City High School boys track and field team, senior Zach Trone is ready to finish what he started.
Qualifying for the 3A state meet last season in the 100-meter dash (fourth place), long jump (third place) and triple jump (fourth place), Trone is ready to become a champion now that he's the classification's top returner in each event.
"There was a lot of great competition last year that has graduated," Trone said. "Now that I'm a senior this year, I'm looking to go out on top with some first-place finishes. There's still going to be competition both returning and new. I'm ready to go out and compete."
A key fixture in the 200-meter dash, Trone took eighth place at regionals last season, just missing the cut for state.
Hopeful to return to state and up their performances from last season, senior pole vaulters Briggs Huxford (fifth place) and Buddy Boggs (sixth place) said they are excited to conclude their prep careers. Pushing each other in practice daily, the two are working hard on taking home a state title.
"It's super-fun working with this group," Huxford said. "It's very competitive; we're always learning. I'm excited to be working with Buddy, and hopefully we can both place high at state."
Also hopeful to make a run at state for the Eagles, which placed sixth at regionals last season in the team standings, are senior Alex Krausman and junior Justice Tilman, who narrowly missed the state cut last year.
Krausman placed ninth in the 800-meter run with a time of 2:10.49, while Tilman placed eighth in the 300-meter hurdles (45.59 seconds) and 11th in the 110-meter hurdles (19.25 seconds).
More than just a pole vaulter, Boggs finished 11th in the 300-meter hurdles with a time of 46.79 seconds.
"We're really excited for this season," head coach Staci Selinger said. "We're excited to have our seniors back; they're going to do great this year. We're also excited to have a lot of good underclassman who are excited about track and are really talented. We expect them to be able to jump into any event and be successful."
Bringing in a youth movement, sophomores Connor Mikkelson (shot put and discus) and Javier Milans (distance) and freshmen Spencer Torgesen (distance) and Jake Trone (jumping and sprinting) are expected to make immediate impacts.
The Eagles will start their season March 15 at Virgin Valley, where they'll face the Bulldogs and Cheyenne.
Contact Robert Vendettoli at BCRsports@gmail.com.
Upcoming games
Friday, March 9, Bulldog Early Bird Meet at Virgin Valley, 2:30 p.m.