Trio of Eagles baseball players flock to California college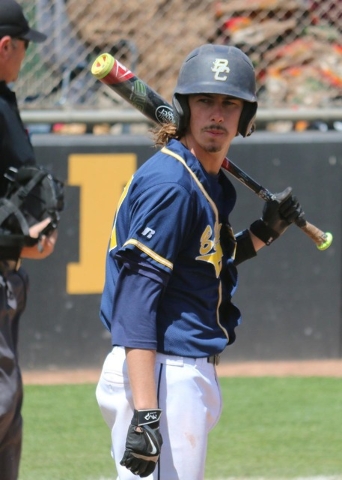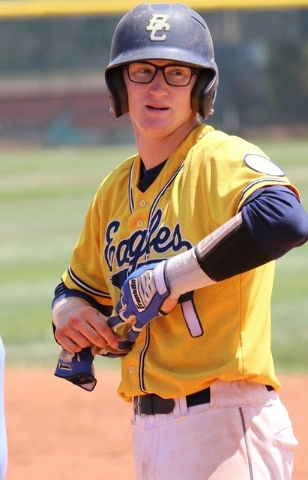 A Boulder City baseball pipeline to Shasta College is being established with class of 2016 graduates Nolan DeSantis, Alec Mathis and Austin Wishard set to join 2015 graduates Colton Bosnos and Mario Castanon at the Redding, California, school.
"I am very excited for Nolan, Austin and Alec as they head off to Shasta," Boulder City head coach Bobby Reese said. "(I'm) so proud to see them move on to the next level. I think it is a great compliment to all involved in the Boulder City baseball program at all levels that we have so many players moving on to the next level."
Noting the chance to play together, Wishard said the trio's commitment was a no-brainer.
"It made the process easier for us, knowing we're not only going to play with our old teammates, but continue to be teammates in college," Wishard said. "I'm excited to get to work. It's going to be a lot of fun playing and living with Alec and Nolan next year."
Reese is confident the trio, all key members of the Eagles' first Division I-A state title team since 2006, can bring their championship pedigree to the Golden Valley Conference next season, where they'll look to help improve a Knights' roster that was 14-22 in 2016.
"This is a very good landing spot for them," Reese said. "They're all talented in their own right. They should be able to make contributions individually."
Earning first-team All-Southern Region honors for the Eagles this season, DeSantis and Mathis established themselves as premier players in the Division I-A ranks, and are hopeful to continue the trend at the next level.
Providing great defense for the Eagles in the outfield, DeSantis also carried a heavy bat in Boulder City's lineup, hitting .350 with nine doubles, three triples, five home runs and 22 RBIs.
"I think Nolan will surprise some people at the next level," Reese said. "He has worked very hard making himself into a very good outfielder. Center field was a question mark for us coming into the season and Nolan stepped up huge and solidified our outfield defense. Moving from the infield to outfield full time, I'm very excited to see him develop in college."
Mathis, a utility player, was known for his stellar defensive play and steady bat, hitting .333 with five doubles and 13 RBIs this season.
"Alec was a delight to coach this year," Reese said. "You could plug him anywhere and he'd compete. We tossed him at first base for the first time all year in our biggest games against Faith Lutheran and in the state championship game and he did a phenomenal job. He also showed great character coming back from an arm injury that forced him to miss over half the season."
Reese noted that Wishard could be as good as any third baseman in town when he put his mind to it.
"Ever since Austin was younger, he has always said he wanted to be a college athlete," Reese said. "He just never knew which of his three sports he wanted to commit to full time. When he focuses on the game, he can be as good as anyone at third base. He has a chance to really develop into a very good college baseball player."
Sad to see the trio leave the Eagles' roster, Reese says this signing is sentimental as he has seen Wishard and DeSantis progress as players since their Little League day, while watching Mathis blossom into a fine ballplayer during his lone season with the program after transferring from Henderson powerhouse Foothill.
"Nolan and Austin have been a part of this program all the way down to playing Little League ball here in Boulder City," Reese said. "I first coached Austin when he was 12 in Little League and coached against Nolan as he was on a different team. I said it back then that these kids could become state champions.
"Unfortunately, I had the privilege to coach Alec for only one year, but his unselfishness and willing to play anywhere we asked was a big part of our success. All three will be missed."
Contact Robert Vendettoli at BCRsports@gmail.com.