Triathlons continue to challenge Porter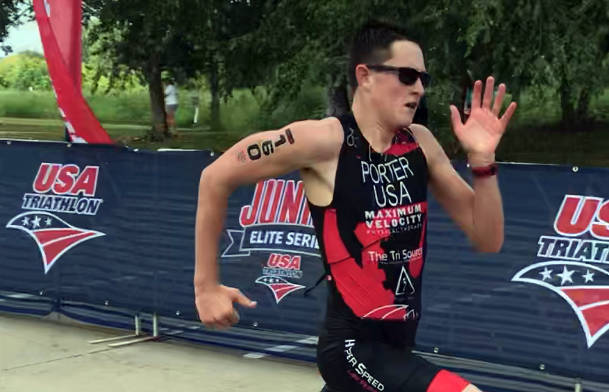 Ethan Porter, a sophomore at Boulder City High School, finished 39th out of 70 competitors at the 2018 USA Triathlon Junior National Championship in West Chester, Ohio, on Aug. 4.
After competing on the youth circuit the past few summers, Porter advanced to the 16- to 19-year-old bracket after marking his 16th birthday this year.
"I feel like I did great at this year's event," he said. "I had the best run of my career and I feel like I did well in each event. Knowing what to expect now with the course and the competitors, I feel like I'm more prepared to do even better next season."
After completing the course with a time of 1:04.06, Porter acknowledged having difficulties with his new challenge early on, but added that he found comfort midway through the event to finish strong.
"At first it was really scary because there were super tall, buff guys that I was going against," Porter said. "During the bike portion, everyone was screaming and it was a little intimidating being the youngest in the age group with a lot of college athletes. As the race went on, though, I got calmer knowing that I wasn't the only 16-year-old competing. Seeing that I was beating a lot of them gave me confidence to try and finish in front of some of the older guys."
Porter also faced a tougher course this summer, consisting of a 750-meter swim, 20-mile bike ride and 5-mile run. The youth course Porter had been competing on had a 375-meter swim, 10-mile bike ride and 2.5-mile run.
"Being that it was a longer course, it dawned on me early that I was going to have to pace myself," Porter said. "I knew I couldn't exhaust all my energy on one event. I found different spots to push myself along with conserving my energy."
With a junior event under his belt, Porter said he feels confident after nearly placing in the top half of the event. He said he is looking forward to competing again next August after adding another year of practice and training to his resume.
"Getting a junior race under my belt gives me a lot of confidence," he said. "I now know what to expect and how the challenges will be going against the older guys. I'm excited to continue to improve."
Porter ran the Monroe Triathlon, a qualifiers-only event, on June 23 in Monroe, Washington, placing 33rd out of 49 challengers with a qualifying time of 1:03:03.
Contact Robert Vendettoli at BCRsports@gmail.com.