Triathlete, 13, fairs well at first national event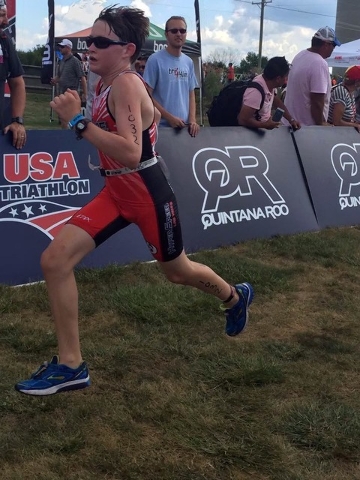 Competing in his first national triathlon, 13-year-old Boulder City native Ethan Porter placed 43rd among 309 competitors at the Youth Elite National Championships presented by USA Triathlon on Saturday in West Chester, Ohio.
"Words can't explain how proud I am of my teammates and myself," Ethan said. "It was nice to be able to travel together and have everyone cheer everyone on. It was a great experience this past weekend."
Competing for team Hyperspeed of Henderson, Porter was slotted against older competitors in the 14-year old age bracket. He placed sixth out of nine competitors in his age group with an overall time of 33:33.75. The race was for 11- to 15-year-olds.
Experiencing difficulties with his goggles early in the 200-meter swim portion of the race, Ethan said he was able to make up ground quickly, while keeping pace in both the biking and running segments.
"To start the swim portion of the triathlon, everyone kind of just jumped to the center of the pool all at once," Ethan said. "I wasn't really prepared for it at the time, and it knocked off my goggles momentarily. Thankfully, I was able to recover quickly and rebound in other events." Finishing the swim portion with a time of 2:02, which ranked 20th, Ethan transitioned quickly into the 10-mile biking portion, in which his time of 20:28 ranked 112th, but still kept him toward the top half of the pack heading into the two-mile running portion.
"I think I did really well in the biking event," Ethan said. "When you look at everyone's times, everyone was a few seconds apart. I'm very pleased with how I carried out the race."
Finishing strong in the run, Ethan placed 34th in that heat with a time of 8:12, cementing his place as one of the top junior triathlon athletes in the country.
"Overall I'm very pleased with how I executed during the event," he said. "I kept a good pace and I really left it all out there. There was never a point where I didn't give it all I had." Ethan already is enthusiastic about getting back to training and competing next year.
"I am hopeful to be back again next year," he said. "I'm going to continue to train hard with my team and hopefully do even better next year."
Contact Robert Vendettoli at BCRsports@gmail.com.