Track athletes set personal bests, school records at state meet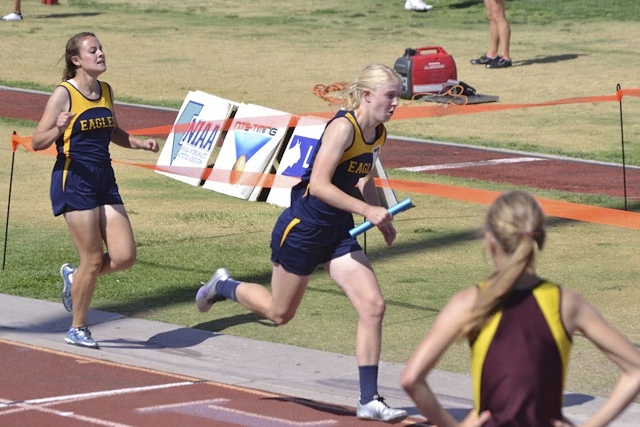 It took photo finishes to decide the winner in several events at the Division 1-A State Track and Field Championships May 17 and 18 at Silverado High in Las Vegas.
But no race was closer than the boys' 3,200 meters as five runners approached the finish line as a group. Boulder City junior Chandler Harkins ran a career personal-best time but was edged at the wire by 1.1 seconds by champion Abdirahman Mohamad, a sophomore from Desert Pines.
Harkins crossed third in 9 minutes, 54.6 seconds. Two other runners were two seconds behind.
Harkins also ran a personal best 4:38.57 to place fourth in the 1,600 meters, and teamed with sophomore Garrett Meyer, seniors Braize Huxford and Chris Carnes to place third in the 3,200 relay with a time of 8:25.01.
"I felt good about my performance in the 3,200 because I cut off 22 seconds to run a personal best, so I couldn't ask for more," Harkins said. "I was able to finish the season strong with many personal records. I was happy about the 4×800 because everyone did their part and we placed third."
But his coach was impressed with the 3,200.
"Chandler did a great job," Josh Fisher said. "A lot of events came down to photo finishes. In the 3,200 meters it came down to five guys running their hearts out, especially over the final 50 meters. There were a few events and athletes that really were memorable at state and the 3,200 and Chandler was one."
Boulder City scored 40 points to finish seventh among 20 teams, including champion Mojave (80.5 points).
"When you think we finished seventh among 20 teams in the new league, you have to give the kids credit," Fisher said. "We finished in the top third of all teams with no individual winners, no sprinters, no jumpers and only one relay team.
"It is quite an accomplishment. I am very proud of the efforts at state and all season. The league will continue to get tougher and improve next season and I think we set a tone this season that we are a team to reckon with in the future."
Junior Jacorey Dixon was third in the 300 hurdles (41.28) and fifth in the 110 hurdles (16.10).
Senior Tanner Imlay was tied for fourth in the pole vault at 12 feet, 6 inches, well behind state champion Tyson Teerlink of Virgin Valley. Teerlink broke the state record held since 2006 by Boulder City's Ryan Schneider, clearing 15-04.
Senior Christian Nilsen was second in the discus (137-04) and eighth in the shot put (43-01).
"I was very happy with our team's performance at state," Nilsen said. "We came out in a new, tougher league and did well all season and at state. We were always competitive and should be proud. In the discus, I was seeded fourth, so finishing second was really exciting."
Meanwhile, the Lady Eagles scored 23 team points to place ninth in the girls' championship meet behind winner Faith Lutheran's 101 points.
The girls 3,200 relay team set a new school record of 10:12.69 in finishing fifth, running nearly 15 seconds better than the time clocked at regional a week prior.
The team — seniors Jessica Tobler and Eliza Jeppsen, junior Jana Williams, and freshman Emma Jeppsen — were just put together to run the relay late in the season.
"I'm just really honored to be a part of this team because these girls mean a lot to me," said Williams, who didn't run track her first two years of high school. "It's so awesome that we could go out there and strive for this, do it for each other."
Eliza Jeppsen said setting the school record was a goal entering the season.
Tobler was seventh in the 3,200 meters with a time of 12:45.62.
Junior Whitney Barlow was fifth in the 300 hurdles (48.6) and seventh in the shot put with a toss of 31-8½.
Senior Emilia Oscilowicz, who was competing in her first state meet, was fifth in the discus with a personal-best throw of 103-5, 8 feet further than her toss at region the week prior.
Oscilowicz said she really broke out this year, her third throwing discus. "Before, I could barely hit 80 (feet)," she said. "Then, all of a sudden I was hitting in the 90s this year. All of a sudden, it just kind of clicked and I knew what to do."
In the triple jump, senior Heather Phelps placed fourth (32-10) and teammate Alexis Fenyves was seventh (30-11).